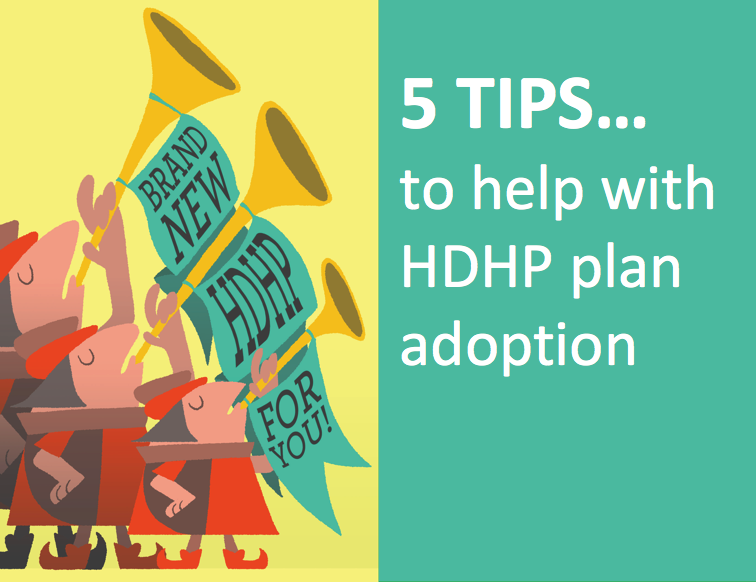 Many employers are making the move from traditional healthcare plans such as HMOs, POSs, EPOs, or PPOs, to high deductible health plans, commonly referred to as HDHPs. Employers find that HDHPs allow them to save on premium costs while at the same time encouraging workers to become more active and educated consumers of healthcare. Some companies might offer HDHPs as one of two or more medical plan options, although this strategy does them little good in terms of saving money if the majority of employees fail to adopt an HDHP plan.
Regardless of the options employers choose to offer, consumer-driven healthcare is on the rise and high deductible health plans aren't going away anytime soon. As they continue to become more and more prevalent, it's important for HR to step up their communication efforts. Employees will be (understandably) concerned and confused by the differences in HDHPs, but it's nothing education, patience and a bit of behavioral economics knowledge can't solve to ward off buyer's remorse. Here are some ways to help employees embrace high deductible health plans.
1. Communication is Key
As with any other change in your company, you must be very explicit and intentional in your communication. Remember that people like to have explanations for what is happening (and why), rather than have changes dictated to them without any kind of supporting information. Just remember Benjamin Franklin's oft-cited adage "Tell me and I forget, teach me and I may remember, involve me and I learn."
When introducing a HDHP, it's critical to hold an active (vs. passive) enrollment. It's also smart to hold an open enrollment meeting so your employees can ask you questions - just make sure they're prepared for it by sending out the benefits information a few days prior to presentation. In this way, they'll have time to review the information and come prepared with any questions they might have. Be as candid as possible so they feel as though you're understanding their concerns - and do your best to be as patient as you can to assuage their fears. This course of action will go a long way toward a smooth transition.
2. Educate Employees about How High Deductible Health Plans Work
If your employees have never been enrolled in a high deductible health plan before, they'll have plenty of questions about how they work. Why aren't there copays? How much does an office visit cost at the doctor? What if one of the members on the plan is seriously injured? For what type of person are HDHPs most appropriate? Although HDHPs are growing in popularity among employers, employees tend to know very little about them and therefore, shy away from them.