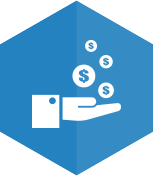 One-thing cost containment is NOT, is a one-time, annual event at the time of benefits renewal. It's also not a quick-hit solution, which effectively just pushes more cost onto your employees.
Rather, it's an on-going effort, shaped by long-term financial strategies, not unlike those you've no doubt put in place for other large, line-item expenses.
Driven by strategy, experience and relationships – and fueled by data, analytical rigor, and insights - our ability to contain costs without compromising care is second to none. Managing expenses while the plan is incurring costs (vs. afterwards) is the only way to truly "bend the cost curve".
We bring different cost containment solutions to bear with each and every client. Some of the tools we use to control cost include:
Plan Design

Healthcare Financing/Funding Arrangements

Analytical Modeling

Vendor Analysis

Network Optimization

Contribution Strategies

Renewal/Contract Negotiation

Competitive Marketing

Medical Oversight of Chronic Conditions and High Cost Populations

Plan Management

Cost Projecting

Performance Guarantees

Audits

Care Management

Wellness

Health Care Reform Opportunities via Statistical Arbitrage
Schedule a Benefits Review For Your Firm
To learn more about cost containment, or to learn about how altering your funding arrangement may yield to significant savings and better risk management, schedule a benefits review for your firm.