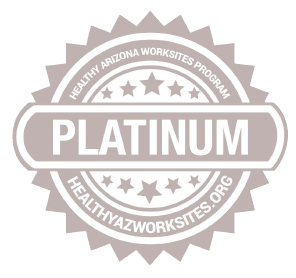 Just two weeks ago, The Arizona Department of Health Services, in partnership with the Healthy Arizona Worksites Program, awarded the JP Griffin Group the new Platinum Level Award at the 4th Annual HAWP Award Ceremony in Phoenix. The Healthy Arizona Worksite Award seeks to recognize employers that are making evidence-based efforts to support the health and well-being of their employees and their families.

The Platinum Level Award is presented to businesses making an impact both within and beyond their walls, addressing one or more of the many health challenges impacting communities across the state of Arizona.
Last year, the JP Griffin Group was awarded at the Gold level. "It is a big achievement for the JP Griffin Group to advance from the gold level to the platinum level this year." said Jeff Griffin, Founder & President of the JP Griffin Group. "Being the recipient of the Healthy Arizona Worksite Award, for the second year in a row, gives us hope that the positive changes we have implemented can help impact other business within in the community."
The JP Griffin Group, headquartered in Scottsdale, Arizona, has a robust team that is passionate and dedicated to delivering data-driven insights and customized employee benefits solutions for both fully insured and self-funded companies. As a Healthy Arizona Worksite Award winner, the company is demonstrating data driven programming and striving to improve the health, well-being, and equity of their community. "Our vision of implementing healthy processes within the workplace and changing the health culture on a corporate level has really come to fruition." said Dr. Christine, Medical Director for the JP Griffin Group.