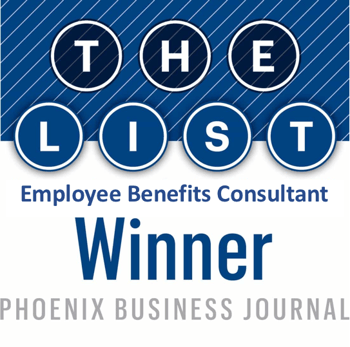 The Phoenix Business Journal has once again recognized JP Griffin Group as one of the Largest Phoenix-Area Employee Benefits Consultants. This is the fifth consecutive year JP Griffin Group has made the list, and the second year in a row that JP Griffin Group is in the top five.

This ranking of the valley's top employee benefits advisors is compiled annually and is based on the number of local employee benefits consultants. This ranking takes into account all valley area employee benefits advisors, consultants and brokers.

Other information captured on the annual list includes the total number of local employees, a list of primary services, the percentage of fee and commission-based 2019 revenue, the top local executive, and year founded in the Phoenix metropolitan area.

"It's an honor to be recognized by the Phoenix Business Journal as one of the largest employee benefits consultants in Arizona" said Jeff Griffin, Founder & President of JP Griffin Group. "We are proud to call Arizona home and we are looking forward to the day when our clients can reopen their doors for business once this COVID-19 pandemic passes."

The other Employee Benefits Brokers rounding-out the top five were;
Other Employee Benefits Consultants in the top ten included;
You can read more about these rankings here.
About The JP Griffin Group
The JP Griffin Group, headquartered in Scottsdale, Arizona, has a robust team that is passionate and dedicated to delivering data-driven insights and customized employee benefits solutions for both fully insured and self-funded companies. As a leading employee benefits consultant in Arizona, the company has been delivering tailored employee benefit solutions since 2010. This is the third year that the JP Griffin Group has been recognized by the publication as one of the largest employee benefits brokers.