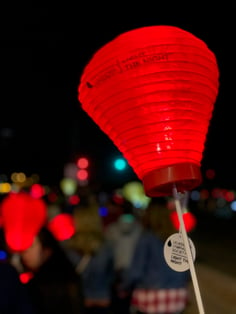 On Saturday, November 17th, the JP Griffin Group joined forces with the Leukemia & Lymphoma Society (LLS) and gathered together to celebrate, honor, and remember those touched by cancer. The Light The Night Walk is LLC's nationwide evening walk, hosted annually in downtown Phoenix, and is open to all children, adults, and pets.
The night was filled with games, singing, event booths wrapped in photos of loved ones, and survivor huddles, which encouraged people from all over the valley to meet and connect. Memories of missed loved ones flooded the event while survivors and supporters shared their stories of hope on stage. During the testimonials, the lanterns were lit in memory remembrance first, then lit for the survivors, and lastly lit for the supporters. During the one mile walk, participants carried their illuminated balloons to celebrate and commemorate all the lives touched by cancer. Once all the participants crossed the finish line, a spectacular fireworks show ensued, ending a very emotional night with some happiness and hope.
"So many people's lives are affected in some way by cancer, whether it's a friend or a loved one, or one's own personal journey." said Jeff Griffin, Founder & President of the JP Griffin Group. "Partnering with the Leukemia & Lymphoma Society was so important to us, not only to raise money to help find a cure, but to also spread awareness of the great resources LLC provides and to let people know that they are not alone and they don't have to go through their journey alone."
JP Griffin Group employees helped raise funds prior to the annual walk, to help support LLC's mission to cure leukemia, lymphoma, Hodgkin's disease and myeloma, and to improve the quality of life of patients and their families. LLS is actively making cures happen by providing patient support services, advocating for lifesaving treatments and pioneering the most promising cancer research anywhere.
The JP Griffin Group is a national employee benefit consulting firm, headquartered in Scottsdale, Arizona, specializing in the design, implementation and management of complex multi-site, multi-state employee benefit programs. Our robust team is passionate and dedicated to quality customer service, crafting customized employee benefits, and helping to create a better community here in Arizona. To learn more about the JP Griffin Group or to book a comprehensive benefits review, contact Jeff Griffin at 480-257-1500 or visit the website at www.griffinbenefits.com.