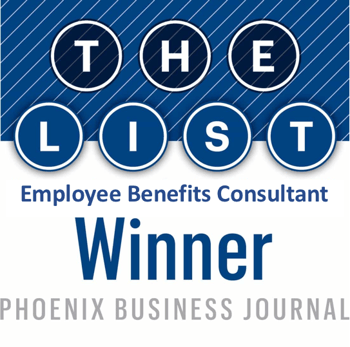 The Phoenix Business Journal has once again named the JP Griffin Group as one of the Phoenix area's top Employee Benefits Consultants. This year, the JP Griffin Group took the No. 6 spot on the annual list, ranked by number of employee benefits consultants working locally in Maricopa and Pinal counties.

Published April 18th, this compilation is part of the Phoenix Business Journal's list of top companies in a variety of industries. This ranking takes into account all valley area employee benefits advisors, consultants and brokers.

"We are thrilled to be recognized by the Phoenix Business Journal as one of the top Arizona employee benefits consultants " said Jeff Griffin, Founder & President of the JP Griffin Group. "We are proud to be acknowledged as effective leaders within our industry and strive to continuously provide innovative and impactful employee benefit solutions for companies, nationwide."

The JP Griffin Group, headquartered in Scottsdale, Arizona, has a robust team that is passionate and dedicated to delivering data-driven insights and customized employee benefits solutions for both fully insured and self-funded companies. As a leading employee benefits consultant in Arizona, the company has been delivering tailored employee benefit solutions since 2010. This is the third year in a row the JP Griffin Group has been recognized by the publication at a top employee benefits consultant.