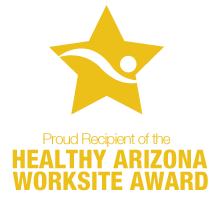 This month, The Arizona Department of Health Services, in partnership with the Healthy Arizona Worksites Program, presented the JP Griffin Group with the Gold Level Award at the 3rd Annual HAWP Award Ceremony in Phoenix.
The Healthy Arizona Worksite Program is a public health initiative that seeks to recognize employers that are making evidence-based efforts to support and positively impact the health and well-being of the their employees, their families, and the greater community by implementing comprehensive worksite wellness strategies.
The Gold Level Award is awarded to businesses that are tracking and documenting outcomes and behavioral change. Gold level programs have demonstrated institutional support and have integrated worksite health programs that are data and outcomes driven, with business policies and benefits. In addition to the annual awards recognition, the program provides guidance to create a healthy workplace culture and tools proven to improve employee health and wellness, free of charge.