Employee Benefit Perks That Make The Holidays Merry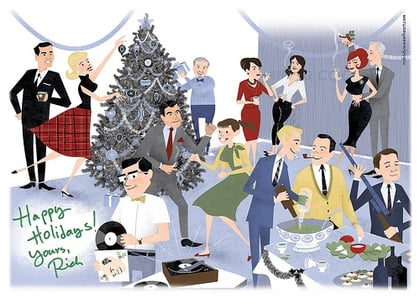 It's that time of year again: the time when employers ponder ways to express their appreciation to staff for a job well done.
This year-end recognition almost always coincides with holiday festivities.
How can you ensure that the holiday perks and year-end recognition you have in mind are the ones that will really resonate with your employees?
Give the Gift of Time
Around the holidays, one of the scarcest commodities anyone has is time. Savvy employers discern that employees highly prize generous holiday leave policies.
Some small, locally-owned industries manage to arrange their production schedules in such a way that they can close their doors between Christmas and New Year's every year. While juggling the production schedule requires forethought and fine planning skills, companies that manage this perk reap the rewards of high employee morale as the holidays near.
For most companies, however, business processes must continue throughout the holiday season. Larger companies are often unable to make a grand gesture such as closing down for a whole holiday week. The good news is that a little creative thinking often yields positive results.
Some companies with a larger workforce find it possible to arrange additional time off by means of a rotating shift schedule. Reducing staffing needs by staggering bare bones work crews to handle necessary functions allows employees to enjoy more days off while business proceeds as usual.
Still other companies decide to give employees the gift of time by closing on strategic days like the day after Thanksgiving or the days directly preceding Christmas, in essence providing their employees with time to knock-out holiday chores, such as prepping for meals, cleaning and/or decorating the house, and
capitalizing on great shopping deals
.
If that is not feasible, some employers opt for reducing their normal workday by an hour or so, across several days, which can really help employees avert the evening traffic, which is particularly heavy this time of year.
And of course, for many businesses, it is standard to close early on Christmas Eve and New Year's Eve to give employees a little extra time with their families.
Time Off with a Twist
Some forward-thinking employers have discovered a way to keep employee morale high and serve the greater good at the same time. Perks such as paid volunteer time encourage employees to participate in volunteer activities while enjoying a day away from the office.
Since volunteer opportunities increase around the holidays, this perk is particularly attractive to busy employees who still enjoy giving in the spirit of the season. An additional benefit of this arrangement is that employees (
most especially Millennials
) feel good about working for a company with a social conscience.
Other employers link paid leave to altruistic pursuits by encouraging employees to participate in toy drives, coat drives, or food drives, with the reward being a certain number of hours given in return for a certain number of items donated.
It is important for employers to remember that when offering this particular holiday benefit, reasonable limits on hours earned need to be established upfront for employees. Additionally, one or more employees will have to be designated to oversee the drive and keep records of the time to be awarded.
Cold, Hard Cash and Gift Cards
A poll conducted by Express Employment Professionals, a franchised staffing company, reveals that 27 percent of employees polled would prefer a cash bonus to other popular holiday perks.
While 78 percent of respondents said their companies are offering a year-end gift or bonus, the amount of the gift or bonus varies widely across industries. Interestingly, 50 percent of those offering monetary gifts are planning to give less than $100 per employee.
The good news is that employees polled express appreciation regardless of the size of the bonus. It appears that the real value of a monetary gift may not be its size, but the expression of thanks that accompanies it. Employers who go the extra mile by accompanying their monetary gifts with a personalized thank-you note see increased morale among their workers.
The same is true in the case of employers who give their workers gift cards. Employees appreciate when employers take the time to tailor the gift card to the personal preferences of their workers, rather than simply offering a one-size-fits-all card to a big box store.
Thinking Inside the Box
Many employers achieve good results by offering tried and true gifts to their workers. A perennial favorite is a
turkey or ham for the holidays
. Some employers turn to companies that offer cheese and fruit baskets, baked goods, or jellies and jams delivered in beautifully wrapped packages to add an air of festivity to the workplace.
Another standard holiday benefit is the departmental or organization-wide holiday party. While this perk has been around for years, the annual holiday party is still a staple in many companies,
though this event is ripe for potential problems (so we'd encourage employers to consider these ideas for reigning things in).



Thinking Outside the Box



For cash-strapped companies, think outside the box. For instance, simply facilitating a gift exchange for your workforce won't cost you anything, though you may want to consider providing lunch or holiday treats. (Frugal companies can simply encourage a potluck.)
For an added twist on the white elephant gift exchange, where fun but typically useless gifts are traded, why not
encourage a children's gift exchange instead, whereby employees can exchange toys which can then be re-gifted to the little ones, or donated to charity.

To alleviate the stress of the holidays, some employers provide in-house chair massages or services at local spas to help employees unwind and feel rejuvenated. Others offer babysitting services to employees whose children are out of school for the holidays and/or for employees who need to make a kid-free run to the shopping mall.

Additionally, some companies are opting for delaying traditional holiday perks until after the holidays. While this sounds strange, the benefits are many.
After the excitement of the holidays dies down, a gloom often descends on workers as the new year starts. Employers who wish to raise morale in this after-holiday slump offer employee appreciation gifts in the form of gift cards for a meal or night out, or an extra paid leave day in January or February.

Because these perks are given in a season not generally associated with gift-giving, they stand out as symbols of appreciation for your staff. Thus, the true meaning of the gift does not get lost in the clutter and bustle of the holiday season.

Of course, there is much more to crafting a truly appreciated benefits package than including holiday perks. If you would like more information about competitive benefits offerings that will help you attract and retain top talent, please contact us.