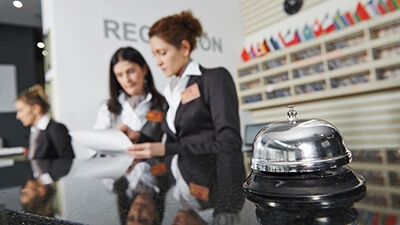 Hospitality managers know they are in a highly competitive sector. After all, with the touch of a few keystrokes, potential customers will decide to either visit a property or choose another. How can companies in this industry maintain a competitive edge?
Hotel news site 4hoteliers.com lists "achieve operational excellence" as one of four keys to a competitive hospitality strategy. They go on to explain, "Satisfactory service is not good enough with today's fickle consumer; great service is now required, so providing 'unanticipated' or 'wow' service is a must".
With that said, no other industry relies more heavily on its staff to set it apart from other competitors. And no other factor contributes to employee satisfaction more than an effective benefits package. In fact, 76 percent of employees say they'd be at least somewhat likely to accept a job with a more robust benefits package, but lower compensation. So how can your firm craft a benefits package that attracts top talent and retains it?
Consider these three tips:
(Editors Note - this blog post is an excerpt from our recently published white paper on the same topic. You can download a FREE copy of that white paper simply by clicking here.)
1. Research and Benchmark
Designing a great benefits package requires effort and digging. It's important to research industry best practices and survey your own employees. Create a strategy for departing employees that asks why they are leaving and coaxes the real, underlying reasons.
A 2014 statistical survey of hotel employees found that only 4.4 percent of hotel hourly employees stayed with their employers for ten years or more. Find out why your employees are leaving, and work to combat those reasons. Additionally, benchmark benefits packages by researching your direct competitors, as well as other companies outside your industry yet in the same region.