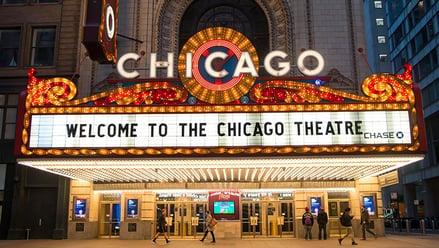 I've attended some epic holiday office parties in my life. For the first eight years of my career I worked for Leo Burnett, the storied Chicago ad agency right out of the Mad Men era. They'd hold their holiday breakfast in early December each year at one of Chicago's historic institutions like the Chicago Theater or the Masonic Temple. The breakfast started at 8:30 AM, and consisted of an annual "state of the business" presentation, and then the much-anticipated unveiling of the "best of reels" representing the company's finest commercial broadcast work that year, both domestic and international. The breakfast always ended with everyone watching Leo Burnett's now infamous 1967 speech, "When to Take My Name Off The Door", where he laid out his vision of the company's enduring values. It's a guaranteed tear jerker; never a dry eye in the house.

After the official breakfast, Burnetter's would parade through the streets of Chicago back to HQ to meet with their teams and pick up their annual bonus checks, amounting to anywhere from 10% to 20% of their annual salaries. For a guy who started in advertising making $18,800, a bonus check of $1,880 was like hitting the jackpot. Once the bonus checks were distributed, each account group left the office to celebrate at one of dozens and dozens of luncheons planned at various venues around town. Around 4 PM, most everyone descended on the "producer's party", which was always held at the swankiest night club in town.

All this sounds pretty fantastic, and it was, but it was also an alcohol fueled day for many, myself included. Some of us would start the morning with a 5:30 am poker game at an associate's condo downtown, complete with a bloody mary and beer bar. Others would pack flasks for the breakfast meeting, while others would make it their personal goal to go "tip-to-tip", starting at 5:30 AM and not going to bed until 5:30 the next day. This is not to suggest that everyone's breakfast experience was like the one I just described (not at all), but as ad types go, I don't think there's quite another profession where people work so hard and play even harder. I was also thirty years younger back then and the underpaid peers I hung around with tended to enjoy a free buffet and open bar a bit more than the more seasoned employees.
At the time, I was in the Client Services department, and couldn't have been further removed from HR. I'd like to think that on breakfast day, everyone was on their best behavior, and I certainly wasn't witness to any lewd behavior. But knowing what I know now, working in an HR-related field, I can only imagine what a nail-biter an event like that must have been for the Human Resources department.

After Leo Burnett, I went to work for Coca-Cola and America Online, and while both of their holiday parties weren't as heart-tugging and lump-in-the-throat memorable for their content, they were also complete ragers with perhaps as many as ten thousand attendees enjoying gigantic buffets and open bars while listening to some incredible music acts grace the main stage. I certainly couldn't pass up the novelty of a chilled chocolate martini poured from an ice luge at those pre-internet bubble AOL parties. For the employees, it was a fabulous time. For HR, it was probably a nightmare.

Now, as I look back on those times, I realize that these parties might not have been such a fabulous time for every employee. Just playing the sheer numbers game, situations most likely arose of inappropriate behavior which made fellow employees or their guests highly uncomfortable, especially if rude actions or uninvited advances were made from people in positions of power toward those more vulnerable. I don't have proof this happened, and I'd like to think that every single one of my esteemed colleagues (and their guests) knew to keep their manners in check, but we are talking about tens of thousands of people over nearly two decades.

With this is mind, it didn't surprise me last week to see an article in the Wall Street Journal about how companies around the country are "reining in excessive employee merrymaking in response to the allegations roiling the entertainment, media and other industries." Many businesses are moving their events from nightclubs to more family-friendly environments, while others are canceling open bars and banning hard liquor.

FCB, another storied Chicago ad agency went so far as to issue a memo titled "Stupid Fun vs. Responsible Fun". It lays out a number of dos and don'ts, "from kissing colleagues under the mistletoe to over-the-line gyrating on the dance floor." The memo went on to point out other no-no's like posting inappropriate pictures on social media and telling off-color jokes.

The article went on to say that, "the caution reflects the combustible mix that holiday work parties often bring together; alcohol plus colleagues dismissive or unsure of which work rules still apply at a celebrations outside the office."

So what should companies do about this? This topic is, after all, dominating the Q4 news cycle, not to mention gracing the cover of Time Magazine. First, it's best to address it head on. Remind everyone, in writing, that alcohol isn't an excuse for inappropriate behavior. Second, stress that your company has a no tolerance policy for any inappropriate behavior. And third, consider creating an environment that doesn't encourage over consumption. This includes exemplifying the very same well-mannered behaviors you would like to see in your workforce.

Do you have other ideas for creating holiday workplace gatherings which have less potential for inappropriate behavior to creep in? If so, what are they?