Employee Handbook Basics
Understanding the basic fundamentals of employee handbooks can help keep employees on track while also keeping companies out of hot water. In this blog post we set out to answer questions such as why employers should have an employee handbook, what it should include, and why legal reviews are so critical.
Why Have An Employee Handbook?
The purpose of an employee handbook is to have one resource everyone in the company can go to for an explanation of the company policies. The handbook should record information on what the employer expects from the employees and what employees can expect from the employer. It is an easy-to-understand reference written to provide employees with answers to basic questions such as leave policies and more.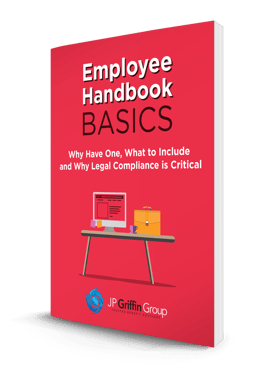 Recording these policies eliminates the possibility employees can claim they were never aware of a specific policy or did not understand the specifics of a policy. Because it helps ensure policies are applied consistently across the company, it can also eliminate favoritism and thereby improve morale.
Why Is It Important For The Handbook To Go Through A Legal Review?
It is critical that an attorney who practices employment law in the area(s) where the company is located reviews your handbook. Write the handbook to comply with federal laws, such as the Age Discrimination in Employment Act (ADEA).
Compliance with all specific state and local laws is also important. Finally, administrative agencies, including the National Labor Relations Board (NLRB) and Equal Employment Opportunity Commission (EEOC) have guidelines that should be included.
The legal review can answer questions such as:
Does an employee handbook create an employment contract in your state?
Does your state require any specific language in handbooks?
Does the handbook include an appropriate required at-well disclaimer?
If your company operates in more than one location, is the handbook tailored to reflect any specific lanuage required in each location?
What Information Should The Handbook Include?
It is not necessary for an employee handbook to include details of every single company policy. At a minimum, however, employers should ensure it includes the following provisions:
An at-will employment disclaimer that specifies that employment can be terminated at any time with or without notice or cause.
Anti-discrimination and anti-harassment language that states the company's commitment to maintain a workplace that ensures equal employment and the process in place for employees who report any incidents.
Wage and hour information including the structured pay period, overtime, and breaks.
Attendance requirements and leave policies.
Standards of conduct and performance.
Procedures for performance reviews and progressive discipline policies.
Digital guidelines specifying that employees should not have an expectation of privacy while using company equipment and policies regarding social media use in the workplace.
Information about company-provided benefits, such as health insurance, life insurance, and retirement plans, among others.
Company guidelines regarding appropriate handling and protection of confidential or sensitive company or client information.
Additional topics to consider for inclusion in an employee handbook:
Policies and procedures regarding how criminal convictions are handled.
Company use of mandatory and random drug testing, including guidelines related to the legalization of marijuana.
Provisions for same-sex marriages or civil unions and qualifications for receiving company benefits.
Distributing And Using The Handbook
After the handbook is written and reviewed by the employment attorney, it's time to distribute it to all employees. Make it mandatory for each employee to sign a statement acknowledging receipt of the handbook and each subsequent revision. Upload the handbook to the employee intranet or portal if one exists. Ensure all managers have easy access to copies of the handbook to share with employees if necessary.
Give all managers training on the policies and procedures provided in the employee handbook. It is also important these managers know where to find any policies or procedures not included in the handbook. Make sure they understand how to raise questions about any unusual situations that arise and may not be addressed by a policy or procedure.
Do you have any questions about employee handbooks? Contact us. We are here to help. For a limited time we are offering a no-obligation, complimentary compliance review of your employee handbook. This thorough review will culminate in a complete set of redlined comments and detailed instructions for you to follow to get your employee handbook in tip top shape.
If you are interested in taking us up on this offer, simply click here.