Managing an organization's human capital is a complex job, and technology can automate and streamline aspects of it that before required hours of paperwork and rote calculation. The time technological s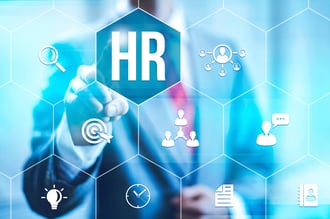 olutions is freeing-up is allowing HR professionals to play a bigger role in the strategic direction of their companies.

In fact, thanks to these advancements, the HR function is becoming more mobile, analytical, and adaptive - with HR analysts providing more insight into corporate direction, predictive hiring trends, and analysis of benefits and compensation plans.

Here are six primary ways technology is affecting HR:

Improved communication:
Hard copy records used to take up huge amounts of space in HR offices, spreading into individual managers' offices as well. New technologies are making it easier than ever to manage employee records securely in digital form. Benefits automation companies are also making it much easier for all kinds of businesses to ensure regulatory compliance and maintain accurate records with a minimum of paperwork.

Automated data recording:
Evaluations of line employees have traditionally been predicated on how many products they worked on in a given time period, shelves stocked, clients contacted, and so forth. This meant that someone had to record those numbers and pass them on to an analyst—usually the manager. With the advent of automated systems, those kinds of details can be automatically recorded to tell managers whether employees are meeting benchmarks, and can often provide valuable data to help improve efficiency across the board.

Mobile tracking apps:
In the old days, HR and finance managed employee mileage, per diem, and other fiscal concerns using log books, receipts, and records—usually kept by the employee and turned in when complete - to factor and figure compensation claims. With mobile apps, that type of data can be tracked in real time, improving accuracy and reducing manual processing.

Cloud-based data:
In the recent past, HR data was usually kept on local systems and servers; things that could only be accessed from the workplace. The advent of cloud-based computing and data storage farms is pushing the limits of the traditional workplace, and HR data can now be made safely and securely available from remote locations.

Now it should be noted that all of this emerging technology comes with its own pitfalls and challenges.

For example, all of the new data being collected and stored often isn't being used to its full potential. A recent PwC study of mostly businesses with 1,000 or more employees found that 52 percent of those companies do not have a dedicated HR analytics team, and 40 percent have no analytics strategy. Without someone to analyze all the employee data being collected, organizations are sitting on massive piles of unused information that has the potential to improve their operations.

Additionally, there are always privacy and compliance concerns to contend with when it comes to new HR technology. Many companies are employing wearable technology for a variety of purposes, including workplace wellness programs. But the social sharing aspect of many of these kinds of devices can leave sensitive employee information out in the open where it shouldn't necessarily be.

Finally, the field of benefits automation is constantly evolving, and companies that sell themselves as HR cure-alls may not be able to deliver on their promises. HR departments are faced with a dizzying variety of platforms and solutions, and they need expert guidance to make the right choices for their organizations.

Reach Out For Assistance

The Human Resources landscape is an increasingly complex space in which to maneuver. While it was once possible to manually handle most all aspects of the Human Resources function, many employers now discern the need to move to more advanced solutions to ease their administrative burdens and more effectively manage compliance issues.

Contact us for help with implementing technology solutions in your human resources department.