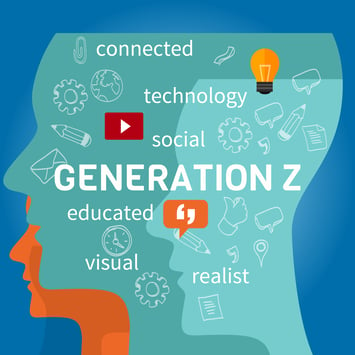 Hot on the heels of Millennials, the new wave of talent is known as "Generation Z". Born in a globally accessible society, from 1993 onward, this generation has never seen the world without the internet. Among the 2 billion worldwide, 60 million nationally have grown up technologically savvy. Though the majority of them are now either in high school or attending universities, there are some that are beginning to enter the workforce.
Just like previous generations, Generation Z will also have distinguished characteristics for which employers will need to prepare. So what exactly should employers expect from the next generation of the workforce? Here are the most overarching features of Gen Z that HR professionals should know about:
1. They prefer digital communication and a steady stream of information.
Gen Z are visual learners and have grown up with an iPad or a smartphone in their hands. Digital communication has been their way of life, and workplaces where communication is hushed may be unfavorable to them. They are socially responsible and connected with their peers around the world via social media; their communication is often done on social networks or through text messages, not email. Organizations need to shift from the traditional ways of communication, such as memos and emails, to accommodate the Gen Z workforce.
Due to their preference for text-based communication, some Gen Zers may lack the social skills of former generations, such as interactive conversations to build relationships, conflict resolution techniques, and formal writing skills. Therefore, employers may want to consider organizing programs to develop those skills.
Gen Z always prefers interactive technology and is also accustom to having a constant flow of information at their fingertips. This desire for knowledge will be apparent in the workplace. They will ask a lot of questions and may be frustrated if they don't get straight answers. Employers should invest in technology and develop the training resources that will attract and keep this dynamic generation of young people. After all, if they aren't your employee, they may be your competitor's.
2. Generation Z is enterprising and creative.
Gen Z is a generation that embraces the crowdsourcing and startup mentality. This has encouraged their free-spirited and entrepreneurial nature. They want to absorb all the knowledge they can, on their own, and they place a high value on innovation and creativity, while always trying to seek out new and better ways to accomplish things. Employers should understand this nature, and tap into it for the benefit of their organization. Giving this generation a platform to express their ideas and abilities, such as roles in task forces and on committees, will be some of the best ways to utilize the potential of Gen Z.
This entrepreneurial drive may also be a result of the hard lessons they learned (or watched those around them learn) growing up. Most of Generation Z grew up in households ravaged by the recession and they have seen their parents and families suffer due to economic cutbacks. They have come to expect financial uncertainty as normal and are the brightest generation of workers to date.
The rising cost of higher education is challenging this generation to find new in-roads into the workforce. Most of them are seeking a means of financial stability to avoid the struggles with student debts that are haunting the millennials of today. Since 2011, the Thiel Fellowship has given 20-30 annual $100,000 grants to young adults, under the age of 22, who either opt out of college, or stop college, to "build something they care about". These are the young minds who are creating the future we all will be a part of.
3. Generation Z is very diverse.
Gen Z is more tolerant and accepting of diversity than any generation before them. Their social media channels expose them to people and opinions from a variety of ethnicities, ages, races, political affiliations, and religions. That environment has enabled them to embrace and even seek out diversity in a work environment. They can easily blend with other cultures, making them well-suited for jobs in foreign countries.
Gen Z members are also very independent and open-minded and do not define themselves in distinct categories. The "one size fits all" era is long gone, and Generation Z expects to be treated individually, rather than as a group. As an employer, you need to be aware of this fact to ensure fair treatment in the workplace. Things like gender pay gaps will not be tolerated among Gen Z.
The internet instantly connects Gen Z to a global knowledge base, and social diversity defines their existence. Terrorism and climate change are a part of their day-to-day experiences. Homeschooling also has played a major role in the education and knowledge of Gen Zs. As a result, they have learned to value family connections, respect their parents, and follow authority. Caring, yet cautious, they are inclined to look to social reform as a jumping off spot for a career that will enable them to make meaningful changes in the workforce.
4. Generation Z is eager to reap the rewards of their work.
Gen Z have always had instant access to all the answers, and they expect their job to be fun as well as socially redeeming. Their main goals are those that will reap the benefits within a few years- not long term. Promising Gen Z employee benefits, such as a great retirement plans, will not mesmerize them. They are likely to be more interested in your programs for student loan repayment or paid parental leave.
Generation Z's goals are usually short-term and come with high expectations. They have no anticipation of longevity; they want fast professional development and will seek opportunities for promotion right away. Few will accept the prospect of working for the same company for 30 years, but will instead hop from one opportunity to the next that promises better pay and potential promotion.
Though there are other characteristics embodied by Gen Z, these four features are the most prominent. This tech-savvy generation will seek out employers who understand them and welcome their unique characteristics as a benefit to the workforce. Hiring managers should be prepared to embrace these young adults that possesses high self-esteem and wants, and require only minimum direction. Additionally, employers need to capitalize on their strengths and consider offering training opportunities to improve areas such as traditional and formal communication.
At JP Griffin Group we challenge conventional thinking and, for this reason, we embrace the unique characteristics of Generation Z. We work with many employers who have multi-generational and diverse workforces. Gen Z is just the next evolution in the ever changing employee culture landscape. Contact us for more information.