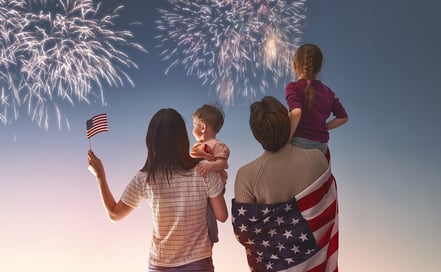 Many employees feel like they have to check-in with work even when they're supposed to be enjoying paid time off. More often than not, this is a cultural issue within a company. Supervisors might be checking-in and sending emails in the evening or on weekends. This leads their direct reports to believe they need to respond immediately, and they may even start adopting these behaviors themselves.
Yet, research has shown time and time again that workers need frequent breaks and unfortunately, Americans leave a lot of that paid time off on the table every year. It might seem like workers would be more productive if they aren't using all their vacation time, but in reality, skipping our vacations actually makes us less productive. To keep employees operating in top shape, we need to encourage them to enjoy their downtime — and perhaps it's fitting to begin with the July 4th holiday. Here are 5 ways to encourage employees to enjoy their independence...and their paid time off this weekend.
1. Establish an Email Free Time Span
On paid days off, such as July 4th, Memorial Day, and Labor Day, communicate to employees that they should not be working. Tell them to avoid email on those days, but don't punish them if they don't adhere to it (just so long as they don't expect coworkers to respond). It may take some time for people to get used to this policy, especially if it's new or if they came from a different employer who expected them to always be on call.
2. Set-up An Out-Of-Office Message
During the week leading up to a paid holiday, send employees an email that includes language for an out-of-office notification — and then tell them to schedule it. This message can be short and sweet, such as:
"[Enter Company Name] will be closed on July 4th so our employees can enjoy the day with their families. We will refrain from responding to emails or voicemails on that day, but will do so upon our return on the 5th. Thank you for your patience and understanding."
If employees are taking additional paid time off, encourage them to customize this message to include their vacation days as well as the email address and phone number of the person(s) who will be handling things while they are away.
3. Encourage Them to Take Extra Time
This year, July 4th falls on a Tuesday, which means that most employees will only have one day of work prior to the holiday. Chances are, that Monday won't be very productive anyway, so encourage employees to take a long weekend. For many lower paid employees who can't afford air travel, that extra day just may make a road trip possible over the July 4th weekend.
Some will happily take the time, while others will save it for a planned vacation later in the year, but the offer shows that their employer cares for them and respects their time away. (If you can afford it, you may even want to consider giving them that Monday as an additional paid day off.)
4. Let Your Clients Know You'll Be OOTO
When a company closes over a holiday (especially if it is taking extra time around the holiday), it's best to communicate this to clients ahead of time so they can plan accordingly. This is especially important if the company will be open on the holiday, but then closed the following day to make up for it.
5. Set a Good Example
This is the most important part about these suggestions. Senior management and supervisors must set a good example for their employees.
They should not be sending emails on the paid holiday and their out-of-office notifications should be up and running.

If the company is encouraging employees to take the Monday before the holiday off, management should do so as well.

If supervisors insist upon firing off emails when they are top of mind, they should use the "delayed send" or "send later" feature built into most email clients to hold the messages until the email-free time span has passed.
How do you encourage your employees to use their paid time off? Leave us a comment below or contact us. We're happy to provide answers!
The JP Griffin Group consults for discerning companies coast-to-coast, ranging in size from 10 to more than 30,000 employees. In addition to our Scottsdale, Arizona headquarters, we have bi coastal offices in Seattle, WA and Washington, DC.