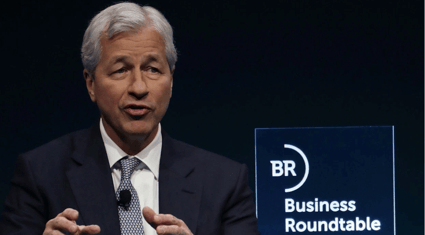 Employees, customers, suppliers, and even community neighbors all moved in front of shareholders yesterday as the primary audiences publicly held companies should utmost serve in the future.

That's according to a statement released by the Business Roundtable, a group of CEOs representing 200 corporations around the country. This new vision recasts the prime directive of corporations from first and foremost serving shareholders (e.g. maximizing profits) to serving these new audiences.

The new mission suggests that corporations should; invest in employees, deliver value to customers, deal ethically with suppliers, and support outside communities. "Shareholders ride the caboose in this new code of corporate purpose," said a dissenting opinion piece in yesterday's Wall Street Journal.

Jamie Dimon, chairman and CEO of J.P. Morgan Chase and chairman of Business Roundtable, said yesterday, "Major employers are investing in their workers and communities because they know it is the only way to be successful over the long term. These modernized principles reflect the business community's unwavering commitment to continue to push for an economy that serves all Americans."

Critics of this new code of corporate purpose argue that this move by the Business Roundtable is based in preemptive politics and nothing more. According the Wall Street Journal's editorial board, "They see socialism on the rise, with Senator Elizabeth Warren proposing to redefine corporate governance…The CEOs no doubt want to get out in front of this by showing what splendid corporate citizens they are."

To be sure, economic equality and fair business practices will continue to dominate the run-up to the 2020 election, both on stage and in news headlines, but they are now getting a boost from business leaders.

BlackRock chief Larry Fink, supporter of this new corporate vision, says the blame for previous failures in these areas lays with fundamental economic change and the failure of the U.S. government to provide lasting solutions. Fink said this has forced society to look to companies for guidance on social and economic issues such as environmental safety and gender and racial equality.
To be sure, this statement by the Business Roundtable isn't intended to just influence America's 3,600 public corporations. After all, why should these companies carry special burdens in this regard when they account for less than one-third of the workforce in our country's private sector and only a fraction of the 5.6 million employer firms in the U.S.?
And to be sure, companies have already been headed in this direction for some time how. A Factiva search yielded 3,840 company conference calls in 2018 where the broader, more encompassing "stakeholder" was referenced. This represents a doubling of the times this more inclusive word was used just five years earlier. As for this year, already the mention of "stakeholders" is up 17% vs. year ago.
In an interview yesterday, David Gelles, a report for the NYTimes told NPR, "I think what we're seeing is a real disconnect between what individual companies do and how the broader business community is perceived by the public." He continued, "I spoke to the CEOs of many of these companies today, and they'll all be quick to point out, that 'hey, we actually do take pretty good care of our workers. And, hey, we do have lofty and laudable parental and family leave'."

The Wall Street Journal was more blunt and contrarian. While they conceded that it isn't easy for CEOs to defend profits these days, they argue that CEOs must make the case about the broad benefits that flow to employees, customers, vendors, and society if their companies succeed.

For now, a more widespread adoption of this new corporate mission is really nothing more than a lofty sentiment from business leaders, though it's tough to dismiss that a migration to this vision is already underway. This is evidenced by the great sums of investor cash pouring into funds that specialize in socially-responsible investing, drawing more money in the first half of 2019 than last year's record amount.
Nevertheless, we'll have to wait and see exactly how the Business Roundtable proposes, more precisely, just how companies should go about achieving this new mission. Critics are already asking for more practical sentiments, such as pushing for a $15-an-hour minimum wage, paid paternal leave, and other more specific employee benefit programs that might improve the lives of employees.