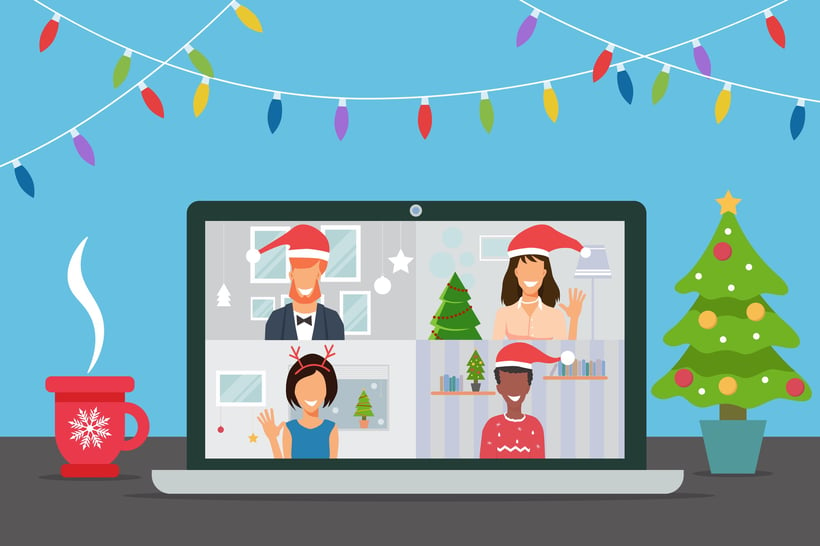 Given the tremendous challenges surrounding in-person gatherings, employers everywhere have been torn between hosting, postponing, or outright canceling their company holiday parties in the face of the COVID-19 pandemic.
In fact, according to Challenger, Gray & Christmas, a Chicago-based outsourcing firm that conducts an annual survey of workplace holiday festivities, most employers are either canceling their parties altogether or are hosting them virtually this holiday season.
Their annual survey found that only 23 percent of organizations plan to host a year-end celebration in 2020, down from 76 percent in 2019 - a decline of more than two thirds. And of companies who are planning on holding a holiday party, three out of four are doing so virtually.
Since the vast majority of companies who plan to celebrate are embracing virtual as the ideal way to save the day, here are some suggestions and ideas for your party planning committee to consider.
Virtual Ways to Celebrate the Holidays with Employees
First and foremost, it's essential to know that events held during the day will be more well attended than those held after hours. While a daytime event might cut down on any libations being consumed, it will also reign in the potential for bad behavior, which unfortunately can still occur in a virtual environment. (There are plenty of Zoom videos on YouTube to prove it.)

There are other perks to a remote office shindig too – like not needing to hire a babysitter, not having to pay for an Uber, and no chance of spouses getting cornered into an hour-long conversation with the guy from the mailroom who just started a bee-keeping side-hustle (no offense to the mailroom, or beekeepers, or side-hustles).

Here are some ideas for hosting a virtual celebration this year. Depending on your company's size and budget, some of these may be more applicable than others. For example, some of these ideas cost very little to execute, while others are more expensive. Additionally, some of these ideas lend themselves well to interaction amongst the group, while others won't lend themselves well to interactivity at all and are more unidirectional in nature.
Online Video Conferencing Events
Virtual Performance/Event: Consider inviting a performer such as a singer, magician, hypnotist, or comedian to perform virtually for your employees. If your company is small enough, you might even be able to make it interactive. For example, book a musical group or improve troop who can take requests on the fly or a magician who can send parts of his/her tricks out in advance to various audience participants.
Virtual Crafting Class: From iPhone photography workshops to painting classes, plan your virtual event centered around learning fun, new skills. Airbnb offers thousands of one-on-one virtual experiences – everything from a master class in brewing coffee to lessons on cooking Mexican street tacos. There are even classes on glass blowing and oil painting taught by professional artists also stuck at home in far off places like Italy and France. Just be aware that some of these events might require attendees to acquire materials in advance of the session (which can also be curated, paid for by you, and sent into the home automatically, though they need not be).
Virtual Happy Hours: Hundreds of wineries offer virtual wine tastings, while mixologists are also relatively easy to find online. Depending on the time of day, you can ask your mixologist to conduct a class on making Mimosas and Bloody Mary's or different cocktails better suited to later in the day. Just make sure to include some virgin cocktails for those who don't drink alcohol. Like the crafting classes, be aware that some of these ideas might require the audience to have certain materials on hand if they are also concocting drinks at home.
Virtual Culinary Delights: If you want to stay away from alcohol, consider a cheese and charcuterie tasting. Book an expert who can educate the audience on putting together a beautiful board while educating them on the differences between the various meats, cheese, olives, jams, and anything else you want to load up on. For this idea to work best, a carefully curated shipment of materials should be sent in advance of the event (e.g., you really can't send people out to shop on their own for this one to work well).
Virtual Games & Socializing: If your company is of the appropriate size, perhaps nothing will bring out more camaraderie than an interactive event full of online games, trivia contests, and good old fashion storytelling. Just google "zoom online games" to procure a bunch of ideas, from online bingo and virtual escape rooms to family-feud style trivia games, where you can even customize the questions (an excellent virtual training idea for next year as well).
Virtual Competitions: If your company is anything like ours, everyone loves a competition, most especially when prizes are on the line. From ugly sweater contests to best Zoom backgrounds, just about anything can be made into a competition.
Virtual Talent Show: Once again, if your company is of the appropriate size, you might consider hosting an online talent show to expose your team's hidden talents, from piano playing to joke-telling. Have an online karaoke machine on hand for anyone who wants to belt out a tune.
Virtual Recognition Ceremonies: While you might not want to make an entire holiday event out of employee recognition, it might make sense to carve out a portion of time to recognize teams and individuals who went above and beyond this year, or those who achieved a significant milestone with the company, such as a special anniversary, or a new level of skills certification, or a promotion. (At JP Griffin Group, we annually award our MVP and Rookie of the Year at our holiday gathering, when spouses and/or significant others are often in attendance.) Recognitions can also be less stuffy. Consider recognizing someone as having the best Zoom etiquette, the best dog barking, or the loudest baby crying in the background, etc.
Virtual Holiday Meet-up: Lastly, you should not overlook the value of merely bringing everyone together online outside of a formal meeting. A virtual meet-up goes a long way in-and-of-itself, so feel free to ditch all the pomp and circumstance and just get everyone online. Perhaps you can kick off the event with an inspirational message, either looking back at 2020 or ahead to 2021. When hosting these types of more free-form meet-ups, our only suggestion is to have someone appointed to keep the conversation going if there is a lull - or to manage the conversation if you have a lively bunch on your hands. And, it's always a good idea to have a few conversation starters in your back pocket.
High-end Holiday Care Packages
Many employers are also going the route of the high-end care package as a way to express their appreciation to workers who are still mostly working from home. Ideas take on an enormous range in terms of size, scope, and investment level.
On the more perishable side of things, we've read about pre-prepared meal delivery, as well as do-it-yourself dinners with carefully curated ingredients-in-a-box. We've also heard about high-end wine, whiskey, and tequila shipments, which will probably have a longer shelf life.
Better still, at least in terms of longevity, we've been pitched branded Apple AirPods, video game consoles, electric blankets, outdoor fire-pits, grills, and more.
And while there's something to be said for a high-value gift that employees will use often, versus a one-and-done event that may be quickly forgotten, we still feel rather strongly that what's needed now, more than anything, is more togetherness. With that in mind, our preference is for ideas that bring everyone together.
Skipping It Altogether (or Postponing)
While holiday celebrations can positively impact a workplace culture, there is also a very strong case to be made for forgoing a celebration altogether this year.
In addition to safety concerns, these events – even some held virtually - can be quite costly to host. They can also consume an excessive amount of time to plan, depending on the event's complexity.
So, if your business in an industry that has been challenged financially this year or you've had to cut back on staff, it might make all the sense in the world to take a year off from celebrating, lest you send out mixed messages to your workforce. After all, as the survey from Challenger, Gray & Christmas shows, employers who decide to cancel or postpone holiday events are in the majority this year.

Our only advice to employers who go this route is to explain to employees why throwing a holiday party, even a virtual one, isn't feasible. The same goes for any explanation which might be warranted if year-end bonuses and other traditions are going to be altered in any way.
While some employees will be disappointed in this decision, they'll still appreciate the sincerity and transparency.