Benefits That Matter Most, Part Three: The Multi-Cultural Workforce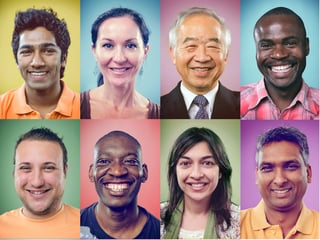 Hispanics now account for 16 percent of the total American workforce. That figure is expected to more than double by 2050, and doesn't even take into account workforce statistics from other cultures. Such diversity in culture can bring about challenges when it comes to employee benefits planning.

Welcome to Part Three of our blog series, "Benefits That Matter Most." In Part One, we discussed the needs and priorities of Millennials in the workplace. Part Two explored the issues that face employers with a Multi-Generational workforce. In Part Three, we will address the impact of Multi-Cultural workforces on employee benefits.

The Changing Face of the American Worker
Perusing employment posters from previous decades paints a picture of the average American employee as a 20- to 40-year-old Caucasian male. However, the American workforce has always been more diverse than that, and minority groups are making up a larger and larger percentage of the employment landscape.
As we mentioned in our intro, consider some statistics about Hispanic workers in America. Hispanics accounted for 16 percent of the total American workforce in 2013. However, the National Council of La Raza, the largest national Hispanic civil rights and advocacy organization in the U.S., estimates that by 2050, 1 in 3 working Americans will be Hispanic.

While other minority groups are also on the rise in the workplace, it seems reasonable to use the case of Hispanic and Latino workers as a litmus test for how well your benefits package is meeting the challenge of a multicultural workforce.

Benefit Satisfaction = Job Satisfaction
According to a study by MetLife, there is a strong correlation between employee satisfaction with benefits and employee job satisfaction in general. The study found that employees who are satisfied with the benefits package offered by their employer are four times more likely to also express overall job satisfaction.

This holds true for Latino employees as well. According to the 2015 AFLAC WorkForces Report, 63 percent of Latino employees say their employee benefits package is extremely or very influential in their level of job satisfaction. Latino workers are also more likely than non-Latino workers to say that improving their benefit offerings would encourage them to stay with their current employer.

Decision-Making Challenges
Unlike non-Hispanic workers, Hispanic employees are often the sole decision makers in their households regarding benefits selection. The AFLAC report states that 76 percent of Hispanic workers are tasked with the job of making decisions about voluntary benefits without the aid of another person in the household.
Adding to the issue is the fact that 78 percent of Hispanic workers surveyed spent less than one hour researching their benefits options during their last open enrollment period. A surprising 43 percent spent less than thirty minutes on the task.

In a future post, we'll be discussing the best ways to communicate with different employee groups about benefits options, but it's safe to say that if you have a largely Hispanic workforce, one of the best actions you can take is to make an extra effort to help your employees understand the choices they have.

Pain Points for Hispanic Workers
In addition to the lack of family input to make benefits decisions, Hispanic workers face a variety of other issues that impact their health and the cost of benefits packages offered by employers. Here are a few examples that highlight some of these issues:
17 percent of Latino employees report dealing with serious health issues
20 percent have received emergency room care in the past year
25 percent say that medical costs have impacted their credit scores
76 percent admit to underestimating the cost of illness or injury
33 percent report high stress levels at work

Common Financial Concerns Beyond Healthcare Costs
Like many of their non-Hispanic workmates, Hispanic employees are concerned about their financial health as well. On average, Hispanic workers report major concerns about saving for a home, saving for their children's future education, and saving for their own retirement. Life insurance is often viewed as a way of providing for offspring as an inheritance.

What Does It All Mean?
As we discussed in our blog about Multi-Generational workforce concerns, the big takeaway here seems to be that personalization of benefits packages is preferred overall by today's workers regardless of their cultural background. Offering a variety of benefits options which more closely align with the current and future situations of your employees will promote employee satisfaction and retention. Here are some points to make your benefits offering more attractive to every segment of your workforce, while keeping an eye on costs:
Design and promote an effective wellness initiative for all workers
Educate your employees about the advantages of routine preventive care
Encourage enrollment in benefits that cover vulnerable financial areas, such as short-term disability insurance or life insurance
Offer discount programs, help with child care, and other family-friendly options
Encourage retirement savings across the board
Because you want to attract and retain valuable employees for your business, paying attention to the diversity within your workforce is necessary. Offering options that truly resonate with your workers will more than pay for the costs incurred for your benefits package in the long run.

If you would like help to find the right combination of benefits options for your company, please contact us. As leaders in the field of benefits consulting, we will be happy to work with you to find the perfect fit.