Benefits That Matter Most, Part Two: The Multi-Generational Workforce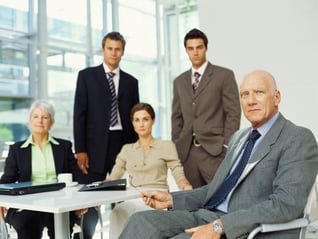 For the first time ever, employers find themselves with four generations of employees working side-by-side. Such diversity in age in the workforce, which drives different needs and
attitudes, can bring about challenges when it comes to employee benefits planning.

Welcome to Part Two of our blog series "Benefits That Matter Most." While Part One focused on Millennials, here we'll focus on the impact of employing a workforce whose ages span multiple generations. What is the impact of multi-generational workforces on employee benefits? What special challenges do employers face with a multi-generational workforce, and how can employers meet the varying needs of their employees in such an environment?

Work by the Numbers
12.7 percent of the work force will be 16-24 years of age

63.5 percent of the workforce will be 25-54 years of age

23.8 percent of the work force will be 54 years old and above
The Challenges of a Multi-Generational Environment
Benefits planning for multi-generational employees presents a number of challenges. Perhaps the most obvious challenge is trying to meet the needs of each segment of the employee population. For instance, while older workers are gearing up for retirement, Millennials are focusing on paying off student loan debt. While Baby Boomers are looking after their aged parents, Gen-Xers may be starting families of their own, or planning for their children's college education.

It is not just the personal circumstances of different generational groups that vary widely. There is also a disparity between the basic viewpoint of different segments of the workforce. For instance, consider these interesting statistics:


These statistics illustrate just how differently various age groups within the workplace embrace varied life and work philosophies.
Meeting the Challenge with Smart Strategies
If a benefits plan is to be welcomed by all age groups in the workplace, much thought must be put into its design. The good news is that there are some employee benefits that have a broad appeal across all groups. Here are a few of the top benefits valued by all age groups:

Competitive, performance-driven compensation packages

Flexible work hours that promote better life/work balance

Free healthcare coverage for employees with optional add-in of family members for a reasonable additional fee

Voluntary benefits such as dental, vision, and life insurance

Discount programs

Financial counseling services tailored according to individual needs

Wellness programs

PTO offerings which include time off to care either for personal needs or family needs

Matching Benefits to Multiple Generations
In addition to the widely coveted benefits already listed, each generation of the workforce has unique needs and issues to be addressed. Benefits packages that offer a great amount of flexibility and choice work well to keep a multi-generational workforce happy and willing to stay with your company for the long-term. Here is a quick look at some commonly desired age-specific benefits.
Baby Boomers
While their parents generally retired in their late sixties, Baby Boomers are rethinking the traditional retirement strategy. Many of them intend to skip traditional retirement altogether, in favor of reduced work hours or perhaps even embarking on a totally new career. Because life expectancy has increased somewhat, Baby Boomers may be worried about whether they have enough materially to retire in comfort. Some benefits Baby Boomers value are:
Retirement counseling and aggressive savings options

Long-term care insurance

Home warranty insurance

Life insurance

Critical illness insurance

Generation X
Gen-Xers are faced with a variety of issues that require ingenuity and a flexible approach. They are raising children, caring for aged parents, paying mortgages, and trying to figure out a retirement strategy that works. Some of the most popular non-traditional benefits that Gen-Xers appreciate are:
Flexible spending accounts

Low-deductible health insurance

Child care options

Homeowner's insurance

Long-term care insurance

Comprehensive retirement counseling and savings options

Life insurance

Millennials
Millennials are interested in finding a path to a reasonable life/work balance. They are burdened by lingering student loan debt, potentially insecure about their job readiness and long-term prospects, and intent on making choices that will promote health and wellness, both physically and financially. Some benefits Millennials value include:
Tuition assistance for continuing education

ID theft protection

Employee mentoring programs

Education regarding retirement savings

Gym or wellness center memberships

Travel rewards

Accident insurance

Short-term disability insurance
Unique Circumstances Call for Unique Solutions
Given the complexity of the multi-generational workforce, a one-size-fits-all approach falls far short of the ideal. A deep understanding of the individual life issues facing different generational groups is required to attract, engage, and retain employees at all levels.

Complicating the issue are such things as ACA compliance, tighter budgeting requirements, and issues with bridging the communication gaps that may exist between disparate age groups.

If you would like help in navigating the ever-changing landscape of employer sponsored benefits, please contact us. As leaders in the field of benefits counseling, we can work with you to design and implement a benefits package that meets the needs of your business as well as your individual employees.

If you are enjoying this blog series, be sure to come back and check out the third part of "Benefits That Matter Most," which will consider the challenges inherent in multi-cultural workplaces. And if you missed our first installment on Millenials, you can read it by clicking here.