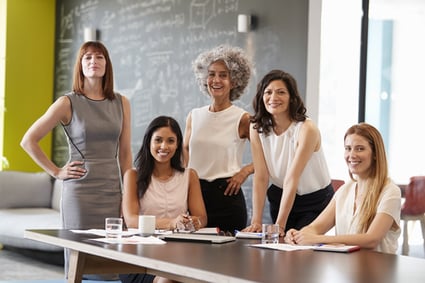 We are about to witness an important change in workforce demographics – one that has implications for virtually every company recruiting college-educated adults.

Women, you see, are about to become the majority of the college-educated workforce in this country. Back in 2007, women surpassed men as the majority of college-educated adults in the United States, but it's taken 12 years for this change to reach the labor force.

Responding to this change, savvy companies are striving to become more attractive to female job candidates. Some of these new practices include the ways in which companies are redrafting job descriptions with more gender-neutral language, as well as changes companies are making to compensation and culture.

Changes to employee benefits programs are even more widespread, and include;

More flexible, family friendly schedules

More telecommuting options

More generous paid parental leave

More widespread employer-paid coverage for fertility treatments and egg-freezing
Mercer's National Survey of Employer-Sponsored Health Plans backs this up. In 2015, just 6 percent of employers with 20,000 employees or more covered egg freezing. That figure has nearly tripled in just three years and is now at 17 percent. Paid parental leave has also jumped from 24% to 40% during the same period, according to Mercer's Study on Absence and Disability Management.

As we discussed on our recent blog posts "Five Ways to Make Pregnancy (and the Return to Work) Easier for Working Moms" and "How to Create a Family Friendly Workplace", other ways employers can make their benefit plans more attractive to women include:

On-site day care

Lactation rooms

Private refrigerators for storing breast milk

Childcare subsidies

Adoption subsidies
Just Don't Ignore Other Female Cohorts
All that being said, companies who only focus on beefing up reproductive health, childbearing, and childcare benefits are missing out on improving their appeal with an entire population of women who aren't interested in raising a family.

In fact, around the world, as female college-attainment rates rise, the fertility rate goes down as educated women put off starting families. In fact, the fertility rate in the United States, which has been below what's considered the 2.1 children "replacement level" since 1971, just hit a record low of 1.7 last year.

So what do benefit enhancements look like when they aren't tied to children and families? Most aren't what employers would consider traditional benefits, but rather are elements of company culture. While these include equal pay, they also include;

Equal opportunities for advancement

Equal representation in management

Formalized mentorship opportunities

A strict adherence to workplace harassment training

There is also a new wave of health and wellness benefits which are growing in popularity among women, according to a study by Harvard Business Review. In that study, more than 60% of women reported that better health, vision and dental benefits "would be taken into heavy consideration" by women applicants, compared to just 47% of men.

Other benefits which are more heavily favored by women than men, according to the same study, include;

Student loan assistance

Tuition assistance

Fitness/yoga classes

So What Does This All Mean?
The path to attracting and retaining top educated women in a tight labor market is fairly straight-forward; pay attention to them and their needs. Cater not only to those who plan to raise (or are already raising) families, but also to women who have no intention to do the same. Foster a culture of equality and focus on benefits that promote health, wellness, and work-life balance.
After all, this trend in an increasingly female-dominated educated workforce is likely to continue. This is due to several factors, not the least of which is future demand for female-dominated professions out-stripping those of male-dominated ones (the latter of which may be severely altered in coming years due to rapid advances in AI and automation).