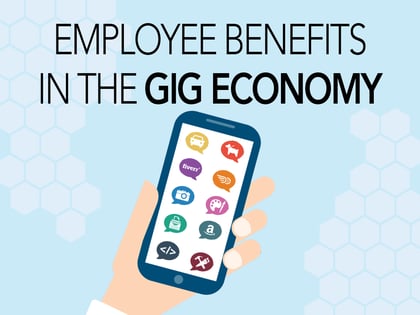 From Uber and Lyft to TaskRabbit and Fiverr, the gig economy is now firmly established as a fixture of today's workplace.
Gallup surveys show that about 36 percent of U.S. workers have some sort of gig, and 29 percent rely on an "alternative work arrangement" (as it's sometimes called) as their primary source of income.
With such a strong presence in the labor market, the gig economy is altering the shape of employment. The numbers from Gallup are lower than some respected economists originally reported (and lower than some less established source's statistics), but they still show that the gig economy is here to stay. Few aspects of employment will remain unaltered by it, and employee benefits certainly isn't immune to its impacts.
In fact, multiple issues related to employee benefits in the gig economy have already been raised. Moving forward, both government agencies and businesses will need to rethink employee benefits programs so that they adequately compensate independent contractors, online platform workers, contract firm workers, on-call workers, temporary workers and others with alternative work arrangements.
Here's what's being done for both the distant and near future.
Long-Term Solution: Portable Benefits
As defined by The Aspen Institute, portable benefits meet three criteria:
The benefits are owned by the workers themselves, so they're not linked to any one particular company or job.

Employers make contributions toward the benefits at a fixed rate and based on how much work the worker completes for the employer.

The benefits are adjusted to cover independent workers, or those with alternative work arrangements.
The concept of portable benefits itself isn't new, as similar structures have been in place in particular industries for decades. For instance, Steven Hill notes that construction workers have relied on "multiple employer welfare arrangements" for years. There also have been "multi-employer plans" in the past in certain industries.
What is new is the movement toward making these sorts of employee benefits arrangements mainstream for gig workers in many different industries. Accomplishing such a feat, obviously, can't be done by one employer, since portable benefits by definition aren't linked to a single company. There are, however, several advocacy groups, think tanks and government agencies that are raising awareness of these potential solutions and exploring how they might be implemented.
The Brookings Institute has been critical of the federal government in its ultimate lack of action on this front, but the institute notes that bills to fund pilot portable benefits programs at the state level has been introduced in both the Senate and the House. At least, government leaders are aware of the situation and some of them are beginning to discuss it.
At the state level, California, New Jersey, New York, Washington and other governments have all begun discussions on how portable employee benefits for gig workers might be implemented. A few of the proposals thus far shows the variety of potential ideas:
A Washington bill would require employers who hire 1099 workers to make contributions to nonprofit "benefit providers" organizations.

Oregon has begun an automatic IRA plan enrollment program that could be expanded to contract workers.

Several local and state governments have enacted ways for independent contractors to opt into paid family leave and/or paid sick leave policies
Short-Term Solution: Creative Employee Benefits for Gig Workers
While there's no single way to improve benefits for gig workers, there's also no shortage of potential ideas. Some of these are costly to implement, but others cost businesses almost nothing. Depending on a business' particular alternative work arrangements with gig workers, the business might try:
Making sure all workers are paid on time and offering an advance on larger projects can ease workers' cash-flow issues (which are common).

Giving workers bonuses for meeting targets can incentivize gig workers similarly to how many traditional employees are incentivized.

Offering discounts on company products or services for the duration of workers' contracts is an easy way to show appreciation.

Including regular gig workers at official company events can help remote workers feel more connected to the organization and its team members.

Increasing compensation to account for self-employment tax, health insurance premiums and unpaid time off can help workers afford these expenses until portable benefits become available.

Providing fair upfront compensation plus a form of royalties or dividends based on success can increase workers' investments in a company.

Partnering with insurance and benefits providers can increase gig workers' access to common employee benefits.
Many companies large and small are already experimenting with these and other solutions. Here are some of the things more well-known companies are doing:
If in doubt, businesses simply need to ask their non-traditional workers what would help them. Most workers would be happy to share what their biggest challenges are and how businesses that hire them can help alleviate those challenges.
Review Your Employee Benefits
If your company is currently considering ways to provide better employee benefits for gig workers, it's also a natural time to review your traditional employees' benefits packages. To discuss benefits with an informed representative, contact one of our team members. They'll be happy to help you explore your current employee benefits offerings and potential alternative solutions.
What type of solutions have you implemented to ensure your gig workers are adequately compensated? Leave us a comment or contact us. We'd love to hear from you!