Every business owner is concerned about their company's reputation. It not only affects their ability to attract customers, but also the talent they're able to recruit. And these days, the internet is providing a much louder voice to a much wider audience, making business reputation management both more difficult and more complicated.
Ideally, you want current and former employees to leave shining endorsements of your company and all it has to offer, but the reality is that not everyone will do so. Whether your role in a company is one of ownership, leadership, marketing, or human resources, part of your job is to engage in business reputation management and luckily, the very same internet making the process more difficult has managed to provide some useful tools to help you out.
The Role the Internet Plays in Company Reputation
One of the most positive things the internet has bestowed upon us is the ability to be more transparent. We don't buy anything without researching it and reading every review we can find, so why would job-seeking be any different? People can read the company's website, but let's face it: what they really want is the inside scoop. They want the dirt. They want to know why employees leave, what they're upset about, what they wish they could change, and how good the employee benefits really are.
In 2007, Robert Hohman, Tim Besse, and Rich Barton started a company called Glassdoor with transparency in mind. They wanted to bridge the gap between job seekers and employers so the road to gainful employment would be less uncertain. They wanted to give job-seekers more than the couple hours in an interview to decide if they wanted to work there. After all, it's impossible to pinpoint a company's culture during a short visit, and even tougher through a phone or video interview.
Before the internet, employers didn't have to worry about business reputation management nearly as much as they do now. If someone was dissatisfied with working for you, the worst they could really do was tell their family and friends. If they had legal disputes with you, it might make the local papers. Now, employees can take to the social media to complain about your company and say just about whatever they please.
The old rule of thumb is that a dissatisfied customer will tell 10 people about their negative experience, while a happy customer will only tell a few people about their positive one — and while the same kind of principle applies for employees, Glassdoor provides a more visible platform. People that enjoyed (or still enjoy) working for you may sing your praises to their friends on social media, but it's far more likely that angry former employees will feel more inclined to tell their side of the story to their 500 Facebook or Snapchat friends and Twitter followers, or write a less-than-positive review on Glassdoor or Indeed.
It's for this very reason that we conduct a reputation management social media audit when we take on new clients. We check Glassdoor and Indeed for any mentions of our clients' employee benefits packages and what employees are saying about them. We also audit employee reviews of our clients' competitors — not just who they compete with for customers, but also those who they compete with for talent.
Does your benefits package elicit any public responses, whether good or bad? What's the overall feeling? Does your workforce complain about anything in particular? Do they mention a specific benefit in a positive way? Are there multiple people mentioning the same thing about your benefits package?
Sometimes, people feel more inclined to share openly and honestly when it's done anonymously, which is how it's done on Glassdoor, so this can be a good way for you to determine how your employees actually feel about your offerings. And even though it may be an uncomfortable experience, it's important for you to know what your employees (or former employees) are saying about you — if anything, so you can manage your company's reputation, but also because you can't fix problems if you don't know what they are.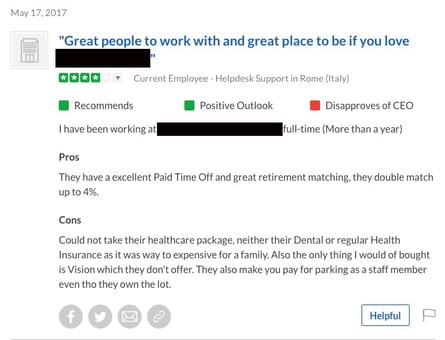 It's also a very good practice for you to conduct a social audit (or "social listening exercises," as they're commonly called) of your competitors — not just of the companies who make similar products or provide similar services, but of those in your area who will be competing for similar talent. You may be surprised by what you see.
We've oftentimes seen companies brush off negative comments on Glassdoor by claiming the "sour grapes" defense — as in, "that person is just angry they were let go." But you can't do anything to protect your company's reputation if you dismiss the negative feedback.
We've also seen companies explain away the lack of positive comments (especially about employee benefits) by claiming that employees simply aren't engaged in benefits and don't offer compliments on these types of sites. This type of mischaracterization is more easily refuted when you see employees of your competitors doing just that. Positive engagement in benefits by your competitors versus your own workforce could suggest a real benefits deficiency you'll want to address.
How Glassdoor and Indeed Allow You to Take Charge
Job hunting sites Glassdoor and Indeed allow people to review their employer (both former and current) based on a number of factors and even leave open commentary regarding their experiences. It's the same principle as Angie's List (a home contractor matching site) — people with first-hand experience with your company can leave feedback, whether it's positive or negative, and provide as many details as they're comfortable with, including compensation.
These sites also let companies "claim" their page, which enables them to refute statements made by reviewers or expand upon comments that might need some clarification. And as far as employee benefits are concerned, "claiming" their page lets an employer set the record straight on what they do and don't offer by letting you verify each benefit.

This is a screenshot of the top of the JP Griffin Group's Glassdoor page. On the right side, you see a green dot and the words "Engaged Employer." This indicates that we've claimed our page, which allows us to respond to reviews, as well as write a profile about ourselves and (accurately) tout our employee benefits. If an employer hasn't claimed their page, it would simply say, "Is this your page?" One of the main issues with this is that anyone can create a page for an employer, so there could be multiple pages that refer to your business, but they're scattered all over the site. It's best to make sure they're all in one place so you can manage your company reputation more succinctly.
Lots of companies never bother to claim their page, which means they're missing a huge opportunity to tell their side of the story — they're letting former employees tell it for them and possibly even people who didn't actually work for them. Businesses with similar names can be easily confused. This is also the case when there are multiple locations for a business around the country. You may be based in Scottsdale, but you have offices in Washington D.C. (like we do), which could mean two Glassdoor pages for you to worry about.
Claiming your page can help cut down on confusion for employees trying to leave reviews, as well as the amount of false reviews being written on your page. Managing a company reputation is hard enough as it is without needing to combat bad reviews that aren't even about your company.
Because employee benefits are such a big part of recruitment and retention, knowing what your current and former employees are saying about them online is extremely important. Reading negative reviews about the benefits your company offers could make people decide to not to apply for a job with you, or perhaps turn down a job offer. Being up to date on what your current and former employees are saying about you can help you manage your company's reputation in real time and take active steps toward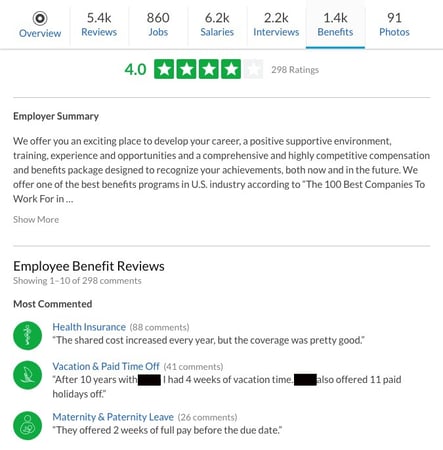 fixing the things people are complaining about.
As previously mentioned, Glassdoor allows employees to list salary, creating a level of transparency that's oftentimes an uncomfortable pill for HR directors and business owners to swallow. Until Glassdoor (and frankly, millennials) came around, discussing pay level and structure was completely taboo.

Some companies actually make their employees sign non-disclosure agreements to make sure no one will tell their coworkers what they're earning. However, this practice has created the perfect environment for wage gaps — a problem services like Glassdoor have helped to cut down on.
Business Reputation Management Across Social Media
Of course, Glassdoor and Indeed are only two of countless social media sites where you need to concern yourself with your company reputation. Setting up Google Alerts can be an effective way to alleviate some of the workload, and something as simple as a daily Google search can help you keep up with new comments.
Remember that we're all growing and adapting all the time, which means our employee benefits are as well. Responding to a negative review doesn't have to mean starting an argument — it could simply mean you wish to correct something you believe is inaccurate. It's okay to admit you made a mistake or say that you've reassessed your priorities over time. Doing so doesn't make your company reputation "weaker," but rather, it shows potential employees you're willing to self-reflect and take corrective action when necessary.
For more information on how to not only protect your company's reputation online, but truly succeed with social media, contact us for our complimentary social media guide.
Are you exercising business reputation management on Glassdoor or Indeed? Leave us a comment below or contact us. We'd love to hear from you!