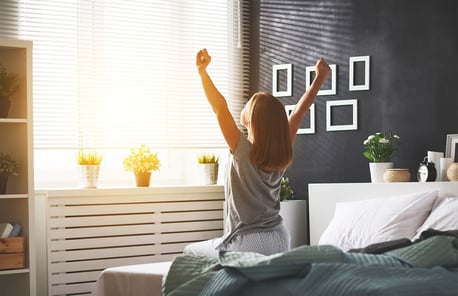 Some of us are early birds, some of us are night owls, but no matter what you are, it's tough to switch to the other side (though it's not unheard of). It seems to be something we're born into. How these sleep patterns affect employee productivity is a topic highly debated. What isn't up for debate is the importance of good sleep — regardless of what time you're waking up.
According to the National Institute of Health (NIH), "Sleep plays a vital role in good health and well-being throughout your life." If we don't get enough quality sleep, our bodies cannot properly repair and heal vital systems (such as the heart and blood vessels,) which is why lack of sleep is often linked to heart and kidney disease, high blood pressure, diabetes, and stroke.
Americans' lack of sleep has been a hot topic of conversation in the news for the past few years, specifically how it affects brain performance, and subsequently, productivity. Some high schools have chosen to push their start times back in order to prevent sleep deprived teens from falling asleep in class — or worse, behind the wheel. In the working world, many employers are embracing flexible schedules. Some companies are even allowing their employees to nap at work when they need to.
The negative effects of sleep deprivation on employee productivity are universally agreed upon. The problem here is that not all of us are on the same sleep schedule. Some of us burn the midnight oil, while others have been asleep for hours by that point in the evening. What's important for employers to remember is that native sleep patterns can affect employee productivity and that fighting against them can actually do more harm than good.
Are Early Birds and Night Owls Really that Different?
Research shows there are actual physiological differences between night owls and early birds. Scientists at Aachen University in Germany studied brain scans of 59 men and women of differing chronotypes — early risers, intermediate risers, and night owls. What they found was that the night owls displayed a reduced "integrity of white matter". This distinction is important because people with lower white matter integrity are more likely to suffer from depression and slowed cognitive function.
Psychologists have even identified different personality traits and behaviors that are more suited to each type of person. For example, night owls are generally more creative, but are also more likely to drink alcohol and smoke. Morning types are more likely to get better grades, but are also more likely to have ADHD.
What This Means for Employee Productivity
LinkedIn is full of articles about how the most successful people are early risers — they get up and read or workout or develop a game plan for the day (or all three). But no matter how hard night owls try, they might never be able to get up early and knock anything off their to do list. They may be lucky enough to get breakfast in before work (but realistically, they're grabbing something with one hand on their way out the door or at a coffee shop on their commute into the office).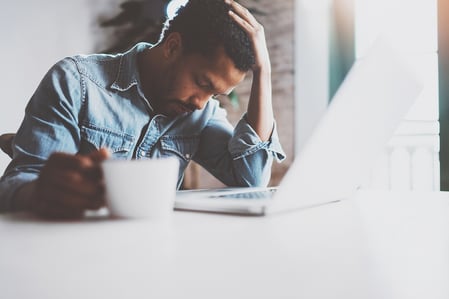 It's hard to determine how sleep patterns truly affect employee productivity, but it's a common perception that early risers are more productive because they're often the first ones in the office. Think back to all those LinkedIn articles are about successful people. Something those people have in common is that they're highly productive. Tim Cook isn't running Apple by rolling out of bed at 10:00am.
But that doesn't mean night owls can't accomplish the same things (and in the spirit of full disclosure, this blog author is most definitely a night owl!) It just means they might choose to do them at different times. They may prefer to exercise after work, make a nice dinner (but grab a quick breakfast), and read before bed. In fact, there are plenty of successful people who much prefer to sleep in. Nevertheless, the perception is still quite prevalent that night owls are less productive employees than early birds.
There are some that argue night owls actually get more accomplished because they're working when fewer people are around to bother them. Of course, one could make the same argument for early birds if they get to the office before everyone else, but if a night owl is working until 10:00pm, there are simply more hours in which they can be productive employees. Chances are, an early bird won't be getting in much earlier than 6:00am. That being said, it does seem like early birds are left alone, while night owls tend to be disrupted more often.
Because so much of modern American life is based around a morning person's schedule, this could help explain why night owls often find themselves feeling so tired. They're being forced to get up earlier than their brains might want to so they can get the kids ready for school (which still starts far too early, especially for high schoolers) and then rush off to work.
One thing's for sure: forcing night owls to work in the early morning will hinder employee productivity just as much as forcing the early birds to work late into the evening. If your employees know for sure that they are most productive when they work 10:00am to 6:00pm, or 7:30am to 3:30pm, it might behoove you to let them do it (of course, as long as it's possible for your specific place of employment).
How to Create Employee Perks Based on Sleep Patterns
There are little things you can do to positively impact employee productivity among members of your workforce. They don't have to be expensive and employees will be grateful (and more loyal) because you put in the extra effort. Here are a few ideas:
Make sure your heating and air conditioning settings are accommodating to your workforce.

A lot of companies operate their heating and cooling systems the way homeowners do, with the temperature fluctuating up (or down) when no one is around. This allows them to save money without compromising comfort.

In the same vein, if you have employees coming in early, make sure the heat or AC kicks on for them and the same goes for your night owls — don't turn down the heat or AC while they're still in the office. This is a simple way to nurture employee productivity and to show your employees that you're willing to be flexible. If the AC gets turned up at 5:00pm when most people go home, it could send a subliminal message that they shouldn't be working that late.
Arrange for escorts to the parking lot.

Depending on the location of your business and how late your employees are leaving, it may be a good idea to arrange for security guards to escort people to their cars. The same could certainly go for the early birds as well, again, depending on how early they're coming in. If you already have security personnel on staff, this wouldn't be too much of a drastic change, especially if they're already scheduled to work around the clock.
Allow employees to have flexible schedules.

In fact, it's literally what the doctor ordered — Dr. Michael J. Breus, also known as

The Sleep Doctor

, believes that sleep inclinations are deeply rooted in us, even going so far as to say sleep chronotypes are genetic (and therefore, tough to fight, though not impossible). He says

flexible work schedules

are a "smart, sleep-friendly strategy that would be good for public health and productivity."

If the nature of your work will allow for it, it's best to let employees have some flexibility in their schedules. Perhaps there will be days when the schedule must be more regimented, but you may find that letting members of your workforce choose their own schedules could lead to increased employee productivity.
Early Birds and Night Owls Learning to Work Together
It can be tough at times for workers with different sleep patterns to figure out how to work together. If the head of a department is an early bird, but an employee is a night owl and struggles to get into the office on time in the morning, both parties may be concerned with how employee productivity is being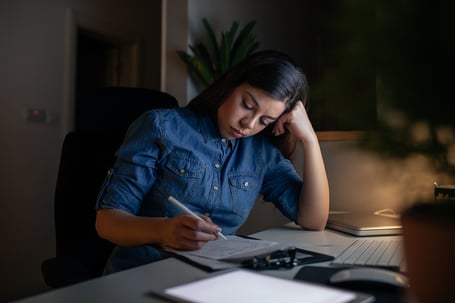 affected.
It's common for the supervisor (the early bird) to feel as though the employee (the night owl) isn't pulling his weight. Likewise, the employee may feel like he's letting his boss down by running through the door at 9:15 — even if he's staying until 5:15 (or later) to make up for it. The important thing for both of these employees is to find common ground.
Assuming the employer can afford a bit of flexibility, the supervisor shouldn't penalize the employee as long as he's being productive and the work is getting done. But the employee should also consider how having a different schedule could affect his relationship with his supervisor. It's best if the two can find a way to compromise.
Whether night owls or early birds are actually more productive is still up for grabs, but you're bound to have some of both (and a fair amount in between) on your staff. To maximize employee productivity, it's a good idea to allow for flexibility in your employee benefits package to match the sleeping patterns of your workforce.
How do you encourage employee productivity across early birds and night owls? Leave us a comment below or contact us. We'd love to hear from you!