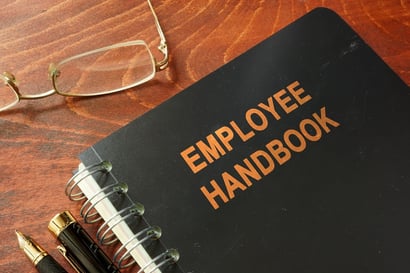 Many employers understand that an employee handbook can be an invaluable resource for codifying important information. Despite this, a fair number of small businesses choose to forgo this critical training, compliance and communication tool.
Some view an employee handbook as too time-consuming to prepare. Others just don't see it as a priority. For companies with a lot of tasks on their plate (and who doesn't fit that bill) an employee handbook just never seems to make it to the top of the to-do list.
Be forewarned, however, that failing to put your company policies in writing could cause headaches down the road. Any time you save now by not documenting and circulating policies and procedures is likely to be spent later on the phone answering the same question over and over, or sitting in a crisis management meeting because someone on staff mishandled an situation.
Not only do employee handbooks ultimately save you time, but a well-crafted handbook could help you avoid litigation, thus providing you with invaluable peace of mind. Whether it's policies, benefit details, or payroll and time off schedules, your employee handbook should be a go-to resource for your workforce. Here's how to get the most value out of yours.
Provide Basic Expectations for Your Employees
Your employee handbook is a great place to introduce new employees (and perhaps some old ones) to basic expectations. In many ways, your company handbook will set the tone for the culture of your business, so it's important to spend some time on it.
You can include as much or as little information as you want, but some good topics to cover include:
Company Goals and Mission Statement

Company History

Anti-Discrimination and Sexual Harassment Policies

Conduct Standards and Valued Work Behaviors

Leave Policies (PTO, Sick Leave, Jury Duty, FMLA, etc.)

Compensation (Paydays, Taxes, etc.)

Employee Benefits

Conflict Resolution (Arbitration, etc.)

Disciplinary Policies

Safety and Security

Non-Disclosure Agreements and Conflict of Interest Statements (Optional)

Workplace Policies (Dress Code, Drug Use, Social Media Usage, Non-Disclosures, Right To Work, etc.)

Technology Policies

Disclaimers (e.g. This is not a contract, the handbook supersedes previous policy docs, policies are subject to change)

Signature Policy (Acknowledgment of receipt and review)
Not every topic will apply to every company out there, so your organization may need to cover less or more than you see here. We'll discuss this further later on, but it's also a good idea to review your policies and procedures with legal counsel to make sure you're in full compliance with state and federal employment laws.
Outline Your Employee Benefits
An employee handbook is the perfect place to provide an overview of employee benefits. It should educate new workers about what they can expect from their benefits, as well as remind existing employees of what their benefits entail.
Cost Information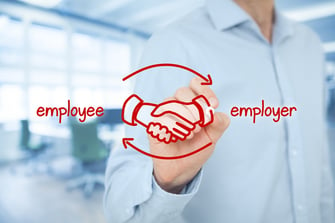 Because benefit costs can (and often do) change from year to year, you don't need to get into specifics about employee contributions or other cost-related details. However, you should include general information about your employer-sponsored health, dental, vision, and other insurance benefits. Identify your providers and the types of plans you offer.
You should also lay out the split between employer and employee costs, as well as details such as who qualifies for coverage (spouses, dependents, etc.) and when those coverages become available. Additionally, don't forget to detail any medical savings accounts (HSAs, LPFSAs, FSAs) your company offers while including a link to the IRS publication outlining eligible expenses. It also wouldn't hurt to include a brief explanation of each account type, since it's very easy to get them confused.
This is also the section where you'll want to provide any relevant website information, including insurers' websites, the site for your retirement plan, and the sites for any of the medical savings plan accounts you offer.
Retirement Programs
In addition, be sure to outline your retirement matching or profit sharing program. Include the length of time an employee must work for the company before you'll begin contributing to their retirement account. Also state the percentage of their salary you're willing to contribute.
Voluntary Benefits
You should also list and explain other company-paid, company-subsidized, or voluntary benefits you offer. Examples include life insurance, accidental death and dismemberment, accident, critical illness, and cancer insurance. Make sure you outline your disability coverage, including workers' compensation guidelines and both short-term and long-term disability (if offered).
Take this opportunity to consider any questions you've received about these programs in the past and write down the answers in an FAQ format that's easy to glance through. If you need some help getting started there, you can check out our free downloadable guide.
State-specific Information
If your business operates in multiple states, be sure to craft each location's handbook in a way that's consistent with your company's core playbook, but that also accounts for applicable local and state requirements.
Similarly, if your company has multiple business units, you might also want to include specific policies for each business unit.
Employee Handbook Best Practices
So now that you know what types of information your employee handbook should cover, it's a good idea to consider how best to convey that information. The goal is to make your employee handbook something your employees actually want to read. Easier said than done, right? Fortunately, there are ways to improve your handbook's readability and appeal.

Be Mindful of Tone
Aim for a casual, approachable tone. You want to be conversational, but professional. Choose words that complement your company's personality and culture. Likewise, avoid language and phrasing that could provoke hostility or put people on the defensive. You want your employees to actually read this handbook (as opposed to throwing it in their desks and forget about it) so make it uplifting and inviting to read.
Looks Matter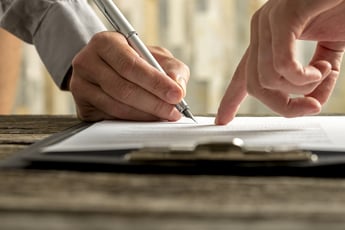 People really do judge a book by its cover, so take the time to design a handbook that's both easy on the eyes and easy to navigate. Create a well-organized table of contents that helps employees find pertinent sections quickly. Use different fonts (in different sizes or bolded, for occasional, necessary emphasis) and white space to maximum effect. No one's saying your employee handbook has to be a beachside read, but it shouldn't give anyone a headache, either.
Shorter (and Lighter) Is Better
Remember: You're creating an employee handbook, not a phone book. In other words, avoid the temptation to stuff the entire kitchen sink into your employee handbook. You might have a lot of ground to cover, but try to keep your handbook as light as possible. If it's too big, employees may feel overwhelmed and decide not to read it, which defeats its purpose.
Avoid Legalese Whenever Possible
When discussing things like anti-harassment policies and arbitration, it's tempting to resort to legalistic words and phrases. The reality is that overly florid language isn't very easy to read. People's eyes tend to glaze over and their brains check out.
The main goal behind an employee handbook is to get vital information into your worker's hands. If your handbook is filled with legalese, you're unlikely to achieve this goal.
There will certainly be areas where you can't avoid legalese — like when you have to include legal notices, disclaimers, or mandatory statutory language. But for every other area, make sure the tone is conversational.
Keep It Current
You may not need to do an overhaul of your employee handbook every year — and if you've done everything properly, you shouldn't have to. However, it's important to give your handbook an annual once-over to make sure your policies are still accurate and compliant with state and federal laws. If relevant statutes have changed, it's important to update your handbook accordingly.
The best time to do this is probably just after open enrollment, when your benefits information is freshest in your mind and employees are likely to have lingering questions regarding their health insurance and subsequent offerings (like HSAs or FSAs).
Explain the "Why"
As every parent knows, kids love asking "why." As it turns out, adults are pretty fond of why, too.
Employees are less likely to complain about a policy if they understand the point behind it. If your employees know why you set certain rules, you can avoid some of the pushback you might encounter if you simply resort to laying the hammer down without any details behind it.
Explaining the rationale behind your company policies could save you some phone calls and emails from frustrated employees who simply don't understand why they can't do something they feel is completely rational. For example, if people know why you prohibit vacation days during certain times of year — like during your biggest sales week — they're much likelier to accept it and even pitch in when you need all hands on deck.
Include a Glossary of Important Terms
Glossaries can save you and your employees time and frustration. A glossary of important terms is especially handy when it comes to health insurance keywords and phrases. Healthcare is an industry that generates a lot of unfamiliar and confusing jargon, so it's a good idea to include a list of common terms in your employee handbook. That way, workers can refer back to it as needed — like when open enrollment is around the corner.
Not sure where to begin? We already created a health insurance glossary to help get you started.
Break It Up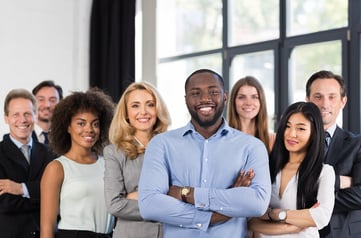 Research shows that people tend to read content a certain way. For example, they naturally avoid long blocks of text. Instead, they prefer smaller chunks of information capped by bold headlines that explain the content underneath.
It's probably a given that no one is going to read your employee handbook cover to cover, and that's okay. This is why it's important to make your handbook as readable as possible. Rather than a big banquet meal, think of your content like a series of quick snacks. Use headings, bullet points, numbered lists and anything else you can think of to break things up. If you create a digital version, make it interactive so people can easily search and navigate your document.
Make It Mobile
Speaking of your employee handbook's digital edition, it's a good idea to create a mobile version as well. The mobile audience is rapidly growing, with mobile internet use surpassing desktop use for the first time in 2016 — and it's only expected to go up from here (especially with younger, natively digital generations entering the workforce). If that's where your employees are, that's where you need to be, too.
Review It with Legal Counsel
Before you print copies and create a digital version of your handbook, it's a good idea to run a draft past your company's legal counsel. An ambiguous phrase or misguided statement could open the door to future litigation. Your lawyer can help you spot potential problem areas, as well as identify items you may have missed. This simple step can save you a lot of time and money later on.
Get Employee Acknowledgement of Receipt
It's also important to have all employees sign an acknowledgement page stating they received the handbook and had an opportunity to ask questions about the information inside. Many companies keep this signature form in their employees' personnel file — just in case it's needed later on.
Lean on Your Employee Benefits Broker
Creating and updating your employee handbook can be a chore. If you're making one for the first time, it's hard to know where to start. Luckily, your employee benefits broker has been there before and can help you figure out what you need to include and what you're still missing from the documents you've already created. With some work, you can create an employee handbook which will serve you and your company well for years to come.
Are you working on your employee handbook this year? Leave us a comment below or contact us. We'd love to hear how you're updating it!