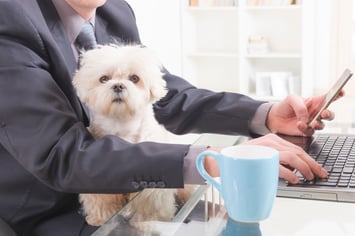 Having a "pets at work" policy is a simple program to implement that can also boost employee morale. Allowing pets in the workplace works particularly well when your employees are passionate about their pets. It's a low-cost perk for human resources to implement, with the added benefit that it can actually improve employee retention.

As reported in Fortune Magazine recently, having Spot as your coworker is quickly replacing foosball in popularity among Millennials: "In a recent survey by social meeting site Skout, more than half of all employees (51%), and 58% of those under age 30, said that dogs in the office make a company 'a cool place to work' — three times the number who said the same about ping pong or foosball tables."

Why Not Make Your Office Pet-Friendly?
People love their pets as a source of inspiration and comfort, but the bond that develops between a pet and an owner gets disrupted every work week for a good portion of the day. Being able to spend time with pets for only brief periods during the early morning or at night can be stressful for both the pet and the owner. That's why having them in the office can help ease separation anxiety for pets, while improving workplace morale for the owner.
Having pets around really seems to bring a more relaxed energy to the atmosphere of the office. Dogs and cats make things more enjoyable for people in all sorts of settings, and offices are no exception. There are also some people who don't have pets but love to be around them. Therefore, this policy can even be a perk for those you never thought of as animal lovers.
The Health Benefits of Pet Ownership
There are many quantifiable benefits that accrue from simply hanging out more with cats and dogs. There are many studies (like this study from Virginia Commonwealth University) that tout the health benefits of bringing your pet to work with you. Also, many studies show physiological health benefits of pet ownership, such as:
Lowered blood pressure

Reduction in stress levels

Improvement with psychological issues
"We know that pets reduce stress, alleviate depression, improve heart health, and reduce obesity," states Steven Feldman, the executive director of the Human Animal Bond Research Initiative (HABRI) Foundation. "We also know that pet owners visit the doctor less often than non-pet owners. In fact, pet ownership saves the U.S. healthcare system $11.7 billion every year."
Making Sure Your Pet is Fit for the Office
Some companies might be a bit skeptical towards this new trend of pet-friendly workplaces. Employers might show a reasonable concern with issues like workplace safety (particularly pets' playfulness), productivity (particularly pet distractions), and workplace cleanliness (particularly pet "accidents"). You obviously wouldn't want pets running around a heavy manufacturing facility, but as far as concerns with productivity go, employees who do their best work regularly exhibit lower levels of stress.
Pet cleanliness could end up being a pet peeve among employees, which is an important reason why human resource departments with pet-friendly workplaces should emphasize pet hygiene. Pets in an office setting should wear flea and tick collars, be potty-trained, and be socialized enough to deal with other pets and humans. Pets should also be regularly groomed to keep hair shedding to a minimum, and allowances should be made for anyone at work who has pet allergies. Veterinarians are well-positioned to help pet owners get their pets office-ready, so pet owners should visit their vet to get current with vaccinations.
Having a puppy-aged pet as your office friend is an ideal time to help them learn socialization. Puppies and kittens in an office setting get to meet new people and learn important social skills at this critical time when there are other dogs and cats around. Of course, you can still bring your older cat or dog, but just make sure they are already social and well-adjusted enough to handle it.
Offering Pet Insurance
While some companies are scaling back on employee wellness programs, record numbers of pet-loving employees are gaining coverage for veterinary expenses through employer-sponsored employee benefit plans.

Given its favorability rating with Millennials, it makes sense that pet insurance is among the fastest-growing employee benefit. In fact, thousands of U.S. companies have started offering it, including Ikea, Yahoo, Levi's, HP, Microsoft, T-Mobile, and even Xerox.

Nationwide dominates the for-profit pet coverage business in the United States (its biggest rival is the non-profit ASPCA). Companies trying to control the cost of benefits have a range of choices, from paying a portion of pet premiums to simply passing along a discount on the insurance, which can then be deducted from payroll or paid directly by the employee.

Scott Liles, Chief Pet Insurance Officer at Nationwhie sees lots of room for further growth, since only about 2% of U.S. pets right now are insured, compared to 23% in the U.K. and 30% in Sweden. "People have gotten closer to their pets," he says. "Dogs and cats have gone from the backyard to the bedroom. At the same time, the cost of veterinary care has gotten higher and higher."
When it comes time to figure out what human resources benefits you should be giving your employees, it's always nice to know that there are low cost perks, like allowing pets in the workplace, which can help people feel more comfortable about going to work. If you're interested in how pets or any other non-traditional benefits can make your employees happier, please contact us today.