Voluntary benefits have been particularly popular in the past few years as healthcare costs rise and employers continue to shift more of the cost burden onto employees. Benefits that were once completely or partially financed by the employer, such as dental and vision, are sometimes now voluntary. A growing number of employers have also replaced low deductible health plans with high deductible health plans.
But if you're not careful, cutting these types of benefits can present a coverage gap for your employees, many of whom are not prepared to take the hit on unexpected medical expenses. This could leave you with a financially insecure workforce — not to mention a stressed, unhealthy and ultimately unhappy one. Offering voluntary benefits can be a meaningful addition to an employee benefits package and a win for employees and businesses alike: employees feel as though they have helpful supplements to their health insurance, and employers don't have to increase their health care budget to offer them.
Required Benefits vs. Voluntary Benefits
As we've discussed in the past, certain employee benefits are required by law, and employers who fail to provide them can be hit with serious — and costly — penalties. These benefits include social security and Medicare withholding, unemployment insurance and workers' compensation benefits. Depending on where an employer is located and how many employees it has, it may also be required by law to provide disability insurance, FMLA benefits and "acceptable" health insurance per federal statute.
Voluntary benefits, on the other hand, are usually paid 100% by the policyholder, and employers are neither expected nor required to cover any portion of the premium. Furthermore, what constitutes a "voluntary benefit" is frequently up for debate — some claim it's a benefit paid entirely by the employee, while others say it can include benefits that are partially subsidized by the employer. In reality, almost all benefits are voluntary, as employees can waive coverage as long as a benefit is not required by law.
How Voluntary Benefits Help Workers
Voluntary benefits are popular among employees, and for good reason. Not only do they help broaden and flesh out traditional healthcare benefits, they are usually offered at reduced group rates otherwise not available on the individual market. Additionally, most voluntary benefits are automatically deducted from an employee's pay, and some are even available using pretax dollars.
Because they typically don't add additional dollars to an employer's healthcare budget, voluntary benefits also enjoy a growing popularity among businesses. In a 2017 BenefitFocus survey, nearly half of employers said they offer voluntary benefits to their workers. Popular voluntary benefits include dental and vision coverage, life and supplemental life insurance, short-term disability and long-term disability. And it's not just these more standard benefits that are becoming more common. Research shows that almost 50% of large employers now offer accident, critical illness, and/or hospital indemnity insurance.
When Does It Make Sense to Offer Voluntary Benefits?
Voluntary benefits can be a boon to both employees and employers, but when does it make sense to offer them? How do you know which voluntary benefits you should make available?
Here are three scenarios to consider:
When Your Employer-Sponsored Healthcare Includes a High Deductible Health Plan
One of the major reasons employers offer voluntary benefits — particularly those focused on income protection — is to help supplement coverage gaps prior to hitting a high deductible.
That said, different products appeal to different audiences. For example, while hospital indemnity insurance is useful for just about anyone, accident insurance tends to appeal to a younger, more active audience. By contrast, critical illness insurance is generally more popular among an older workforce more susceptible to these illnesses.
When Your Population Has a High Claims History
If you have a young and active workforce, chances are you'll have a few torn ACLs and dislocated shoulders from baseball, soccer and hockey season. Likewise, if you have an aging workforce, you're no doubt going to have some employees battling cancer, ALS, Parkinsons or other life-threatening or debilitating illnesses.
In addition to the three income protection products already discussed, this is where other voluntary benefits — short- and long-term disability coverage, life insurance, cancer insurance, and accidental death and dismemberment coverage — would likely be most helpful.
When You Need to Reduce Your Healthcare Costs
For employers who need to cut back on their healthcare costs, voluntary benefits are one of the best ways to maintain a robust employee benefits portfolio while maintaining a lean healthcare budget.
Offering products such as pet insurance, identity theft protection, will preparation, legal services and travel services are great ways to maintain a long and impressive list of employee benefits. Savvy employers can also negotiate discounted rates for employees at nearby gyms, restaurants, dry cleaners, car washes, online ecommerce sites and other service locations. Other convenience and recognition benefits can be added to the portfolio for almost nothing.
Figuring Out Which Voluntary Benefits to Offer
While it may be tempting to add everything but the kitchen sink into the benefits mix, offering too many benefits could lead to decision paralysis. Or worse, employees might spend their limited financial resources on products that provide less value relative to what they really need.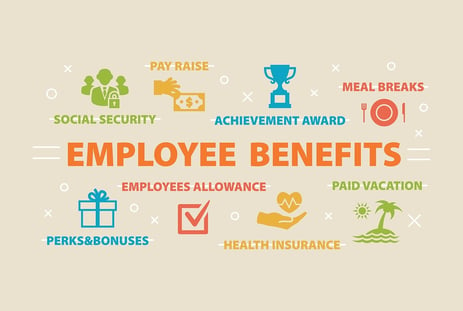 For example, we'd hate to see someone who has Familial ALS in their extended family opt to purchase pet insurance over critical illness. To that end, we strongly encourage employers to spend some time during open enrollment discussing these products with their workforce. Too often, we see employers glossing over these products, when the exact opposite is warranted.
In short, it's imperative to work with your employee benefits broker to tailor your plan. There are dozens of voluntary benefits available, but a skilled employee benefits agent will study a group's benefit eligible population, survey them and then pair the offerings appropriately. In doing so, you'll simplify the decision making process, satisfy employees (and covered dependents) and attract high-quality candidates.
What questions do you have about voluntary benefits? Leave us a comment below or contact us. We're happy to provide answers!
The JP Griffin Group consults for discerning companies coast-to-coast, ranging in size from 10 to more than 30,000 employees. In addition to our Scottsdale, Arizona headquarters, we have bi coastal offices in Seattle, WA and Washington, DC.