Employers Are Joining The Pack With Pet Insurance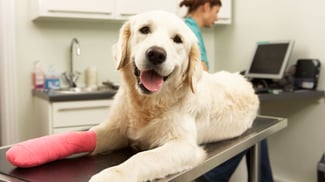 We love our pets, and for good reason. There have been many scientific studies that demonstrate the strong psychological and physiological health benefits from having a pet, according to the American Association of Human-Animal Bond Veterinarians (AAH-ABV). Pets help us relax and make us more actively engaged with our environments, and they can play an important role in helping us deal with life's hardships.
For all these reasons, and the fact that 62 percent of American households own pets, it was only a matter of time before group pet insurance was made available.
Employers Answering the Call
Employers want to stay competitive, especially those in high-demand fields with limited pools of talented employees, and one way they do that is by offering specialty benefits. A growing number of them are now offering a pet insurance option as one of those benefits, on top of more traditional perks like gym memberships and free passes for public transportation.
Pet insurance is usually structured as a voluntary benefit, offered to employees at discounted group rates with the employer taking care of administrative costs, according to Crain's Chicago Business. The journal reported that some of the larger companies offering pet insurance include Deloitte LLP, Edelman, Caterpillar Inc., Walgreen Co., and the Federal Reserve Bank of Chicago, just to name a few.
As veterinary medicine advances (you can now get a pacemaker and chemotherapy for your ailing dog) more and more owners want to be able to give their pets the same level of care they would give a sick human family member. The problem is that, like human medical treatment, complex veterinary services are pricey, and out of reach for many without insurance. Offering pet insurance is a progressive gesture for companies that want to be seen as family-friendly – no matter what species the family member happens to be.
Pet insurance policy premiums vary by species, age, breed, and location, but can cost more than $500 per year. Small animals like cats can usually be covered for under $20 per month, while a large dog might cost five times that. Plans typically cover anywhere from 50 to 90 percent of accidents and illnesses and carry a deductible of a few hundred dollars. Some plans offer add-ons to cover routine vet visits, vaccines and teeth cleanings.
According to research from the North American Pet Health Insurance Association, the sector is experiencing enormous growth. Total premiums in 2014 amounted to $660.5 million, which insured 1.4 million pets. This represents 12.8 percent growth over the previous year, and that growth is showing no signs of slowing down as more and more companies offer this benefit.
ASPCA Gets in the Game
The American Society for the Prevention of Cruelty to Animals (ASPCA) now offers pet insurance through the United States Fire Insurance Company and Fairmont Specialty Insurance Agency, both part of the Crum & Forster group. The insurance can be implemented in two ways: as a voluntary benefit, with payroll deductions for companies with more than 500 employees; or as part of an existing employee discount program. There's also an additional 10% discount for multiple pets.
The ASPCA stresses that pet insurance "is among the most requested voluntary benefits, and…a great way to attract and retain employees." Offering pet insurance shows employees that you understand what's important to them and care about the health of all their family members.
Other group pet insurance companies include Veterinary Pet Insurance from Nationwide, which has the largest market share by far; MetLife; Pets Best Pet Insurance; and Petplan.
Pet Insurance Gives You an Edge
While many companies may find it difficult to implement a dog-friendly workplace (though here are nine that do), firms can still show their affinity towards our four-legged friends by offering pet insurance. After all, the competition for talented employees in many fields is fierce, and a candidate's decision on who to work for often comes down to which company offers the more attractive benefits package. If you need an edge in hiring over your competitors, group pet insurance may be a good option.

For more information about improving your employee benefits program, please contact us.