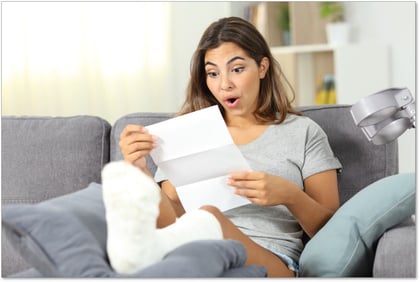 All across the country, a sweeping movement to combat surprise medical bills has been slowly percolating and is now finally gaining traction on a national level.
What began as grievances filed by wronged patients has grown into government officials at both the state and federal level championing legislation against this industry practice.
A law that recently went into effect in Arizona and recent remarks from President Trump are merely the latest in an ongoing trend that has the force to reshape how patients are billed for out-of-network expenses.
Unexpected Out-of-Network Charges Result in Surprise Medical Bills
Surprise medical billing isn't so much an intentional practice of healthcare companies, as much as it's a byproduct of the fractured healthcare industry. Specifically, it's a result of multiple institutions and providers treating patients simultaneously while working for different employers.
In its simplest form, a surprise medical bill is an unexpected medical bill that patients receive for out-of-network services that they thought were in-network. The bill is sent after the services are provided, leaving patients with little recourse and high fees since out-of-network charges tend to be much higher than those in-network.
An all too common scenario shows how easy this can happen to patients. A patient goes to a hospital for a covered surgical procedure. They've done their research and have made sure that both the hospital and the surgeon's practice are within their insurer's network. In completing this due diligence, they then assume that the entire procedure will be covered as an in-network expense. Seems reasonable, right?
If the anesthesiologist, whom the patient may very well not meet beforehand, doesn't work directly for the hospital, the patient might then be sent a surprise bill for the anesthesiology services. While the patient may have presumed that the anesthesiologist was in-network since they were provided by the hospital, that's not necessarily the case - they may be employed by a different practice that the hospital contracts with, and that practice could be out-of-network.
This is precisely the sort of situation that results in thousands of dollars in out-of-network medical expenses. It's simply unreasonable to expect the average patient to know all the medical providers who may be involved in their procedure, let alone the status of each of their affiliations with their insurance network.
States are Passing Legislation Against Surprise Medical Billing
At the state level, there has been sustained efforts to mitigate surprise medical billing practices. Arizona became the latest state to join the effort on Tuesday, May 7 when a new statewide law went into effect.
Arizona's Law is the Latest to Go Into Effect
The Arizona law provides patients a way to dispute surprise medical bills. If they receive an unexpected out-of-network charge, patients can submit a dispute resolution request through the Arizona Department of Insurance. The agency doesn't itself rule on the dispute, but it screens requests to see if the complaint and invoice qualify under this new law for dispute resolution.
When a dispute request is approved, the agency next sets up an information conference call between the provider, insurer and patient. The hope is that this call will lead to a resolution where the provider and insurer agree on a fair charge for the services rendered. In the event that no resolution is reached, the matter proceeds to arbitration where a third-party determines a fair charge.
Regardless of how far the matter goes or what charge is ultimately determined, the disputed services are treated as in-network under the new law. Thus, the patient is only responsible for any copayments, coinsurances or other costs that they'd have to pay if the provider was in-network. The remainder is the insurer's responsibility to cover.
While a major protection for patients, there are limits to how much this new law does. Patients can't dispute charges for which they were given prior written notice detailing the specific services which would be considered out-of-network and an estimate of how much they'd cost. If patients have been informed in writing beforehand, the bills then aren't considered a surprise and the patient is responsible for all charges. (Emergency hospitalizations are an exception to this.)
In addition, the law's dispute provisions also only apply to claims involving $1,000 or more in unexpected charges, and patients with health-maintenance organizations are excluded from the bill's provisions.
Half of All States Have Some Legislation
With this new law, Arizona is now the 25th state to have some form of legislation that addresses surprise medical billing. In other words, half of the country now limits this practice in some manner. Of the 24 other states with laws on the books, New York is particularly notable in how it deals with surprise medical billing.
During the mediation stage, New York uses a system known as "baseball-style arbitration." The technique is so-named because it's similar to how baseball players' salaries are determined in the major leagues.
With baseball-style arbitration, the insurer and the provider each blindly submit a charge that they believe is fair for whatever services have been rendered. The submissions are given to an independent mediator, and neither side knows what the others' submission was. The arbiter then selects which they believe is the fairer of the two numbers.
This system is considered fair because a third party selects the amount that's to be paid, and both the insurer and the provider are incentivized to submit reasonable figures. If either is too far afield, the other's number is what will be paid.
Many State Laws Are Working
Many of these state laws are giving patients the relief desired and intended.
In one newsworthy story, a woman in Vancouver, Washington who suffered a heart attack was able to get $227,000 worth of unexpected charges wiped out through a dispute resolution process. While the sheer amount makes her case headline-grabbing, getting charges reduced and eliminated is becoming less of an anomaly as others are able to successfully fight these bills.
In New York, the first legislation went into effect about 2 years ago and has thus far been used to resolve around 2,000 disputes. It has reduced out-of-network charges by 34 percent, and in-network emergency room physician fees have decreased 9 percent.
Legislation Has Been Proposed at the Federal Level
In Washington, D.C., the fight against surprise medical billing at the state level hasn't escaped the notice of federal lawmakers. Legislators have been working through legislation on the matter for a while now, and recently President Trump drew fresh attention to the matter in a presentation made alongside victims of this practice.
The Baseball-Style Arbitration is a Primary Point of Debate
The main point of contention at the federal level is currently over the baseball-style arbitration that New York has used. Proponents for the system, which include politicians, hospitals and physicians, point to the success that New York's implementation has resulted in.
Those who are against it have expressed concerns that the system is susceptible to abuse. Specifically, they fear that medical providers may give highly inflated fees during arbitration. If providers do, those fees are put on par with negotiated reimbursement rates and both are treated with equal weight during arbitration.
There Are Reasons to Hope for Legislation in the Near Future
Despite the debates that continue to surround the proposed legislation, federal officials have said this could be passed and signed into law within a few months. Even if it doesn't happen quite that quickly, there are a number of reasons why some form of federal law regarding surprise medical billing might be expected in the relatively near future. These are as follows;
First, there is broad recognition of the problem and a growing desire to remedy it. As mentioned, half of all states already have laws in place -- and those include the very different states of Arizona and New York. Additionally, there are people in all aspects of healthcare who are working on viable solutions.
Second, the issue resonates with many voters. Both those who have been directly impacted by surprise bills and those who haven't have concerns, for this is something that could happen to almost anyone. Also, an increasing number of news stories is making more people aware of the problem.
Third, President Trump was accompanied by leaders of both political parties during his recent presentation. Senators Bill Cassidy (R-La.), Maggie Hassan (D-N.H.) and Michael Bennet (D.-Colo.) are leading the bipartisan effort to craft and pass legislation that the President would sign.
Fourth, there's a good chance that any bipartisan legislation brought before either chamber of Congress would be able to pass. No politician wants to be perceived as voting against a pro-patient healthcare initiative, especially if their party was involved in crafting the bill and as an election year approaches.
Fifth, signing proposed legislation into law would give President Trump and all lawmakers a claim that they improved healthcare. Even though it's just a single bill, the President is already trumpeting that this bill might be able to accomplish more than a full overhaul of the Affordable Care Act.
More Transparency Will Come to Out-Of-Network Healthcare Costs
Regardless of whatever laws get put into place, this is a movement at multiple levels that will bring favorable change for patients. Here are some additional ways the healthcare industry may change because of this movement;
First and most importantly, the current and proposed laws primarily benefit patients. As insurance companies and providers negotiate fees, most laws include at least some protections that shield patients from bearing the full brunt of these negotiated costs.
Second, the changes should bring increased transparency with regards to out-of-network healthcare costs. Requirements like those included in the Arizona law force providers to notify patients of what services will be treated as out-of-network and how much they'll cost.
Third, patients will have to be even more vigilant when they read communications from providers and insurers before treatments. Under most versions of these laws, patients can't take advantage of any dispute resolution services if they received but ignored the required notifications.
Fourth, most of the protections put into place will focus on disputes involving large surprise medical bills. Because arbitration is a resource-intensive process, limitations like the one included in Arizona's law (which limits protection to bills involving $1,000 or more) will likely be the norm. Patients can expect to find little support for smaller matters.
Fifth, the concern for potential abuse should be taken seriously. Laws ought to be drafted to preemptively stop potential abuses as much as possible, and organizations should still monitor for activity that takes advantage of the system. As any such activity is discovered, the litigation hopefully can be updated appropriately.
Sixth, these protections will slowly be rolled out so that they apply to more and more people. Whether done at the state or federal level, an increasing number of state and healthcare plan types will be included under these laws in the future. For example, self-insured employer-sponsored health plans -- which currently cover 61 percent of privately insured employees -- are currently excluded from most laws but could be included in future versions.
Increased Out-of-Network Transparency is Needed
The actions taken by states thus far have already provided invaluable relief to thousands of patients who have received surprise medical bills, and the increased transparency these laws help to promote will only become increasingly important in the future, since it seems as if "healthcare consumerism" is pretty much here to stay.
As the gig-based independent contractor economy continues to grow in all fields, including medicine, more and more healthcare services will likely be contracted out. This is to say nothing of new models of on-demand healthcare which are being tested throughout the country. Both of these trends will make it more difficult for patients to determine what services are in-network , thereby increasing the number of contracted out-of-network services patients receive.
In light of these trends, greater transparency with regards to out-of-network expenses is very much needed -- and that's the essence of what these laws provide.
Learn More About Healthcare Trends' Impact on Your Employees
To learn more about this and other healthcare trends that directly impact your employees, talk with one of our representatives. Our team members can help you to better understand how these new laws may impact your benefit eligible employees, spouses and dependents.