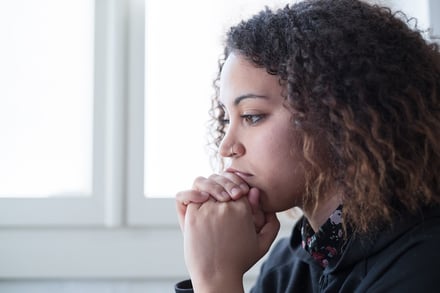 Telecommuting is becoming increasingly common in the American workforce. Employees usually enjoy this perk because it means less time in traffic and fewer distractions, which leads to more productivity, in addition to more flexibility in caring for children and elders living in the home. Even if it's only one or two days a week, telecommuting can decrease stress and actually increase productivity. Some employers even prefer it because they can downsize their offices and save money on property costs.
But one of the possible downfalls of telecommuting (especially when employees spend more time at home than in the office) is a feeling of disconnect from their coworkers and a growing sense of loneliness. Employees who feel this way may end up with more mental health issues, needing medication to help regulate depression, experience decreased productivity, or even switch jobs for one that allows them to be back in an office.
If telecommuting is part of your employee benefits package, it's important for you to understand the effects of loneliness so you can take measured steps to combat them, as well as to prevent them from occurring in the first place.
Loneliness is a Health Hazard
According to a study conducted by Dr. Julianne Holt-Lunstad, social isolation and the resulting feelings of loneliness are as hazardous to our health as obesity. The study is careful to note that the risk associated with loneliness is from actual social isolation, as well as perceived isolation.
It's important to note that the type of loneliness discussed here is not the occasional feeling of sadness one might experience, but chronic loneliness over an extended period of time. This is more likely to occur when people telecommute daily, or more often than they work in the office.
The specific effect Dr. Holt-Lunstad and her team were examining in this study was the likelihood that isolation plays into mortality. While most employers may not be particularly concerned about their employees' mortality (since the vast majority of the American workforce is between the ages of 18 and 65), the more pressing concern for them might be overall health — and of course, its effect on work performance.
The Rippling Effect of Loneliness
For employers, the more immediate concern surrounding loneliness is the way it manifests in employees' mental and physical health. Loneliness can be linked to depression, as well as stress — both of which have been known to exacerbate physical ailments and even cause new ones to form.
A study by the University of Chicago Medical Center found that social isolation accelerated tumor growth in lab mice. The researchers involved in the study believe that this information could help explain the effect one's environment can have on "human susceptibility to other chronic diseases, [such as] obesity, type 2 diabetes, [and] hypertension" (high blood pressure).
Researchers at the National Institutes of Health (NIH) believe that "Loneliness is not only a source of acute stress, but also chronic stress." While loneliness and stress are not necessarily classified as the same thing, they can have similar effects on the brain. According to the NIH findings, "Loneliness has been associated with impaired cellular immunity," which implies that the stress caused by loneliness could cause a person's immune system to have a harder time fighting off illness.
The NIH study also pointed out that "loneliness can have serious consequences for mental and physical health." Loneliness in adults can also lead to alcoholism, which can affect employee job performance, as well as cause other major health problems, such as pancreatic or liver cancer.
And of course, if a person's immune system is compromised, they're more likely to get sick — and the sicker people are, the more sick days they take. The more often someone misses work, the less they're getting done and productivity eventually suffers.
How You Can Focus on Employee Mental Health
Healthier workforces use less sick time, make fewer large-scale claims on health plans, and are more productive, so if telecommuting is part of your employee benefits package, it behooves you to learn how social isolation plays into overall employee health and then do your best to prevent it.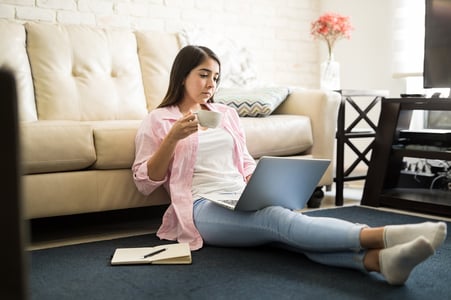 Using messaging services like Slack can help keep your telecommuters connected with the office. Even companies that don't have a significant telecommuting workforce enjoy the benefits of Slack. It lets you create different message boards for each department, but you can also privately message anyone in the company for one-on-one conversations. This can also help cut down on noise in open-floor plan offices, as the phones won't be ringing all the time with internal calls.
Making sure therapy is accessible through your health insurance plan can also go a long way toward fighting loneliness among telecommuters, as well as people who work in the office. Offering phone services, such as those provided by Impact, can also prove beneficial for people who don't have a regular therapist or are trying to navigate a moment (or many moments) of crisis.
Holding occasional gatherings, such as office holiday parties and quarterly update meetings can also help telecommuters reconnect with their coworkers and give everyone an opportunity to hang out together and build camaraderie.
If your company is spread out in multiple cities, loneliness may be even more prominent, since everyone is telecommuting, in a way. It may be a good idea to hold quarterly check-ins with the whole team so everyone has a chance to catch up. You could have everyone call into a conference line and give a brief summary of how their clients are doing, plus discuss goals for the upcoming quarter, and publicly recognize employees who are doing a particularly good job.
Telecommuting Without Compromising Mental Health
Telecommuting can be an excellent perk for your workforce, but if it begins to negatively affect your employees' mental or physical health, some policies need to change. Perhaps you don't need to get rid of this benefit, but rather, make small changes to make employees feel less isolated. Regardless of what you decide to do, the purpose behind it should be making your team feel like a team, even though they're not in the same room often.
How are you preventing loneliness from taking hold while telecommuting? Leave us a comment below or contact us. We'd love to hear what's working for you!