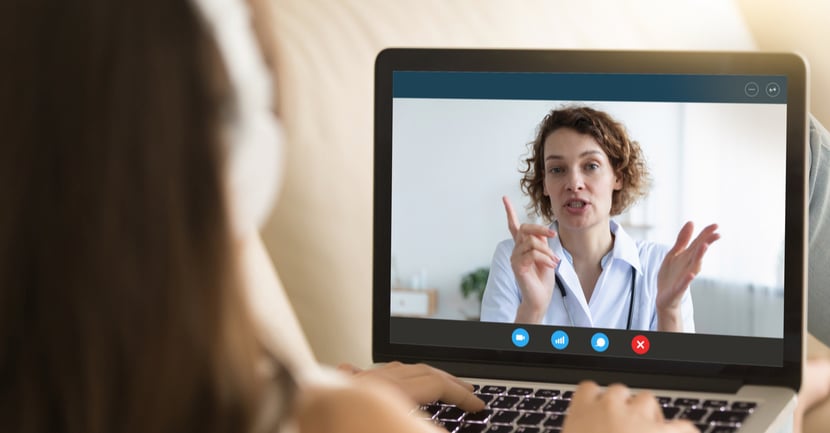 Before working in employee benefits, I spent nearly a decade working for America Online (AOL). For those of you not old enough to remember, AOL was the gateway to the internet for tens of millions of people in the mid 1990's and early 2000's, as the "world wide web" went mainstream.
In those days, AOL's senior leadership placed bets on all sorts of industries they thought they could disrupt, from online dating and car shopping to airline bookings and online auctions. When asked what the company was learning from placing strategic bets in all of these commerce verticals, AOL's Founder Steve Case said, "it appears that anything that's easier to do online than offline will eventually transition to the web."
That very same insight can now safely be said of telemedicine. While both patients and providers were slow to embrace it, the popularity of telemedicine exploded this past year, while funding for almost anything telehealth-related has been booming.
According to technology vendor AthenHealth, they saw telehealth volumes in their network increase from less than 1% of total volumes pre-pandemic to as high as 32% during the pandemic, before settling in at around 10-11%.
And while it may be tempting to brush off telemedicine as a stopgap measure that served its purpose during this unprecedented healthcare emergency, new research shows that virtual care will long outlast the pandemic itself. In fact, experts predict that the telehealth market is expected to reach $185.6 billion by 2026.
Why? Because simply put, it's easier to do online than it is to do offline.
In a recent study by Doctor.com, telemedicine was shown to save patients over 100 minutes of their time compared to in-person office visits. Add to this that video visits often trigger a lower co-pay than an in-person appointment, and you have a winning combination – a savings of both time and money.
THE REAL WINNER
Of course, the real upside here is closures in gaps-of-care. That's a meaningful behavioral change that should reduce healthcare costs for employees and employers alike.
Consider that nearly two-thirds of consumers admit to delaying care for a health problem. Within that group, almost 60% cite reasons that can be nullified through telemedicine; length of time to see the doctor (23%), cost (23%), and busy schedules (13%).

What's more, almost of third of those who admitted to delaying care were facing serious health issues. These are those high-risk individuals employers and insurance providers fear – those which can lead to high-cost claimants when otherwise treatable issues escalate into catastrophic health concerns.
IMPROVING ADOPTION
When patients were asked what would encourage them to book a telemedicine appointment, convenience factors, including easy-to-use technology (69%), communication (57%), online scheduling capabilities (47%), and immediate appointment availability (47%) were cited as factors that would drive even greater adoption.

Another best practice to help drive adoption is to use consistent terms and definitions for these services. As we discussed in a previous blog post, while the term telemedicine seems to be the most widely used, we've also seen these services referred to as telehealth, telecare, virtual medicine, virtual health, and virtual care. And while some argue that these terms do, in fact, mean different things, the average consumer of healthcare is not that discerning.
IGNORE TELEMEDICINE AT YOUR OWN PERIL
Providers who ignore these shifts in consumer preference do so at their own peril. A study by American Well indicates that 20% of consumers would switch providers for one who offered the option of virtual care, with 26% of those ages 18-34 and 30% of those ages 35-44 being willing to switch. Not surprisingly, the number is also higher for busy parents, with 34% reporting they would switch.
Of those open to virtual care, 60% would use it for regular check-ins to manage a chronic condition, with another 52% saying they'd be interested in using telehealth for post-surgical follow-up visits or hospital discharge. Twenty percent would use telehealth to handle middle-of-the-night issues like a high fever, and 79% would find it helpful for caring for an elderly parent or relative. Other uses: prescription refills (78%) and birth control visits (50%).
For those concerned that video visits aren't as useful as face-to-face time, experts stress that the vast majority of telehealth is conducted over video, and therefore is face-to-face medicine.
That said, everyone agrees that there are limits to the types of care that can be provided effectively through telehealth. In fact, the misapplication of telehealth is probably the criticism most frequently leveled at it by its detractors.
TOP TELEMEDICINE PROVIDERS
Ever-changing due to the explosive growth spurred on by the pandemic, here is a list of the top telemedicine companies, at present, as assembled by Fortune Business Insights;
Teladoc Health (New York, United States) - Founded in 2002, Teladoc Health is a leading player in the telemedicine market, having a presence in over 130 countries in the world. Some of its most well-known brands include "HealthiestYou" and "BetterHelp."
American Well (Boston, USA) - Rebranded as Amwell in 2019, this telehealth company was established in 2006 and is strategically broadening its customer base in the United States.
Doctolib (Paris, France) - This telemedicine pioneer was founded in 2013 and enjoys a "robust growth trajectory." In April 2020, Doctolib jumped up to one of the top three most-used telemedicine services globally, providing approximately 100,000 virtual consultations every day on its platform.
MDLive (Florida, USA) - MDLive offers access to licensed therapists, pediatricians, and doctors and has an impressive base of 40 million global members. The company has enjoyed remarkable growth in their behavioral health business as pandemic-related stress and anxiety have taken a toll on patients' mental health in all age groups.
MeMD (Arizona, USA) - Established in 2010, MeMD took off as a telehealth services provider for common injuries and illnesses. The company has evolved steadily and now offers various services, including urgent care, teen therapy, and psychiatry through video chats. In 2018, MeMD introduced its "Telebehavioral Healthcare" service to manage conditions in individuals suffering from mental and emotional disturbances.
iCliniq (Tamil Nadu, India) - Founded in 2010, iCliniq is a telehealth company operating as a "medical second opinion" platform for patients seeking alternate solutions for their conditions. The company is quickly establishing itself as one of the top telemedicine companies in the world. iCliniq covers a vast array of specialties, including infertility, neurology, cardiology, urology, dentistry, psychiatry, and more.
2nd.MD (Texas, USA) - Designed as a "second opinion" service, 2nd.MD has emerged as one of the most promising telemedicine companies in the world. In the last year or so, the company's consult volume has grown by 80%. The company is aggressively expanding its operational portfolio through strategic collaborations and the launch of novel services and products for real-time patient monitoring.
AMD Global Telemedicine (Massachusetts, USA) - AMD Global was established in 1991 and has since risen to a dominating position in the global telemedicine market share. In April 2019, AMD unified non-invasive hemodynamic monitoring technology to enable professionals to treat cardiac patients remotely and identify high-risk patients.
VirTrial, LLC (Arizona, USA) - Acquiring SnapMD, a leading provider of HIPAA-compliant telemedicine services, VirTrial entered the telemedicine market in 2018. The company has built a patient management program best suited for clinical trials. Its model is best suited for Phase III and IV studies and rare diseases.
FOR MORE INFORMATION
Contact us for more information about how the JP Griffin Group works with employers to introduce telemedicine and other virtual care solutions.