"My favorite things in life don't cost any money. It's really clear that the most precious resource we all have is time." (Steve Jobs)
You've spent a lot of energy and resources creating your company's stellar team. Your employees make your business function every day, dedicating themselves to getting the job done and getting it done right. Your employees are your most valuable resource. Their most valuable resource is time.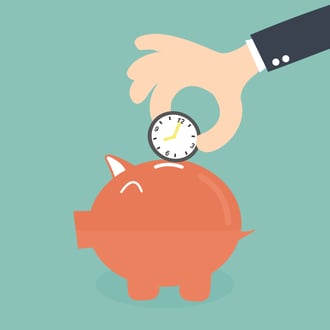 Offering on-site personal services equates to a bonus of time for your employees. For the most part, these bonus perks will cost little for a company to implement, and can have a net positive impact on profits. When your employees don't have to ask for time off to take care of various errands, productivity increases. When they don't have to take care of them after work or on the weekends, their stress levels decrease, and they get more time to spend with their families, making them happier and reducing turnover.
Here are a few services you might consider offering to employees to give them the gift of time.
Health and Wellness
Offering health and wellness services in house can reduce requests for time off for appointments as well as paid sick leave, and can have an impact on insurance premiums. Consider offering or contracting a mobile service for:
Flu shots
Mammography
Cholesterol screenings
Biometric screenings
You might also consider helping employees stay healthy with an in-house gym, or discounted membership at a nearby gym if you don't have the space. Having the ability to exercise during a lunch break or pop in right before or after work can be a huge perk. And if you can't swing either of those, consider just installing an on-site shower for those who want to jog outside or bike to work. The benefits of regular exercise are numerous: expect to see a reduction in absenteeism and an increase in morale, along with more energy and cognitive prowess in your employees.
Personal Services
These are all things employees have to schedule outside of work time, and they'll be grateful to have one less thing on their to-do list:
Salon/barber services
Shoe shine service
Massages
Dry cleaning/laundry pickup and drop-off
Automotive Services
Everyone likes driving a clean, well-maintained car. Give your employees peace of mind without time off work by offering various car services, whether on-site or by working out deals with local garages for pickup and drop-off.
Mobile car washes
Waxing
Detailing
Oil and tire changes
Safety programs to ensure car seats are installed correctly and tire pressure is optimal
Food
Reduce long lunch breaks, grocery runs, and hassle for employees, making their days that much more delicious.
Taco Tuesdays
Fajita Fridays
Bagels in the breakroom
Weekly food truck
Thanksgiving potlucks
Summer cookouts
Miscellaneous Errands
Eliminate all those little tasks that add up to a lot of time in our days, especially when they involve going to the post office. Consider these services:
Selling stamps
Signing for packages
Providing boxes and tape
Onsite notary public
Another huge bonus for employees, especially those with home offices, would be allowing them to order office supplies through your corporate account. This is also great for parents who need to do back-to-school shopping. You might even get further discounts from your vendors with the increased volume, and your employees will appreciate not having to go to a big box store to get everyday supplies.
"Time is what we want most, but what we use worst." (William Penn)
Time is a valuable commodity, and we spend so much of it simply taking care of our mundane needs and errands. Bringing some of those services on-site can create extra time in your employees' days, increasing job satisfaction and overall balance.
The professionals at JP Griffin Group are ready to help your business strengthen your connection with employees. We offer long-term solutions to complex issues.
Contact us
for effective ways to put time on your side.