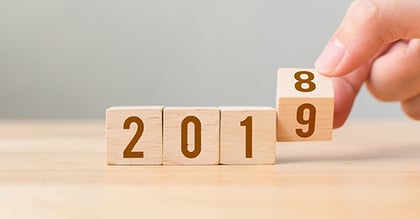 The IRS recently finalized adjustments to 2019 limits on various tax-advantaged medical and dependent care spending accounts, retirement plans, and other inflation-adjusted employee benefits such as adoption assistance and qualified transportation benefits.
The 2.2 percent increase in the Consumer Price Index (PCI) for the 12 months ending this September was just enough to meet the thresholds required to extend these rate adjustments.
Despite some of these updates being issued nearly a month later than normal, these new financial caps still go into effect January 1, 2019. While some of the limits are unchanged, many have increased for 2019, affording employees the opportunity to contribute more money into their Health Spending Accounts (HSAs), Flexible Spending Accounts (FSAs), and retirement plans, just to name a few.
In preparation for these 2019 plan year changes, employers should update their benefit plan designs for the new limits, ensure that their plan administration will be consistent with the new 2019 limits, and communicate the new benefit plan limits to their employees.
Here is a convenient set of side-by-side comparison tables outlining the changes:
Tax-Advantaged Employee Benefits
HSA & HDHP Contribution

Limits
The IRS has increased the 2019 annual HSA contribution limit for self-only HDHP coverage by $50, to $3,500, and by $100, to $7,000, for family HDHP coverage. HSA contributions can be made by the HSA account holder or any other person on their behalf, including an employer or family member.

While HDHP minimum deductibles are unchanged from 2018, HDHP out-of-pocket maximums for 2019 have increased. The 2019 out-of-pocket maximum rates are $6,750 for self-only HDHP coverage (up $100 from 2018) and $13,500 for family HDHP coverage (up $200 from 2018).

Health & Dependent Care FSA Benefits

The 2019 Health FSA contribution maximum has been raised $50 from 2018, to $2,700, while the IRS left the Dependent Care FSA contribution unchanged.
Since Healthcare FSA contribution limits are set on an individual basis, each spouse in the household may contribute up to the new FSA limit in the 2019 plan year.
Note that this change applies only to employee contributions; it does not apply to employer-provided contributions, also known as flex credits.

Transportation Fringe Benefits
The monthly limit on expenses for work-related mass transit expenses (for example, bus and train fare), as well as parking, have both increased to $265 for 2019, up $5 from 2018.

The maximum annual exclusion for qualified adoption expenses (employer-provided assistance) will be $14,080 for 2019, up $240 from 2018.

Qualified Small Employer HRA (QSEHRA)
The maximum reimbursement for a qualified small employer health reimbursement arrangement for 2019 has been set at $5,150 for employee-only coverage and $10,450 for family coverage, up $100 and $200 respectively from plan year 2018.

The 2019 maximum contribution limit for employees contributing to a 401(k), 403(b), or 457 plan has been adjusted to $19,000, up $500 year-over-year.

If your employees are considering making changes to their contribution elections, they should be reminded that some changes can only be made during your company's annual open enrollment period, or after a Qualified Life Event.
For those contributing to an FSA, it's a good idea to remind them that these tax-deferred funds will be available, in full, at the start of the plan year, even though contribution amounts will be equally deducted from their pretax earnings each pay period. It's also important to remind them that unlike unspent HSA funds, which roll-over, FSA funds expire at the end of the year (though its possible for the employer to allow as much as $500 to roll-over).
Download our 2019 Compliance Bulletin below to view all the year-over-year changes to IRS inflation adjusted employee benefits.