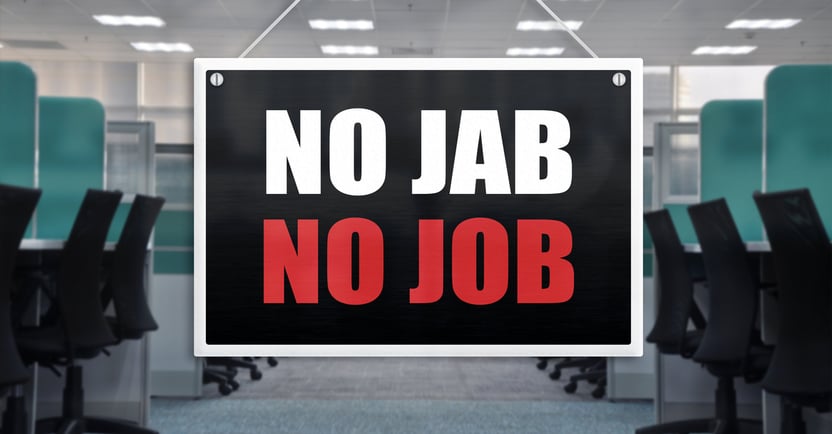 Nearly 100 million workers, or two-thirds of the U.S. workforce, will be impacted by new vaccine requirements announced by President Biden yesterday.
Prompted by a surge in COVID-19 infections, hospitalizations, and deaths - most especially among the unvaccinated - the requirement stipulates that employers with 100 or more employees require their workforces to be vaccinated or undergo weekly Covid-19 testing.
While it's expected to be challenged in the courts, this new requirement is part of a six-point initiative the White House laid out yesterday to boost vaccinations, increase access to testing, and broaden the availability of Covid-19 treatments.
Final details of the plan will come by way of an "emergency temporary standard" issued in the next few weeks by the Labor Department's Occupational Safety and Health Administration (OSHA). Businesses that don't comply may face fines of up to $14,000 per violation.
Per yesterday's announcement, workers will be considered vaccinated if they receive a single Johnson & Johnson dose or two doses of the vaccines from Moderna or Pfizer. It's unclear how a booster shot might play into things if/when approved by federal regulators.
Here are additional details of the plan.
ADDITIONAL DETAILS OF THE PLAN
Healthcare Providers: The administration plans to require vaccinations for workers in most healthcare settings that receive Medicare or Medicaid reimbursement. The mandate applies to about 50,000 health providers.
Federal Employees: The administration will also require federal employees in the executive branch and government contractors to be vaccinated. (Previously, President Biden said that only federal workers and contractors working on-site must be vaccinated or face regular testing).
Educators: The nearly 300,000 educators who provide early childhood education and other services through the federal government's Head Start program will have to be vaccinated. This will also apply to educators in schools operated by the Department of Defense and Bureau of Indian Education.
Schools With Funding Issues: The Department of Education will make additional funding available to schools with funding issues caused by state leaders who have prohibited safety precautions such as testing and masks.
Rapid Production of Testing Kits: The Defense Production Act will be used to accelerate the production of rapid at-home tests with the goal of procuring about $2 billion in rapid point-of-care and over-the-counter at-home testing kits.
Doubling of TSA Fines: The Transportation Security Administration will double fines on travelers who refuse to wear masks, to reinforce masking during travel.
Paid Time Off: Employers will have to give workers paid time off to get vaccinated and/or recover from any side effects of getting vaccinated.
Finally, the plan calls for increasing shipments of monoclonal antibody treatments by 50%, a rapid increase in federal strike teams to help overburdened hospitals, and an amendment to the Public Readiness and Emergency Preparedness Act to enable pharmacists to provide COVID-19 treatments to those infected.
ADMINISTRATION RELYING ON OSHA'S EMERGENCY POWERS
To enact these measures, the White House is relying on its powers under OSHA's Emergency Temporary Standards code. This allows OSHA to immediately enact rules if "workers are in grave danger due to exposure to toxic substances or agents determined to be toxic or physically harmful or to new hazards."
OSHA's regulation will be in force for six months until a final ruling can be approved via standard rulemaking procedures. (It should be noted that OSHA has faced litigation over some of its emergency temporary standards in the past.)
EMPLOYER REACTION MIXED
According to various press articles published this morning, some employers feel that the administration has overstepped its constitutional authority, while others are breathing a sigh of relief.
Of those who are relieved, many are glad that a difficult decision has been made for them, while others are admittedly welcoming the opportunity to shift the blame for the mandate to a third party.
ADDITIONAL MANDATES TO COME?
While White House officials state that the President won't mandate vaccinations for every American, anything is possible given the uncertainties we face heading into the fall and winter months ahead.
FOR MORE INFORMATION
For more information on all things COVID-19 related, JP Griffin Group has assembled a comprehensive COVID-19 Download Resource Center designed to help both employers and employees deal with this pandemic and the challenges facing all of us.
This resource center, updated daily, now contains more than 850 documents, ready for download, spanning compliance, financial relief, cost containment, employee communications, reopening best practices, and much more.