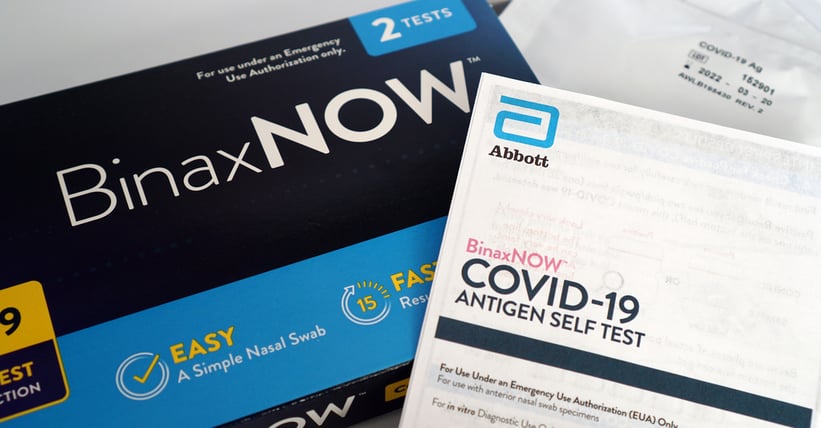 Several high-profile people have tested positive for COVID-19 these past few weeks, including Sarah Jessica Parker, Miley Cyrus, Daniel Craig, and nearly 75 of Washington's elites such as House Speaker Nancy Pelosi and Attorney General Merrick Garland, just to name a few.
Accordingly, interest has grown in a fourth vaccine dose, approved recently by the FDA, for Pfizer and Moderna, for people age 50 or older (as well as a few other groups with weakened immune systems).
With major cities in Europe and China, as well as some parts of the U.S. seeing an uptick in cases driven by the BA.2 subvariant, the CDC quickly backed the FDA's decision, though it's worth noting that both agencies made their decisions without consulting their committees of independent vaccine experts. While this has been done before, this action continues to come under intense scrutiny.
With renewed worries about another wave of coronavirus infections comes three questions employees and employers have on their minds:
1) Are today's at-home tests capable of detecting the Omicron BA.2 subvariant?
2) Are health plans still required to cover at-home rapid tests?
3) What's the latest guidance on mixing booster shots?
ARE TODAY'S AT-HOME COVID-19 TESTS CAPABLE OF DETECTING THE OMICRON BA.2 SUBVARIANT?
The BA.2 subvariant has been nicknamed "stealth omicron" because it can be difficult to differentiate from the delta variant on PCR tests. Nevertheless, experts dispute claims on social media that this omicron variant is prone to false negatives on at-home rapid tests.

Rapid antigen tests are specifically designed to screen for a part of the virus that is unlikely to change. A likely explanation for false negatives, experts say, is that people may be testing too soon, before the virus has replicated enough to show up on an antigen test. They recommend testing 3-5 days after known exposure, and again, if negative, a few days after that.=
ARE HEALTH PLANS STILL REQUIRED TO COVER AT-HOME COVID TESTS?
Yes. Starting January 15, 2022 and lasting "until the end of the declared public health emergency", insurers and group health plans are required to cover and reimburse enrollees for up to eight at-home tests for COVID-19 per enrollee per 30-day period.

While Medicare wasn't initially included in this mandate, just last week the Centers for Medicare and Medicaid Services announced that Medicare Part B now covers eight home tests per month. (Medicaid already covers 100% of the cost of home COVID tests, as does the Children's Health Insurance Program.)

In all cases, plan participants do not need a prescription, an order from a health care provider, or a clinical assessment for their tests to be covered.

As for those who don't have insurance, it's worth mentioning that every household in the U.S. is eligible to order two sets of four free at-home tests, which the Postal Service delivers at no cost – this includes anyone who has already received their first round of free tests.

These testing kits can be procured by visiting www.covidtests.gov or by calling 800-232-0233.
WHAT'S THE LATEST GUIDANCE ON MIXING COVID-19 BOOSTER VACCINES
Mixing Vaccines Only Applies to Boosters
Let's first start with what's not allowed. At present, the FDA has only authorized a mixed-series booster, meaning the first coronavirus vaccine series must be two doses of Moderna or Pfizer, or one dose of Johnson & Johnson.
Why Mixing Vaccines Is Recommended
According to the National Institutes of Health, mixing COVID-19 vaccines when boosting enhances the immune response. It also allows for more flexibility when people are making vaccination appointments.

That's why, months ago, the CDC and FDA authorized the use of heterologous booster doses – essentially a "mix and match" approach to COVID-19 boosters, which means people aren't tied to whichever COVID-19 vaccine they originally received.

This advice continues to hold true with secondary boosters now on the table. And because of recent CDC data published last week suggesting the superiority of mRNA vaccines in preventing ER and UC visits, adults who received two doses of Johnson & Johnson's vaccine are included in the group of people who may receive another booster of Pfizer or Moderna.

All of this can be admittedly confusing. It's therefore best for individuals to consult with their health care provider to discuss their particular situation. After all, health experts disagree on whether a fourth vaccine dose is really needed right now, though the debate is nuanced.

While there is broader agreement that the elderly or people with compromised immune systems may benefit from additional protection, another booster shot for young, healthy adults is more controversial, as they are less susceptible to severe illness from Covid.

It's unclear if the FDA will also approve fourth doses for younger adults at some point, as there's less data to support such a decision right now. What's far more likely is a more general booster campaign for people under 50 years old in the fall, when Covid will likely pick up again and immunity will have waned.

Stay tuned. Contact us with any additional questions.