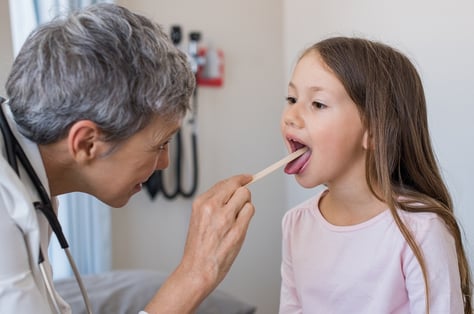 Governor Ducey is working on a plan to fund Arizona's CHIP program until Congress either passes a new budget or finds a way to pass an independent CHIP bill, which would require some legislative maneuvering with very few legislative days left in the year and a tremendous backlog of bills.
On September 30, 2017, the government's fiscal year ended without passing a new budget, essentially cutting off all federal funding for the Children's Health Insurance Program (CHIP) across the country. Because 9 million children in the U.S. (and their parents) depend on the insurance CHIP provides, states are trying to find extra cash to sustain the program.
Who Does CHIP Cover?
CHIP was created to fill in the gaps for families that make too much money to qualify for Medicaid, but not necessarily enough to pay for private or employer-sponsored health insurance.
Children up to age 19 are eligible for the program, but states have discretion over further eligibility standards, including those related to income. The Affordable Care Act (ACA) also expanded CHIP eligibility to children of state employees.
In Arizona, children qualify for CHIP if their parents make up to 200 percent of the federal poverty level, which equates to about $40,840 for a family of three.
What About the Arizona CHIP Program?
Thus far, the Centers for Medicare and Medicaid Services has been able to repurpose unspent funds from the budget that ended September 30 to help cover expenses, but that funding isn't expected to last after mid-December.
Heidi Capriotti, of the Arizona Health Care Cost Containment System, says that once leftover funding from last year runs out, they plan to use money the federal government provided for the traditional Medicaid program. This would ensure children enrolled in the Arizona CHIP program (also known as KidsCare) don't have a lapse in coverage.
Of course, this is only a short-term solution. Capriotti believes this plan might only get KidsCare through the first quarter of the new year. After that, it will be up to Arizona lawmakers to either find a solution or kill the program — affecting more than 23,000 children across the state who are currently enrolled in the Arizona CHIP program.
According to Arizona law, if the government stops funding CHIP, the state has to stop enrolling children in the program. This actually happened in 2010, when Arizona lawmakers decided they weren't willing, or able, to pay their 25 percent share.
In 2016, lawmakers voted to reinstate the CHIP program in Arizona, but only if the federal government agreed to pay the full cost, which worked until Congress let the funding run out this year.
Governor Ducey doesn't want to see thousands of children lose their health insurance, so he is currently looking to the state's "rainy day" fund to supplement temporary funding. He has expressed his confidence that Congress will act before all funds are expended, but stated that this is "part of the reason we've been fiscally responsible."
But hopefully, Ducey won't need to dip into his rainy day fund. The lead author of the Senate tax plan, Finance Committee Chairman Orrin Hatch of Utah, said that despite the lack of funds to continue to program, "We're going to do CHIP, there's no question about it in my mind. It just has to be done the right way."
How this Affects Human Resources
Some of our clients have asked us about how the funding issue will affect their communication requirements. For now, it's best to play it safe by continuing to distribute the required CHIP notice to your workforce, ideally as part of your open enrollment communication materials.
What questions do you have about the Arizona CHIP program? Leave us a comment below or contact us. We're happy to provide answers!