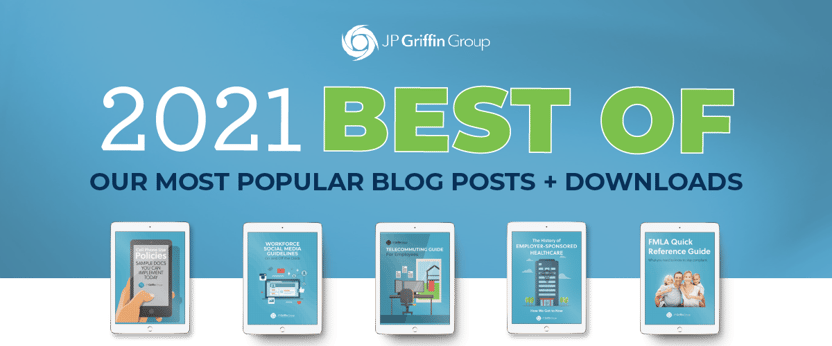 Thousands of companies turned to JP Griffin Group for guidance on employee benefits topics in 2021. With nearly a half-million blog post views and tens of thousands of content downloads, here is some of our most popular content for the calendar year.

TOP TEN BLOG POSTS OF 2021
Does Healthcare Consumerism Even Have A Chance?
It's difficult to become more informed consumers of healthcare when large swaths of that very system seem to be working against us at every turn. Do consumers even have a chance?
2022 IRS Contribution Limits for HSA, HDHP, FSA, 401(k)
A consolidated list of 2022 IRS contribution limits for tax-advantaged employee benefits accounts such as HSAs, FSAs, 401(k)s, QSEHRA, transportation, and adoption benefits.
What's the Difference Between Telemedicine, Telehealth, and Telecare?
It's important to understand the differences between telemedicine, telehealth, telecare, virtual medicine, virtual health, and virtual care.
Vendor Contracts – Beware of These Five Pitfalls in Employee Benefits Agreements
Employers should carefully review the provisions of their employee benefits vendor contracts. Here's a list of common provisions requiring special attention.
Ten Reasons to Migrate to Digital Communications This Open Enrollment Season
Employers who embrace digital communications as part of an omnichannel employee benefits marketing campaign instantly recognize the medium's benefits.
8 Ways Employers and Employees Can Save On Prescription Medications
Eight ideas employers can offer employees to help them save money on prescription drugs and medical procedures.
Shopping for Healthcare Services - 8 More Ways to Save Through Pricing Transparency
Employers play an important role in educating employees about money-saving resources when it comes to healthcare. Here are eight ideas to share with them.
Fitness-Oriented Employee Benefits Options in a Post-Pandemic World
Reimbursement of gym memberships was a leading employer wellness benefit for years, but the pandemic has forced greater creativity to keep employees physically active.
Prescription Drug Pricing Trends and Cost Control Strategies
Context for why prescription drug prices continue to rise and cost-cutting solutions for employers and employees alike.
[Complex Health Benefits] The Impact on Employee Productivity & Well-Being
New research illuminates the value of employee benefits education, especially when it comes to complex benefits and employee productivity and well-being.
TOP FIVE DOWNLOADS OF 2021
The Ultimate Guide to Issuing An Employee Benefits Brokerage Services RFP
A complete guide to issuing an Employee Benefits RFP (Request for Proposal), including a downloadable questionnaire with over 100 sample questions and a scorecard.
The History of Healthcare In America
The twisting, turning, complicated history of medicine and organized healthcare in the United States of America from the 1700s to the present day.
The History of Employer-Sponsored Healthcare
From the late 1800s to now, this ebook walks you step-by-step through the historic milestones which fused together employment and healthcare.
16 Ways to Save on Healthcare Services and Prescriptions
Included in this guide are tools and suggestions to offer your workforce to help them save money on healthcare services and prescription drugs
Workforce Social Media Guidelines
Our Social Media Guidelines eBook contains; sample social media policies, legal considerations with social media, and suggestions for protecting your online reputation.