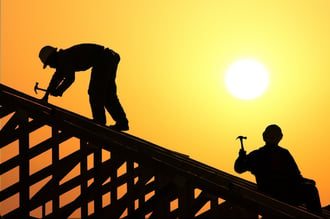 Suffering a net loss of over two million jobs in the past decade, the construction industry is still reeling from the aftereffects of the recession. Despite being in the midst of a steady and prolonged recovery (the number of construction jobs is expected to grow 19 percent through the year 2018, compared with 11 percent growth projected for all industries combined), a new generation of workers has sadly not yet embraced the industry as an option that affords exciting and viable career paths.
With turnover in the construction industry already about twice the national average, and increasing as the economy returns to full employment, construction owners need to retain their most valuable assets and one of their most important competitive advantages in the marketplace – their people.
Unlike other sectors reliant on technology-driven productivity, construction depends heavily on its skilled workforce for growth and profitability. With 68 percent of construction companies employing less than five people, keeping highly skilled employees is key to the success of these small businesses.

The construction industry must therefore design attractive compensation and benefit offerings that are competitive with those offered in other industries. It's imperative that these take into account the unique needs and growing trends in the construction industry, as well as the shift in employer attributes that resonate best with the millennial mindset.
This is particularly critical as the industry regains momentum, the labor pool tightens, and top employees look for better opportunities.
(Editors Note - this blog post is an excerpt from our recently published white paper on the same topic. You can download a FREE copy of that white paper simply by clicking here.)
A Shrinking Talent Pool
One of the most significant challenges facing the construction industry today is the shortage of new talent entering the trades. As Baby Boomers opt out of the pool of workers in favor of retirement, they are taking with them their years of construction experience and trade knowledge – skills which are critical to maintaining a productive workforce.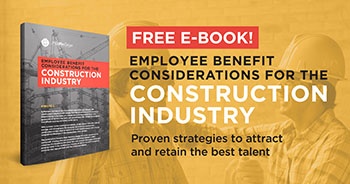 Exacerbating this shift in demographics is the economic downturn, which plagued the industry for several years, prompting many skilled construction workers to turn their talents to other endeavors.
These factors all contribute to a rather unfortunate confluence of events in the face of projections which estimate that 1.5 million new workers will be needed in construction over the next 10 years to keep pace with demand and retirements.
Why Workers Leave
To keep their businesses running smoothly, company owners need to understand why workers leave and most importantly, need to act on their findings quickly and decisively. After all, resignations wreak havoc on a business. They are a demotivation to those who stay and they tend to increase the workload for those who remain, even if the pain is only temporary. They also disrupt production schedules and jeopardize quality and safety results.
How Monetary Compensation, Culture & Benefits Can Help
Salaries and benefits that fail to meet the needs of employees are, by far, the most cited reasons workers leave employment within the construction industry, along with a lack of culture fit.
Fair pay, competitive benefits and a general sense of opportunities for advancement all play a major role in an employee's assessment of whether his or her employer takes care of them. Each of these also goes a long way in providing peace of mind.
Monetary Compensation

Before diving into company culture and non-monetary employee benefit considerations, it's important to gauge the viability of monetary compensation, both in terms of base pay as well as bonus and/or incentivized earnings opportunities.

The Importance of Benchmarking

Employers must, of course, strike a balance between company profits and appropriate monetary compensation of their workers. Conducting annual base-salary benchmarking is a good practice to ensure that your company is offering a competitive wage in a field where worker numbers are dwindling and demand for quality workers is intensifying.
Reliable compensation benchmarking must filter for not only the construction industry (getting as specific as possible), but also for geography and relative company size. This look-a-like benchmarking should also be augmented with compensation data for other local or regional companies competing for the same talent pool, regardless of industry and relative size.
Overcoming The Absence of a Steady Income
Often operating from project-to-project, construction workers often cannot rely on a set and stable work schedule. This presents major challenges to those who are interested in a steady income. In an effort to overcome some of the obstacles created by a project-to-project approach to compensation, construction companies are relying more and more on incentive compensation to attract talent and encourage existing employees to perform at peak levels. After all, wage increases to attract workers will have to be offset by increases in productivity.

According to a 2013 FMI study entitled "Incentive Compensation Effectiveness Study", 88 percent of construction companies offer some form of incentive compensation. And companies with structured incentive compensation plans generally show a more positive ROI than do those companies with a purely discretionary approach to incentive compensation.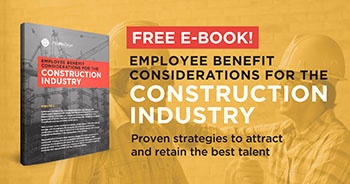 The FMI study well illustrates the point that having a strategic plan for compensation is essential for construction companies looking to attract and retain good talent. Offering an incentive system with clear structure, including measurable goals where the employee understands what the incentive opportunity is and how he or she can better take advantage of it based on predefined behaviors and outcomes is a best practice.

Company Culture

Mentoring, Feedback Loops & Career Pathing

Almost as important as compensation, at least with Millennials, is a firm's dedication to mentoring, which is a long proven retention strategy. Millennials long for mentoring in ways that Baby Boomers simply do not. A study by Atenga Inc., a Woodland Hills-based pricing survey company, found that 67 percent more millennial respondents than Baby Boomer respondents reported that "having a great mentor" at work was important.

Formal mentoring programs help construction companies leverage the experience of older workers by pairing mature workers with new hires for the purpose of imparting advice and support. When designing a mentoring program, it is important to choose mentors who have these basic characteristics:

Vast knowledge of the job and the company

Interest and enthusiasm for sharing that knowledge with others

Respect within the company and proven respect for the value proposition of the company

Willingness to devote time to mentoring
Companies instituting and supporting a mentoring program can reap large rewards in the way of skilled, motivated workers of all generations. And by their very nature, mentoring programs offer feedback loops, another highly valued company trait of Millenials, as well as career pathing, which also ranks extremely high with this demographic.
Technological Prowess
It goes without saying that Millenials are also remarkably savvy when it comes to technology. The first generation to grow up on in the internet, they are often called digital natives. By their very nature, they are drawn to companies and industries that demonstrate a certain level of tech savvy themselves. They are somewhat reluctant to align themselves and their reputations with companies who might be considered old school or one step away from irrelevance.

It's therefore important to put a tech-forward face on your brand in everything you do. From your website and job application process to the place you post job openings, everything communicates.

Furthermore, you should promote and expound on the pace of technological innovation in construction every chance you get. Only when you cast light on the industry's transition/pivot to technology will it become clear to potential recruits that someone with a background or interest in technology will be challenged, motivated, and rewarded through a career in construction.

Non-Monetary Employee Benefits

Workers who are extremely or very satisfied with their employer's benefits program are nine times more likely to stay with their employer than those workers who are dissatisfied with their benefits program.
In fact, 76 percent of employees believe they'd be at least somewhat likely to accept a job with a more robust benefits package, but lower compensation. And it goes without saying that employers risk losing workers to competitors if they don't offer flexible benefits plans that employees believe meet their individual needs.
So how should a construction firm go about designing an employee benefits portfolio that's not only competitive, but also spot-on when it comes to meeting the diverse needs of a workforce which no doubt spans multiple worksites and is multi-generational and multi-cultural?
Industry Benchmarking
As with monetary compensation packages, here too, benefits benchmarking by industry, region and size is critical, as is keeping a watchful eye over the benefit packages of other local employers who are aggressively hiring.

Operating on a different plane than more office-bound competitors, employers in the construction space should tailor their benefits to their unique workforce and workplace settings. That said, most construction companies have only a handful of employees, which often makes it difficult to provide affordable insurance benefits.

It should therefore come as no surprise that the most popular benefits in the construction trade today, at least with smaller outfits, according to a recent poll of over 10,000 construction workers by (source), are of a non-medical nature and include:
401(k)

Paid cell phone

Paid holidays and vacations

Casual dress and atmosphere

Life insurance and disability coverage

Paid sick leave

Company vehicle
Savvy construction companies, however, understand the value of introducing voluntary benefits and supplemental insurance plans, ideally oriented towards health/medical coverage and/or income protection and peace-of-mind. This allows them to offer a more robust variety of benefit options, which satisfy employees at little to no direct cost to the company. Most times, the costs to obtain these voluntary products are at rates that would otherwise not be available to individuals purchasing them on their own.

Dental & Vision Coverage

Because they can be designed as completely voluntary (meaning no employer contribution or subsidy is required), Dental and Vision plans should always be part of an employee benefits package. Base plans are relatively inexpensive and can always be bolstered by adding such stand-out offerings as orthodontia care and laser vision correction coverage, just to name a few.

Health/Medical Coverage

Health coverage, while at times expensive for an employer to offer to a workforce, can be designed, administered and managed far more inexpensively with High Deductible Health Plans (HDHPs), most of which still provide excellent healthcare coverage.

Note that companies with less than 50 full time employees are not required by law to offer health insurance, but companies with 50 or more full-time employees and/or full-time equivalents (FTEs) must offer "Acceptable" coverage or pay a penalty. This requirement, established with the passing of the Affordable Care Act, is commonly referred to as the "Employer Mandate".

As an employer, should you decide to offer health coverage, just be forewarned that the majority of health insurers (but not all) require an employer to cover at least 50% of the cost of premium. This is to encourage plan participation, thereby helping the insurer to spread risk. In this regard, many insurers also require employers to meet certain plan participation thresholds, which simply means that a certain percentage of the workforce must enroll in the plan in order for it to go into effect.

If health insurance is something you'd like to explore but the uncertainties and conditions seem daunting, your benefits broker should be able to talk you through all of the details.

Other Medical Coverage Options

Even if an employer doesn't offer health insurance, there are other insurance options which employers can offer which serve to protect employees and their families in the case of an accident, injury, critical illness or even death. In each and every case, the employer can chose to offer these benefits for free, or cost share, or at full cost (albeit favorable rates) to the employee.

Because of the hazardous nature of many construction jobs, it's not surprising that this industry leads the pack in terms of injuries and workers' compensation claims. The physical nature of the work also means that employees often can't work while they are injured, which makes income protection in the event of an accident all the more critical.

In order of popularity, these income and savings protection benefits are as follow:
Life & Accidental Death & Dismemberment (AD&D)

Short Term Disability (STD)

Long-Term Disability (LTD)

Accident Insurance

Critical Illness Insurance
Mental Health Programs
The construction industry ranks in the top nine occupations at risk for suicide. The reasons are clear: men in high skills and high stakes occupations are almost 1.5 times more likely to die by suicide. Add to this other unfavorable demographics such as age (younger), gender (male) and education (high school) - and you have a recipe for a high risk group.

"The construction industry is at high risk for suicide, not only because of the demographics and culture of our workforce, but also because of the seasonality of our work, travel demands, long hours often exposed to weather extremes and work shifts that can disrupt normal sleep patterns", says David James, CFO of FNF Construction in Tempe, AZ. "These are all attributes which trigger greater mental health issues, which, if left unchecked, can lead to the ultimate extreme employee escape: suicide."

Accordingly, strong mental health programs and resources must be a critical component of any construction company's benefits program.

To ensure that employees in distress always have a resource to turn to, construction employers should make every effort to include 24/7 phone access to professionally training counselors through an "Employee Assistance Program". These counselors can help with diverse work/life challenges pertaining to grief, depression, stress, child development concerns, domestic disputes, and legal challenges, just to name a few examples. Seldom, if ever, are the costs for this type of program passed on, nor shared with employees.

Tax-Advantaged Spending, Saving & Retirement Programs

One of the best ways to help employees stretch their income is by providing them with tax-advantaged spending and savings programs. Not only do these programs allow for compensation to go much further, but the financial discipline they instill goes a long way in reducing the stress associated with financial mismanagement on the home front.

These programs include:
Flexible Spending Accounts (FSAs)

Health Reimbursement Accounts (HRAs)

Health Savings Accounts (HSAs)

401(K) Retirement Plans

529 College Savings


Other Employee Benefits

There are a number of other low-cost and even no-cost employee benefits that construction employers have at their disposal when formulating a competitive, and possibly best-in-class benefits offering.

These benefits run the gamut, and include a number of unique concepts built around the highly valued employee benefit attributes of flexibility, convenience, savings, fitness and work/life balance.

Astute employers will utilize quantitative and qualitative research methodologies to ascertain unfiltered "voice of employee" feedback with regards to their benefit programs. In doing so, they can place a relative importance rating on benefit options and weigh those against any costs associated with making them available.
In doing so, these employers can efficiently and effectively position themselves as the Employer-of-Choice in their respective markets.

CONSULT WITH US

If you would like to discuss a holistic benefits solution designed to address your overall business objectives, as well as the unique needs of your workforce and your marketplace, please contact us. Our extensive work in the construction industry gives us unique insights into many of the common challenges and opportunities facing construction employers today.

To download a FREE copy of our white paper which covers this topic more extensively, simply click here.