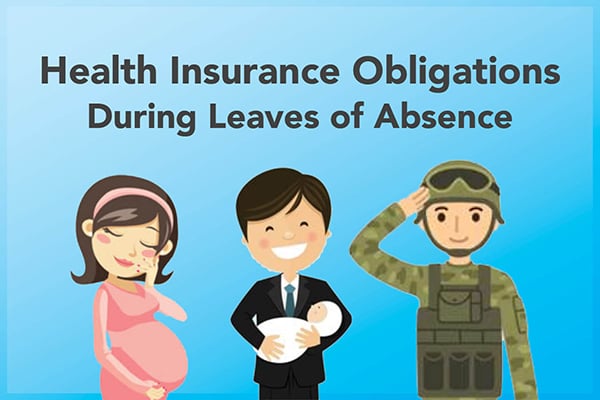 Employees who take qualifying leaves of absence are provided multiple protections by way of the Family and Medical Leave Act (FMLA), the Uniformed Services Employment and Reemployment Act (USERRA), and many state laws.
The most well-known protection is the guarantee of the same or an equivalent job when employees return to work, but there are also other protections. For example, many of these laws stipulate employers' obligations regarding health insurance during employees' qualifying leaves of absence.
The following is a breakdown of FMLA, USERRA, and some general state laws with regards to employer-provided health insurance coverage.
FMLA and Health Insurance

In order to meet the requirements for an FMLA-qualifying leave of absence, employees must meet four criteria.

The employees must have:

Completed 12 months of work for the employer (not necessarily consecutively)
Completed 1,250 hours of work in those 12 months
Worked at a location where there are at least 50 employees present or within 75 miles
A qualifying event

There are many qualifying events, including:
The birth or adoption of a child
Serious health conditions
Providing for family members who have serious health conditions
Having a family member called to active military duty also qualifies (and extends FMLA benefits from 12 to 26 weeks)


Whenever the above criteria are met, FMLA requires employers to maintain continuous group health coverage throughout a qualifying leave of absence.


So long as employers normally require employees to pay a share of their health insurance premiums, the same requirement can be continued throughout the absence. Employers don't have to pay the full premium unless that's their standard practice.
For collecting premiums when employees are on unpaid FMLA leave, the act provides employers with some freedom.
Employers can choose to have employees pay their share of the premiums at the same time the payments would have been deducted from their paychecks, or other arrangements may be made. For example, advance payments could be made via a single personal check or increased paycheck withholdings. The choice, however, is up to the employer rather than the employee.
Should employees fail to make timely payments per the prearranged agreement, employers can terminate coverage at that point.
Note: Small employers who don't have 50 or more employees working within 75 miles of a single location or campus don't have to follow FMLA requirements but can do so voluntarily.
USERRA and Health Insurance
All employees who are called to active duty military service qualify for USERRA leave of absence, regardless of how many employees they work with, how long they've worked for their employer, or how many hours they've worked.
There is no minimum employee requirement, so all employers must follow this regardless of their business' size.
In USERRA leaves of absence, employers are still required to make group health coverage available if the employee would otherwise have it. Who pays the premiums for coverage depends on how long the active duty lasts.
For leaves of absence lasting less than 31 days, premiums must be paid as normal. The employer and employee are each required to pay their share of the premiums.


For leaves of absence that last 31 or more days, the entire cost of health coverage can be shifted onto the employee. This includes the full premiums plus up to a 2 percent administrative fee. The administrative fee may not exceed 2 percent.

Few employees elect to pay for their coverage while on a longer USERRA leave of absence because they often qualify for free health insurance coverage through the military in these situations. Nonetheless, employers are still required to make their group health coverage available.
Upon returning to work from a USERRA leave of absence, employees' group health coverage must be immediately reinstated without any waiting period or exceptions - except for ailments incurred or aggravated during military service as determined by the VA. This requirement remains even if employees go on FMLA immediately or soon after coming back from a USERRA absence.
State-Approved Absences and Health Insurance
Of course, each state has its own family and medical leave laws in addition to these two federal acts. Some states simply follow the FMLA's language verbatim, while others add their own stipulations to family and medical leave.
States that have additional or different requirements most often make changes in one or more of the following ways:
Applying specific requirements to smaller businesses
Covering additional reasons for leave (e.g. domestic violence, school conferences, etc.)
Requiring employers to allow longer leaves of absence
Requiring employers to provide paid leaves of absence
Covering additional people (e.g. paternity leave)

When making any of these changes, state laws typically still require employers to provide group health coverage as they would if employees didn't go on leave.
When FMLA conflicts with state laws, employers generally must follow whichever law provides the employee with the more generous benefits. For example, employers might have to provide more than 12 weeks of group health coverage if their state allows absences beyond 12 weeks. Similarly, employers may need to offer fathers of newborns paternity leave that includes group health coverage.
Navigating Your Employees' Leaves of Absence
For help navigating health insurance and other benefits issues that arise when your employees file for any of these leaves of absence, request a free benefits review call. One of our consultants would be happy to help you ensure health coverage is in place should your employees file an FMLA, USERRA, or state-approved-absence request.
*Originally published on February 5, 2019.