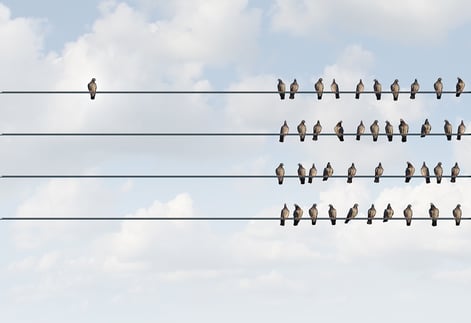 With healthcare costs continuing to rise, small employers that aren't obligated to offer health/medical insurance per the Affordable Care Act's (ACA) "employer mandate" have been dropping group coverage. This is a trend that started in 2009 during the recent recession. Some larger employers have also considered doing the same (though, they must pay steep ACA penalties if they do). At first glance, it might seem like this would bolster the health and stability of the individual insurance market. Despite the numbers of insured rising, however, increased costs and fewer options have put a serious squeeze on what was once a very healthy marketplace.
Group Health Insurance and Individual Health Insurance by the Numbers
Occasionally, a news piece predicts major shifts in the health insurance landscape, including dire predictions about employers dropping group health plans due to their high costs. However, it's important to look closely at these numbers, as well as the size of the companies cited in the statistics.
Small Businesses with Fewer than 50 Full-time Employees
As a general rule, employees of small businesses are much less likely to have group health coverage. When you discuss small businesses, however, it's important to note that "small business" has a variety of legal and political definitions — especially when you're talking about health insurance.
The Small Business Administration (SBA) has varying definitions of "small business" based on industry and, in some cases, revenue. As Steve Cooper at Forbes puts it, "...depending on the industry, you could have 500, 1,000 or even 1,500 employees and still be considered a 'small business.'" For the most part, however, a company is a small business for SBA purposes if it has 500 or fewer employees. According to the 2010 Census — the most recent Census available — there were about 5.7 million businesses with 500 or fewer employees in the U.S. Among these, 97 percent had fewer than 50 full-time employees.
Between 2008 and 2015, the number of small businesses (using SBA standards) offering group coverage has fallen steadily. Among companies with 25 to 99 employees, group health coverage has dropped from 81.3% to 73.5%. And among the smallest companies (those with 10 or fewer workers), just 22.7% offer group health coverage to their workforce. The distinction between companies with fewer than 50 employees and those with 50 or more is important, as the "shared responsibility" mandate under the ACA doesn't apply to companies with fewer than 50 full-time workers.
Per the "employer mandate" under the ACA, businesses with 50 or more full-time employees must offer affordable and acceptable healthcare coverage. The ACA's "shared responsibility" mandate to provide health coverage or face steep penalties only applies to employers with 50 or more full-time employees or part-time equivalents. However, if small employers choose to provide health coverage, they must offer plans that meet the ACA's specifications for the small-group market, including coverage of essential health benefits, and they must satisfy the ACA's general requirements to be affordable and provide at least minimum value to employees.
So what's causing these smallest of the small businesses to stop offering group health coverage? As Steven Miller at the Society for Human Resource Management points out, "The ACA requirements could have convinced many employers that health plan sponsorship would become a more regulated and expensive benefit — and therefore something to stay away from."
Confronted with rising costs across the board, as well as the long road back from the recession, it's possible that many small companies decided the high costs of health coverage just weren't within their financial means. Additionally, public exchanges under the ACA made it possible for workers at small companies to purchase their own coverage — with subsidies for those whose incomes fall below 400 percent of the federal poverty level.
Business with 50+ Employees
While it's true that fewer small businesses (for our purposes those with fewer than 50 full-time employees) are offering group health insurance, large employers have held steady. According to the Congressional Budget Office, 155 million Americans still get their health insurance through an employer. The Employee Benefit Research Institute reports that 99% of employers with 1,000+ employees still offer group plans, and about 92% of employers with 100 to 999 workers offer group health insurance.
Pros and Cons of Group Health Insurance
There are two main differences between group health insurance and individual health insurance. The first is that group plan premiums are subsidized by an employer, meaning that the expense is shared between the employer and employee. For employers with 50 or more full-time employees, the ACA governs the amount of premium an employer can push onto an employee — something known as the "affordability level." The IRS sets the affordability level annually as a percentage of gross household income.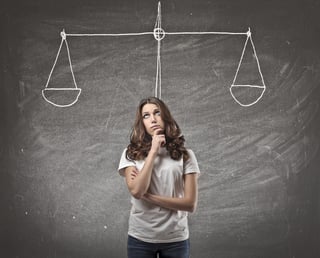 The second major difference is that the fees (also known as the "premium") an employer pays to a medical carrier for coverage is negotiable. (The only exception to this is smaller employees, whose rates are age-banded aggregate rates.) With the assistance of an employee benefits broker, mid-size and larger companies negotiate rates based on experience-driven workforce and dependent population risk pools. This means the employer can negotiate a lower price for insurance and pass those savings onto their employees and their dependents.
Pros of Group Health Insurance
With group plans, the employer contributes a federally mandated (ACA/Obamacare) minimum (or more) amount toward the premium, which means workers often receive more affordable coverage than they could afford on their own.
Additionally, group health insurance premiums are the same regardless of the number of dependents (once you get beyond spouse and one child). This means that an employee with family coverage and two dependents pays the same as an employee with family coverage and six dependents. Also, larger companies (and especially companies with a younger, healthy workforce) can usually negotiate lower premiums compared to individual health coverage.
Cons of Group Health Insurance
Because group health insurance is obtained through the employer, a worker's coverage is dependent on his or her continued employment. Job loss can cause gaps in coverage, and while COBRA can help bridge these gaps, it is very costly. Moreover, group health insurance premiums are rising fast and show no signs of slowing down. Case in point: In recent years, the price of premiums has outpaced wage growth.
To compensate, most employers are pushing a greater share of the premium expense onto employees. Another downside of group health insurance is that subsidized insurance plan options are limited to only those provided by the employer.
Pros and Cons of Individual Health Insurance
Like group health insurance, individual healthcare plans have their own ups and downs, and what works for one worker or employer might be a bad fit for another employee or business. Let's take a look at the pluses and minuses associated with plans employees purchase on their own.
Pros of Individual Health Insurance
As the name indicates, individual health insurance policies are typically made to fit the individual. Many people favor this customization over the one-size-fits-all approach of group health plans. In some cases, healthy individuals will pay less for an individual health plan than they would for group coverage.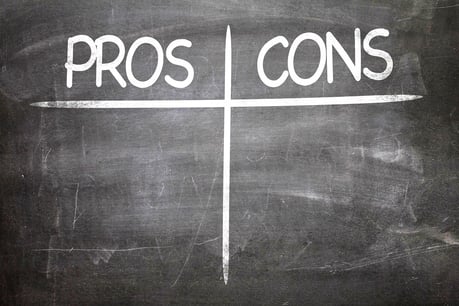 Additionally, many insurance companies offer group and individual plans that are nearly identical to each other in terms of coverage. And because individual health plans are not tied to employment, policyholders are covered even if they switch jobs, retire early or experience a temporary loss in employment.
Furthermore, individuals with household incomes at or below 400 percent of the poverty line qualify for subsidies to buy healthcare on the federal and state healthcare exchange (e.g. healthcare.gov, also known as Obamacare).
Cons of Individual Health Insurance
Carrier options and plan choices are becoming increasingly limited as carriers drop out of the individual market — a situation that has been accelerated by the uncertainties of today's political climate, as well as recent threats by the Trump administration to take actions to destabilize Obamacare. As a result, premiums have become more expensive as the current administration has threatened to eliminate subsidies to carriers and/or do away or simply not enforce the employer mandates.
Aside from the political issues swirling around individual health insurance, it's also generally difficult for Individuals and families with complex medical histories to find coverage they can afford.
Finding Health Insurance Options That Work for Your Business
Health insurance can be a thorny issue for businesses of all sizes. For small businesses, however, it's often difficult to balance costs and keeping employees happy. This is where an experienced employee benefits broker can help. Whether you choose group health insurance or an alternative, your broker can guide you to a solution that works for your business and your employees.
The JP Griffin Group consults for discerning companies coast-to-coast, ranging in size from 10 to more than 30,000 employees. In addition to our Scottsdale, Arizona headquarters, we have bi coastal offices in Seattle, WA and Washington, DC.