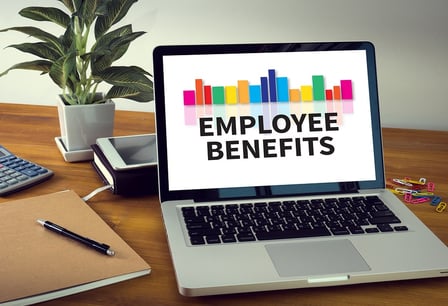 Some employers choose to take on employee benefits administration with paper forms and spreadsheets, thinking they'll save money. They see the cost of online automation, coupled with the monthly commitment — usually per employee, per month (PEPM) — and find it hard to believe the benefits of the software would be worth the investment. It's true that employee benefits administration software is not free, but the benefits of automation far outweigh the cost.
The reality of the situation is that regulation complications, paperwork, and human error end up costing employers far more time than it's worth. And of course, that doesn't include the fines your business could incur as a result.
Here are six ways leveraging employee benefits administration software with automation can save you time and money.
1. Increased Efficiency for Both Employer and Employee
Automated employee benefits administration increases efficiency for both the administrator, and your employees who use it. Regardless of the task you are trying to complete, it will, in short order, take less time when it's automated as opposed to old-fashioned spreadsheets, or worse, paper.
Many companies still have employees fill out paper forms, which an HR director or assistant then has to manually enter into a payroll system, an HR system, and the health insurance system. What took two or three people to accomplish could have taken one — the employee — if an employee benefits administration software was used.
With well-organized systems, all of those different parts talk to each other and disperse the information where it needs to go, which means you get to focus on real work instead of paperwork.
---
Discover how our platform-agnostic approach to automation transformation provides the confidence our clients demand when implementing the perfect platform for any enterprise. Click here to learn more.
---
2. Improved Accuracy
If employees are manually entering information into multiple systems, you're increasing the chances of human error exponentially, not to mention the possibility of interpreting instructions and government policy incorrectly, or just flat-out missing a reporting detail. All of these problems could cost you thousands in penalties and fines — and hours of employee time.
When employee benefits administration is automated, you reduce the risk of human error, but you also make sure your reporting requirements are fulfilled. Everything is built into most systems and necessary reports are generated for you.


3. Meeting Compliance Requirements
The Affordable Care Act (ACA) requires a lot of documentation. Many HR directors are drowning in regulation emails and subsequent paperwork — so much, in fact, that some businesses hire additional personnel to cover the workload.
In 2015, a survey by the International Foundation of Employee Benefit Plans found that 57 percent of respondents felt administration issues would be the biggest challenge in the coming year.
Every business, regardless of size, has to be up-to-date on changing regulations and reporting requirements. If you have fewer than 50 full-time equivalent (FTE) employees (and therefore, do not need to offer insurance), you are not exempt — you'll need to prove you're eligible to be excluded from the employer mandate penalty.
If you have more than 50 FTEs and you do offer health insurance, you'll need to prove you're offering it to every eligible employee and that the coverage meets the standards set by the ACA.
Employee benefits administration automation will handle all of these potential headaches for you.


4. Convenience
There's a significant convenience factor in having employee benefits administration automation processes in place. This is especially true if:
1. Your business operates across multiple states (or countries)
2. If part (or all) of your workforce operates remotely
3. If you allow your employees to work flexible schedules
In addition, having 24/7 access to administration software allows you and your employees to make changes when you have time — not just when your HR staffers are available.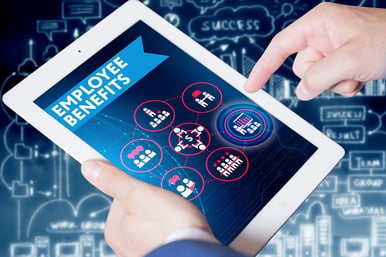 5. Better Decision-Making
Comprehensive employee benefits administration software can help both you and your employees make better decisions, especially when it comes to healthcare enrollment.
Many companies offer more than one health insurance option — perhaps one low-cost with a higher deductible and one high-cost with a lower deductible. For people trying to decide which is right for them, automation can allow for side-by-side comparisons, as well as online savings calculators so employees can be well-educated regarding the ins and outs of their plans.
Some systems even provide instructional videos to help get employees accustomed to how the software works, and many also allow an employer to insert informational videos to educate employees on difficult concepts and benefit products.


6. Greater Employee Satisfaction
Needless to say, anything that makes your employees' jobs easier will increase their satisfaction levels. Remember that happy employees are more productive than their unhappy counterparts, so investing in tools that improve their daily lives will pay you back tenfold.
In addition, you must think about your potential applicant pool. Millennials and digital natives are a growing part of the American workforce. Those who are currently enrolled in college may not remember life before computers. As a result, these new hires are dumbfounded by the idea of manually filling out paperwork. They see it as a waste of time — because it is.
If you haven't migrated to digital yet, you're behind the times and subsequently, applicants may feel your company will stunt their career growth. They may wonder in what other areas you are lagging. There's no faster way to lose young talent than by showing them you don't care about technology.
What Makes Employee Benefits Administration Software Effective?
Before investing in employee benefits administration software, check with your broker to see what their recommendations are. Your unique needs will determine what kind of software is best for your situation, but a good broker will be familiar with the leading platforms and can help you make an informed decision. Best of all, some brokers will actually offer such platforms with their standard service at no additional cost.
It's possible that your payroll administrator will offer some kind of employee benefits administration platform in a bundle. However, many of these systems are not nearly as robust, when it comes to benefits automation, as ones your benefits broker could provide for you. No matter what you decide, be sure to do thorough research before signing a contract with anyone.
Do you have questions about employee benefits administration software and automation? Schedule a Benefits Review for your firm.