Leveraging Employee Benefits to Recruit and Retain Top Talent
SHRM's 2015 Strategic Benefits Study is out, and for employers hoping to remain competitive when recruiting, a strong portfolio of non-cash benefits remain a key pa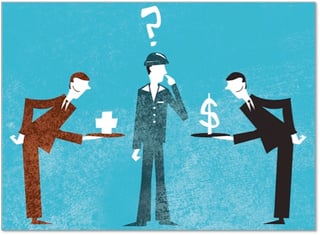 rt of any total compensation package. That said, and not surprisingly, pay considerations (salary, raises, bonuses and commissions) still remain the most important element of employee compensation.

Communicating Value Is Key To Influencing Decisions
For a highly valued candidate with multiple job offers, the role of employee benefits in swaying their decision can be enormous. According to the 2014 Aflac Workforces Report, 59 percent of employees are likely to accept a lower salary in exchange for better benefits.

The challenge, however, lies in communicating those benefits during the recruiting process. Traditionally, an employee wouldn't typically find out the full breadth and depth of benefits being offered until after they had accepted the job…but that's changing.

Glassdoor's head of global recruiting, Will Staney, says, "Employers are figuring out that benefits and perks and the subtleties of working in a place are becoming really important in selling the full package of what a company offers." In fact, Glassdoor just last year introduced a feature which allows employers to take charge and pre-populate their benefits portfolio on their company profile page, lest employers leave it up to employees (and former employees) to post this information, which risks misinformation dissemination.

The Rankings
According to surveys by the Society for Human Resource Management (SHRM), the benefits most frequently leveraged for recruiting are, in order, as follows:


Healthcare
Retirement savings and planning

Flexible work benefits

Preventive health and wellness

Professional and career development

Family-friendly benefits

Leave benefits

Housing and relocation benefits

Another survey of employee benefits by MetLife supported these findings, with 43% of employees citing healthcare benefits as a very important reason for joining a company and 50% citing healthcare benefits as an important reason for staying at a company.

Differential Value
The "needier" the candidate, the more employee benefits count (especially healthcare). Candidates who are unemployed at the time of recruitment value healthcare as a benefit much more than candidates who are employed elsewhere at the time of recruitment.

In general, the lower the income, the more the benefits package is an important factor in recruitment for the job seeker. Many employees remain loyal to their employer largely because they need their healthcare coverage.

For candidates looking at salaries under $90,000 per year, healthcare could account for up to 35% of their total compensation. In that case, other benefits could be a very minor recruitment draw. For candidates at much higher income levels – that is, income levels perceived to be adequate to cover their family and lifestyle needs – benefits like retirement plans and vacation time have much greater value.

The family structure of the candidate is also an important determiner of the effect of employee benefits. People value the benefits they can use the most. Candidates with children highly value childcare programs and paid family leave. Those without children may value life and disability insurance or a pay-raise structure much more.

Many benefits consultants are now suggesting that employees be given choices about their benefit packages or that packages be tailored to individual situations. This kind of flexibility will greatly enhance the value of the benefit package for employee recruiting and retention.



Benefits Communication
Employees in large part perceive employee benefits as a measure of how much they are valued by their employers. This makes communication and engagement an all-important part of stewarding value from the benefits program. Accordingly, a well-thought-out benefits communication campaign should be part of every planning cycle.

According to the SHRM survey referenced earlier, while 77% of respondents thought their benefits communication efforts were effective, only 22% actually had an employee benefits communication line item in their budgets, which seems at odds with the first data point.

If you aren't sure where to start on ratcheting-up your employee communications efforts, we encourage you to start here, by downloading two white papers we recently published on this topic.