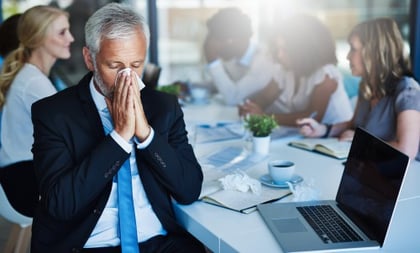 We all have Cal Ripken-like employees in our offices - the ones who pride themselves on never missing a day of work. They are the ones who come in when the snow drifts are two feet high, when the highway is washed out due to a hundred year flood, or when they are on the cusp of falling over due to a cough and fever that would most likely kill the more feeble in our population.
And while we love that these attendance superstars overcome most of these obstacles, it's the last one which should be of the most concern when caring for the overall health of your workforce.
For employers, managing employees' sick time is a challenge and even struggle. Some employees take sick time when they really shouldn't, while others don't take time when they ought to for the good of themselves and their fellow workers. The latter is especially harmful, as one person's communicable disease can quickly spread to others. A study in the Journal of Occupational and Environmental Medicine found that working sick costs employers across the nation a cumulative $160 billion in lost productivity each year.
The following are some clear guidelines on when employees should and shouldn't take sick time, along with how employers can communicate the guidelines for the benefit of the entire workforce.
Public Enemy #1 - Influenza
This year marks the centennial anniversary of one of the deadliest flu seasons on record. In 1918, influenza spread to around 500 million people worldwide and claimed the lives of between 50 and 100 million. In the United States alone, 675,000 people were infected.
Many advancements in the prevention and treatment of influenza have been made over the past century, but the virus remains one of the most widely spread diseases each year. The Center for Disease Control and Prevention estimates that some 710,000 people were hospitalized with influenza last year.
While individual's health is obviously most important with regards to these cases, the impact of influenza -- not to mention other diseases -- extends far beyond the walls of a hospital.
While there are certainly other communicable and non-communicable diseases that also impact the workplace, the flu remains public enemy number one.
Sick Days and Personal Days
Sick days must first be distinguished from personal days (not to mention vacation days). While employers set their own particular definitions, there are broadly accepted uses of each.
Sick days are generally for medical-related issues, which includes illnesses, injuries, mental health issues, and other health conditions. These days may be used for treatment, preventative care, dental and vision care, or when an employee is unable to work due to a disease.
Personal days normally have much more flexibility. They might be used to attend a parent-teacher conference or court hearing, or they may be used to care for an ailing loved one or move into a new home. In some companies, even taking a personal day off for a major event or "just because' might be acceptable.
Signs and Symptoms That Qualify for Sick Days
The most difficult part of handling sick days occurs when employees are ill enough to remain home but don't need formal medical care.
For instance, employees who evidence a fever between 100° and 102° have one of influenza's tell-tale symptoms. Their case might not require hospitalization or a doctor's visit if rest, fever-reducing medication and fluids are effective, but even a mild case of the flu is cause to stay home. The disease spreads too easily, and others' cases could be more severe.
In most cases, employees should remain home even if they feel well enough to work when evidencing any of the following signs or symptoms:
Fever, as this often accompanies serious communicable diseases like influenza

General aches and pains, like sore muscles over the entire body and in strange places (e.g. the scalp), is often an early sign of an on-setting disease

Extreme exhaustion and weakness, as this often accompanies serious communicable diseases like influenza

Severe cough, as coughs with wheezing, chest tightness and substantial mucus production are often signs of a disease that's more serious than the common cold

Headache with other symptoms, as a headache with other symptoms is often a sign of a disease that's more serious than the common cold

Sore throat and sneezing, in certain situations, although this is more common with a cold than the flu
The standard guideline for any fever is remaining home for 24 hours after a fever is gone without fever-reducing medication.
Of course, precautionary measures should be used regularly regardless of whether any employees actually has the flu or another communicable disease. Everyone should:
Frequently wash their hands

Cover their mouth when sneezing or coughing

Avoid touching their mouth, nose, and eyes whenever possible

Avoid close contact with sick individuals

Keep personal work-spaces clean

Keep bathrooms stocked with soap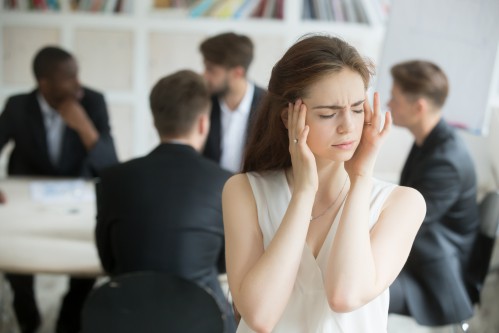 Other Reasons for Taking Sick Days
In addition to encouraging employees to stay home when they meet the above conditions, employers must also remember the other reasons why employees might take sick days. Preventative care, treatments for long-term illnesses and mental health care are all legitimate medical issues and worthy of taking sick time.
Benefits of Offering Paid Sick Time
Studies have shown that giving employees the freedom to take time off for medical issues like these have multifold benefits for employers. The Murphy Institute looked at a Connecticut law related to sick time, and found that offering paid sick time to employees:
Reduced turnover by 3.3 percent

Increased productivity by 14.9 percent

Improved morale by 29.6 percent

Increased motivation by 12.5 percent

Increased loyalty by 10.6 percent
A National Institute of Health study corroborated the first data point, finding that paid sick leave reduced the likelihood of job separation by 2.5 percent. This study noted that the effect was most profound for mothers and employees who had no paid vacation (which some employees might use for illness-related absences).
Ways to Communicate Sick Time Policy
After developing a paid sick time policy, there are several ways to effectively communicate that policy. It certainly should be stated in the employee handbook and mentioned during new-hire orientation. Employers also can:
Send reminders regarding the sick time policy during winter

Post guidelines for symptoms that require staying home

Encourage managers to reinforce sick time policies

Use sound judgment when requiring doctor's notes

Create work-at-home solutions when possible
If you'd like help developing or implementing a sick time policy for your workplace, contact our benefits specialists. They're familiar with what many companies have done, and they're here to assist you with sick time and other employee benefits issues.
What are your strategies for mitigating workplace illnesses? Leave us a comment below or contact us. We'd love to hear from you!