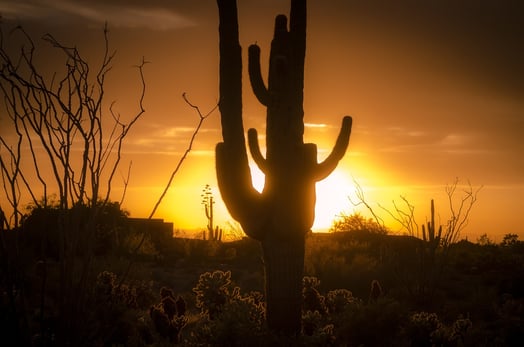 This June, Arizona experienced a near-historic heat wave that caused all kinds of strange things to happen, such as cacti falling over and planes being grounded. This is a safety concern for everyone, as heatstroke is a very real problem that causes death every year, especially among the infant and elderly populations. The Center for Disease Control (CDC) reported nearly 3,500 heatstroke-related deaths between 1999 and 2003.
Taking precautions at work, at home, and while on the road is extremely prudent. It can help keep your workforce safe by literally saving lives and/or helping prevent hospitalization. So as we enter August, in what is typically the hottest month of the year, consider implementing these tips in your workplace. Pass them along to your employees as well so everyone can be vigilant.
ON THE ROAD
Keep Extra Water in Vehicles
For companies with a workforce on the roads, it's a great idea to keep extra water stocked in all work vehicles. Supplying large volume coolers will help encourage employees to stay hydrated. Even warm water stored in a truck will come in handy should an unanticipated roadside breakdown occur.
Keep in mind, however, that some plastic (such as the thin plastic used to make water bottles) can melt in extreme heat (the Arizona heat qualifies!) — and remember how much hotter cars are than the air outside. To be safe, put the bottled water in a small cooler with a little bit of ice or provide jugs made of thicker plastic. If you can afford it, companies like Tervis, Yeti and Hydro Flask make double-walled, vacuum-insulated products that can keep liquids cool for hours on end.
Put Sun Shields in Vehicles
Putting a dashboard sun shield up when a vehicle is parked can reduce interior temperatures by a whopping 40 degrees, making it much easier and faster to cool upon restart. For companies with mobile teams, you should consider putting sun shields in all of your company vehicles, which will also help keep your fuel bill down because the engine won't have to work so hard to cool the cabin. The same goes for employees parking in unshaded lots — putting one of these in the car (and cracking a couple windows to allow for airflow) will make their commute home just a tad more tolerable.
Keep Towels in The Trunk
As any driver who has worn shorts on a hot Arizona summer day can attest, you may not be able to sit down in a car with leather seats that has been baking in the sun without something underneath you. Be sure to keep towels in your trunk (where it's cooler) to protect your skin from serious burns. This can also come in handy for your steering wheel, although you need to make sure you can still grip the wheel sufficiently. Some people recommend oven mitts for this purpose.
While you're at it, keep a washcloth or handkerchief in your purse or pocket so you can use it to open doors. Remember that cracking your windows just a little bit can allow for airflow in your vehicle, which can drastically cut down on the stifling Arizona heat getting trapped in the cabin.
AT WORK
Relax the Dress Code
To make the extreme Arizona heat more bearable, consider relaxing your dress code. It's not uncommon for companies to adopt a suit and/or necktie-free policy any time the temperature goes above 110. Other companies implement a short and skirts policy from Memorial Day to Labor Day. Of course your dress code should be in keeping with your industry and any safety regulations, but you get the idea.
Encourage Employees to Telecommute
To avoid the outdoors altogether, encourage your employees to work from home on record-setting hot days. It may not be realistic on a daily basis, but with some forethought and preparation, employees should be able to accomplish plenty of work from home. Less driving means fewer fill-ups, which is good for the environment, especially on bad ozone days.
Block the Sun from the Office
Make sure that blinds or curtains are closed when the sun is blaring through them, whether that happens in the morning or the afternoon. This will help you save money on your cooling bills, and will also help keep your workforce from getting drowsy or crabby from the heat. If the offices or desks are still warm, get little desk fans to help keep employees cool.
AT HOME
Get Outdoor Chores Done Early
If you have any outdoor work that needs to be done, do it as early in the day as possible — preferably before the temperature rises too far. If you're not a morning person, consider waiting until dusk to do your outdoor chores. The main goal is to not be outside and working hard during the hottest portion of the day. Fill your gas tank during the early morning hours to avoid adding bad ozone to the climate.
Give Water a Kick-Start
It's crucial to stay hydrated during the summer, but drinking water gets boring fast. Consider spicing up your water with some easy homemade recipes. Pinterest can give you no less than a thousand ideas for sprucing up water, but some of the most common are lemon slices, mint leaves, cucumbers, strawberries, blueberries, lavender sprigs, and orange slices.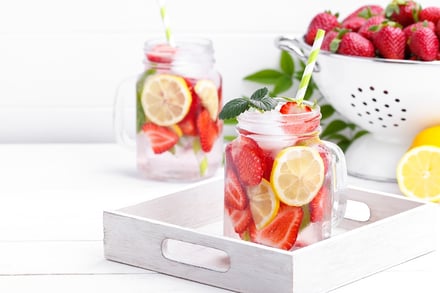 Carbonating your water can also make it seem less boring (and the Pinterest recipes will make you feel even fancier while you beat that Arizona heat in style). SodaStreams can be purchased from Amazon and are often featured in their daily deals. Not only is a SodaStream cheaper than buying soda, but it's much healthier as well because you're skipping the preservatives and artificial flavoring.
Buy a Kiddie Pool
If you have kids, they'll love having a body of water to splash around in when the temperatures reach triple digits, but even if you don't, you'll enjoy putting your feet in it! The cool water will soothe your feet after a long day at work and can decrease any swelling you may be dealing with. Grab your favorite water flavorings and sit in the shade with a good book. It will feel like vacation without actually spending the money.
Take the Kids (or Yourself) to the Pool
Not all of us can afford the upkeep up a pool on our own property, but there are plenty of public pools — and plenty of neighbors. Make some new friends, cool yourself off, and try to stick to the shade as much as possible. Remember that you'll need to reapply sunscreen if you're spending a lot of time in the pool, especially if you're in the sun after being wet.
What tips do you have for beating the Arizona heat? Leave us a comment below or contact us. We'd love to hear them!
The JP Griffin Group consults for discerning companies coast-to-coast, ranging in size from 10 to more than 30,000 employees. In addition to our office in the Phoenix metropolitan area, we have bi coastal offices in Seattle, WA and Washington, DC.