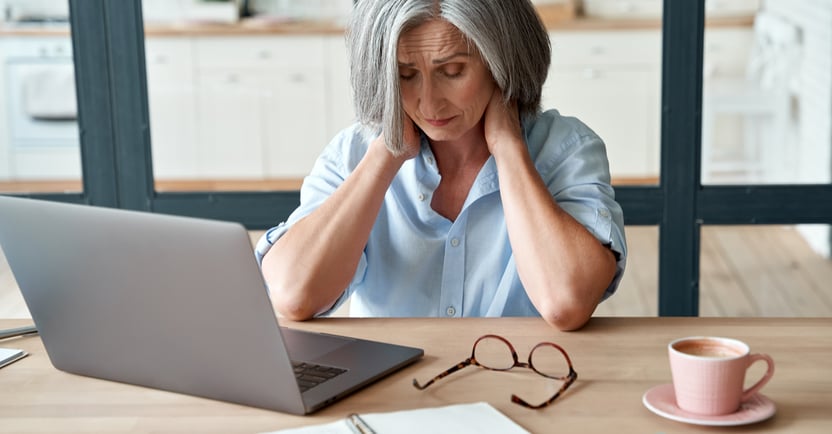 When 56% of student loan borrowers say they'd take a punch in the face from heavyweight boxing legend Mike Tyson and 40% would take one year off their life expectancy if it meant they'd be relieved of student debt, it probably means the public is under financial stress.
And that was before the coronavirus pandemic further complicated finances. Financial stress seems to be endemic: Three-quarters of American workers say they feel financial anxiety every day. The causes for this are numerous and varied, from insufficient savings (80%) and retirement funds (73%) to ballooning credit card balances (19%).
Financial anxiety doesn't exist in a vacuum. There's a tight link between financial, emotional, and physical health, and when an employee's financial anxiety becomes overwhelming, it can affect the body and mind.
What's more, that state of financial distress results in rising rates of presenteeism, absenteeism, and workplace accidents that can result when workers are distracted by financial worries. Consider that 43% of employees spend time working on their personal finances while at work.
As a result, many employers realize that a myopic focus on core benefits like health, dental, and vision shortchanges employees. Finding ways to integrate financial wellness into a holistic wellness strategy will be a competitive advantage, especially as many workers are emerging from the pandemic feeling financially scarred from the experience.
Employees expect financial wellness programs
Organizations trying to recruit and retain talent should keep in mind that most workers don't just want financial wellness programs but expect them. More than 85% of employees say it's important or very important for their employer to offer financial wellness initiatives even though only 12% say their employers offer an extensive program.
But what workers don't want is complexity in their financial wellness programs. They want their employer's help to assess their financial wellness and to build their financial knowledge.
In developing or revamping your financial wellness strategies for this changing environment, consider the following three points to help guide thinking:
1) You already have employee financial wellness programs. A well-devised strategy delivers tangible returns — the cost of financial wellness alone shouldn't determine the viability of a program. In fact, many organizations already have financial wellness programs even if they don't promote them, as most standard benefits include financial wellness resources.

For instance, many benefits plans have employee assistance programs (EAPs) with financial wellness resources that cover legal services and caregiving services that can help alleviate financial stress. Health Savings Accounts, Flexible Spending Accounts, and supplemental medical plans like accident, critical illness, and hospital indemnity insurance can be critical to help pay for out-of-pocket medical costs.
Review what services are already offered and build a strategy to increase employee engagement with them. 

In addition, third-party vendors are stepping into the void with new financial wellness programs, such as student loan repayment solutions, workplace loan programs, or employee purchasing discounts.

2) One size doesn't fit all. A diverse workforce has varied financial needs, and a financial wellness strategy needs to be customized to fit the employee demographic. To evaluate the needs of the employee population, account for their age, income level, life experience, financial goals, and seniority. Blue- and gray-collar workers, for example, have different financial pressures than other workers; these groups may well be underbanked, with neither knowledge of nor access to quality financial services. A financial wellness strategy that responds to the distinct needs of individual employees can help relieve workplace stress and increase productivity.

3) Leverage interconnectedness. The pieces that comprise healthcare and retirement plans, voluntary benefits, and EAPs are connected. Reviewing individual plan components and repackaging them to cohesively reflect employee needs can help build stronger financial wellness. Removing the walls between employee benefits and retirement services can help — joint planning sessions between benefits and retirement plan committees is an excellent place to start.
Contact us to learn how JP Griffin Group, a division of HUB International, can help your organization with Financial Wellness programs. Our Workforce Absence Management Specialty Practice experts, as well as our Health and Performance Specialty Practice experts, are well-versed in helping employees cope with these and other stress-inducing situations.