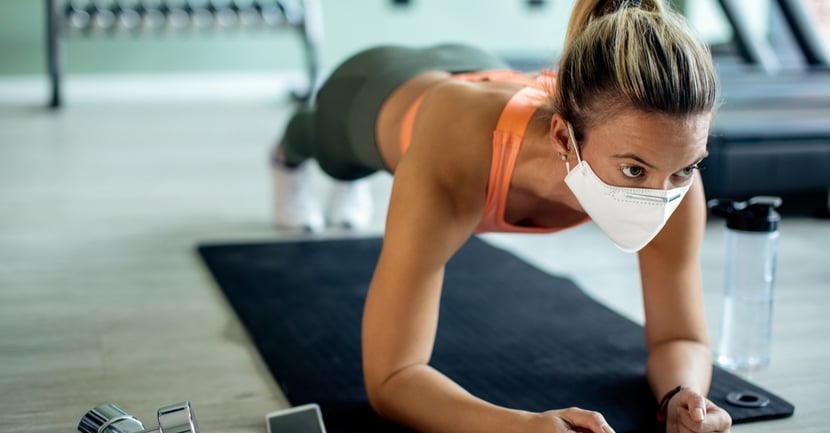 Employer reimbursement of gym memberships was a popular employee benefit before COVID-19 hit the U.S. back in March 2020. Since then, workout facilities have suffered some of the highest pandemic-related losses and may not be a viable option for as many employers in the future.
From prolonged forced closures to capacity limits to time-consuming enhanced cleaning protocols, many fitness industry insiders and gym members themselves feel that gyms will never be the same as they were pre-pandemic.
Despite these setbacks to the fitness industry, people are anxious to exercise again, especially after a long period of inactivity during quarantine. This is not to say that some people haven't doubled down on exercise during the pandemic, but the vast majority of people have not.
Faced with this quandary, employers may find it challenging to determine which fitness-related benefits to offer as we transition from lockdowns into such an altered physical and attitudinal landscape.
Today's blog post explores how the fitness landscape has changed and some potential options to consider in place of traditional gym memberships.
WANING INTEREST IN TRADITIONAL GYM MEMBERSHIPS
Those employers who decide to forge ahead by continuing to subsidize gym memberships should do so with revised expectations of employee enrollment and participation.
A study of 2,000 gym members conducted by Life Poll and shared by the New York Times in June 2020 backs this up. Among its findings:
Twenty-five percent of the survey participants stated they would never return to a gym after the pandemic.
Forty-two percent had set up a home gym and stated they preferred that arrangement to the corporate workout.
Sixty-two percent said wearing a mask should be a new gym membership requirement while 26 percent would not go to any gym with such a condition in place.
While it's unclear how these statistics might change over time, there is mounting evidence to suggest that our attitudes regarding the general safety and cleanliness of public spaces may be altered for at least a generation.
Nevertheless, for those employers who wish to continue or start these types of programs, many of the nation's largest health insurance carriers are still encouraging employers to offer gym reimbursement benefits and are willing to work with them to establish such a program.
Businesses that choose to include gym membership reimbursement as an employee benefit, in whole or in part, must first establish a budget to cover the cost. In some cases, wellness credits negotiated with the insurance carrier may be used to offset or greatly subsidize these expenditures.
Since companies are under no obligation to offer this benefit, they alone can determine what percentage of the membership fee to cover and other criteria employees must meet to qualify for this benefit. For example, how many days per month must employees scan their membership cards at the gym to qualify for reimbursement of dues that month?
While employers have quite a bit of latitude here, they should nevertheless consult with their legal counsel to ensure they maintain a legally compliant program without violating HIPAA, ADA, or any other laws designed to prevent workplace discrimination.
Employers also need to keep in mind that gym membership reimbursement is a taxable benefit under Internal Revenue Service (IRS) guidelines.
THE UPSIDE OF GYM MEMBERSHIPS
Employees who exercise regularly tend to be healthier, have fewer chronic health conditions and take fewer sick days from work. From an employer's vantage point, these facts alone reduce claims, lower health insurance premiums, and minimize lost productivity due to employee illness.
According to an article published in the Journal of Occupational and Environmental Medicine, including gym membership reimbursement as part of an overall focus on wellness benefits reduces employer health-related expenses by an average of 18.4 percent per employee.
After determining how much of the employee benefits budget to dedicate to paying for gym memberships, employers should weigh that figure against the predicted savings to determine if this benefit is the right fit for their organization.
ONSITE VS. OFFSITE OPTIONS
Companies with extra space available might also consider establishing a fitness facility onsite, though employees may be equally reluctant to frequent this shared space as much as a public gym. (To that end we'd encourage any employer thinking about this to survey its workforce to measure general appeal.)
Entrepreneur Magazine estimates the cost of such an undertaking at $10,000 to $50,000. While the initial output is a concern, companies need to determine how much they would reimburse employees for a gym membership benefit and then compare how long it would take to recoup their investment with an onsite facility.
Another option requiring less investment is to hire an instructor to teach onsite classes like yoga or strength training. In warmer climates and seasons, these classes can be held outside, where space constraints may no longer be an issue and/or COVID restrictions a barrier.
Incorporating fitness classes rather than building an entire facility can save employers a significant amount of money and provide added convenience for employees working onsite. Employees working remotely may even be more willing to participate in fitness events hosted outdoors.
VIRTUAL FITNESS OPTIONS
With remote work here to stay, even post-pandemic, employers also need to consider options for a virtual and/or distributed workforce. Many of these individuals may be craving personal interaction, and virtual group fitness classes provide an excellent medium for employees to connect and interact with one another outside of business-oriented Zoom calls.
Such options might include online boot camps to kickstart weight loss and yoga classes to encourage flexibility and mental wellness. A plethora of other online options now exist, including group cycling, kickboxing, martial arts, and so much more.
The forums typically consist of an onscreen instructor leading a virtual group session, sometimes live, but also offered as a recorded session that can be watched on-demand. While on-demand viewing strips the experience of sociability, some of the more introverted personalities in your organization (as well as those who have busy schedules), are likely to enjoy and benefit from this format the most. Others prefer the group environment for the camaraderie and competition it offers.
These virtual options need not be limited only to physical fitness and exercise. With more people now preparing their own meals to eat at home, employers might consider including cooking and nutrition classes, along with meditation, breathing classes, and other virtual wellness options.
Most all of these virtual fitness and wellness options can be offered for less than what employers would probably spend on traditional gym memberships and onsite facilities while still having the same impact, if not more.
OTHER FITNESS REIMBURSEMENT OPTIONS
Subsidizing Home Fitness Equipment
With the pendulum swinging towards a preference for at-home workouts, an alternative benefit employers might consider is full or partial reimbursement for workout equipment such as weights, treadmills, or stationary bikes.
Employers will obviously need to consider this benefit carefully to prevent employees from taking advantage of it. They should also determine a set dollar amount for each type of reimbursement to ensure fairness to all employees.
As with gym memberships, employers may want employees to document how they are utilizing this equipment. Without being too intrusive, employers might want to think of ways employees can substantiate usage, though they may want to tread lightly here, lest the jeopardize the goodwill fostered by the subsidy in the first place.
Reimbursing Event Registration Fees
Marathons, charity runs/walks, biking events, and competitive sports tournaments are common examples of organized events employees may participate in to improve their health while often supporting a good cause.
Employers can support these efforts by offering to reimburse employees for their registration fees. Photo proof of participation or a copy of the registration form or payment receipt should accompany the request to ensure its legitimacy.
IN CLOSING
With interest in public indoor gyms and fitness centers trending downward, it behooves every fitness-minded employer to branch out into creative solutions that encourage and incentivize employees to keep moving.
FOR MORE INFORMATION
For more information on all things COVID-19 related, JP Griffin Group has assembled a comprehensive COVID-19 Download Resource Center designed to help both employers and employees deal with this pandemic and the challenges facing all of us.
This resource center, updated daily, now contains more than 600 documents, ready for download, spanning compliance, financial relief, cost containment, employee communications, reopening best practices, and much more.