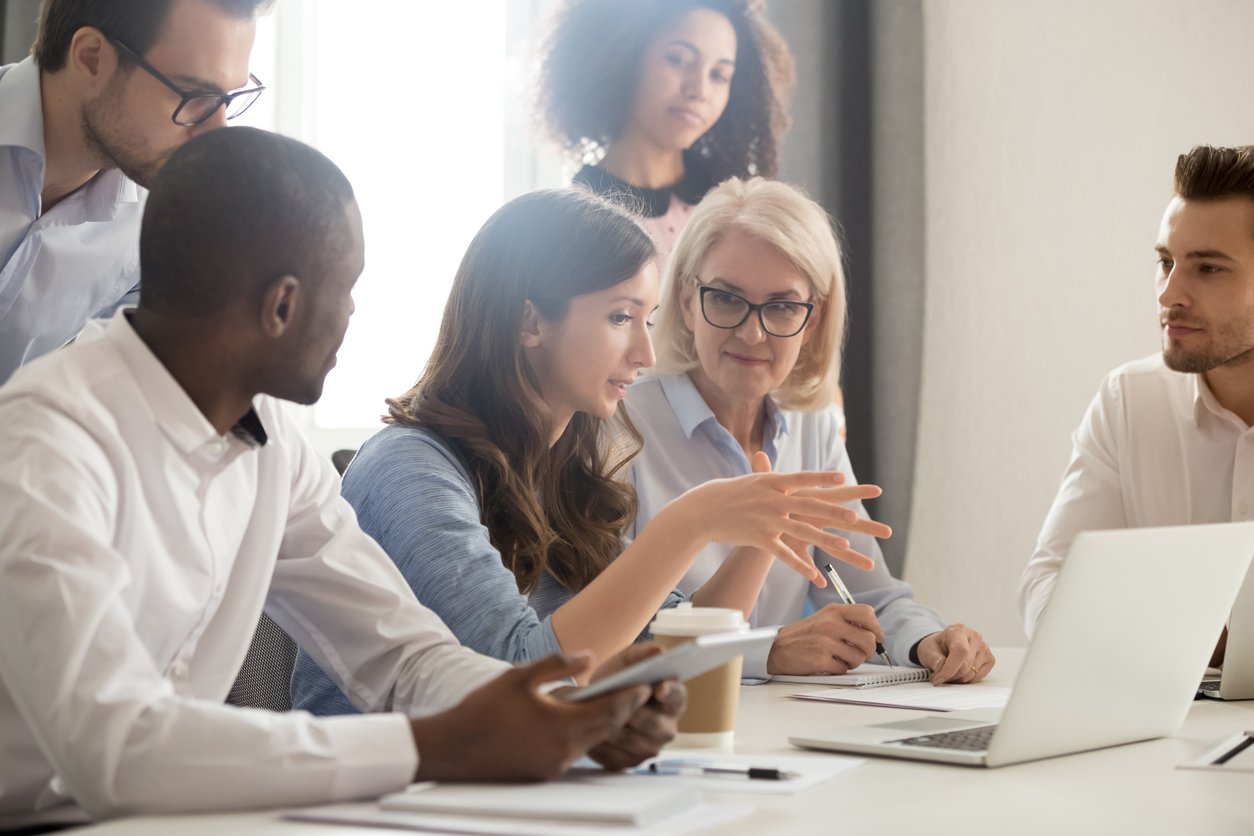 Today's legislative and administrative healthcare complexities only exacerbate the challenges most companies face when trying to market employee benefits to their workforces.

Let's face it, it's complicated (and boring) stuff. Just the thought of discussing medical, dental and vision insurance, not to mention disability coverage, life insurance, 401Ks and FSAs, usually has employees running for the exits (or at least checking their smartphones during the all-important Open Enrollment meeting).

Faced with this challenge, best-in-class employee communication practices really matter.
Our previous blog post focused solely on how employers can do a better job when it comes to branding their employee benefits programs. This post and our free downloadable eBook provide specific and actionable advice on how to maximize employee communications planning, construction and timing.
Three Steps to Dramatically Improving Your Employee Benefits Communications
Too often, companies treat employee benefits communications as an afterthought. But considering the time and resources you're already investing, it doesn't take that much more effort to ensure that your communications break through the clutter. Let's consider three mandatories for maximizing impact:
Well-Timed
Well-Constructed
Well-Planned

Well-Timed Communications
Well-timed communications are all about calendar planning and smart scheduling.
Calendar Planning: First and foremost, you want to make certain that employee benefits communications complement rather than compete with other company communications. This means building a time table that works in concert with other corporate communications activities. While you'll never be able to fully account for every company-wide announcement, especially those that are unplanned or one-offs, it's important to understand that others within the company will occasionally want or need to reach out to all employees.
The best way to get started on a company-wide communications calendar is by reviewing company-wide communications from the past-year. Sort them into two categories: recurring and one-offs. Then, lay those out as the basis of your new communications calendar.
Smart Scheduling: Some of this is common sense. For instance, you should avoid scheduling your Open Enrollment period to end on a weekend, or while a team of employees is at an off-site. After all, you can fully expect and should plan for employees to have last minute questions and require assistance right up to the deadline. Some scheduling conflicts are less obvious but require a bit of intuition and just plan smart thinking. For example, don't schedule a weight loss contest to overlap with your company picnic or pot-luck luncheon. By the same token, don't schedule biometric screenings the morning after Superbowl Sunday.


---
Are you maximizing employee benefits communications planning, construction and timing? Download our eBook for specific and actionable steps to improve your employee benefits communication.
---

Well-Constructed Communications
Creating well-constructed communications comes down to customization, contextualization, and delivery.

Customization

:
Much of today's continuity-based health, wellness and benefit communications are off-the-shelf generic content disguised as valuable information. These days, employees are savvy enough to know custom from cookie-cutter, and the time they'll put into absorbing your message and then acting on it, is typically equal to the time you put into creating it. We call this Content Consideration – and the key to achieving it is just keeping your content simple, relatable, and actionable.
For example, anyone can send out an off-the-shelf piece about the health benefits of an everyday walk at lunch. But there's no new information here, and certainly nothing that speaks directly to your employees. Why not take the same angle, but customize it? How about "3 Lunchtime Walking Loops"? Or "Our Top 5 Walk and Lunch Destinations"? Either one of these simple approaches delivers content that's both of personal interest, and holds personal value for your company's employees.
Contextualization

:
Multiple generations and cultures in the workforce necessitate conscious consideration when crafting and delivering communications. For example, diversity in age means varying levels of tech savviness. Some older employees might also require larger font sizes for easier reading. And visual appeal can't be overstated; think about adopting varying layouts and looks to capture the attention of your different audiences. Multilingual accommodations should be also made for your non-English speaking employees to achieve maximum inclusivity.
Delivery

:
Delivery of your communications should also be purposeful. Some of your materials may be better geared toward a home mailing than an email or interoffice memo. For instance, if your messaging is of interest to spouses or dependents, or involves the employee taking out-of-office action, an at-home mailing will more likely result in conversations that lead to actions. It's something to consider when you're preparing communications for things like free flu shots, biometric screenings, retirement savings or health benefits. Sometimes a little nudge from the family at home can make all the difference.
And it's also important to remember that not everyone has easy computer access. Nowadays, a lot of lower wage employees use their smart phone as their primary screens. So, depending on the makeup of your workforce, making sure your messages are small screen friendly may be wise approach. Download our FREE eBook for several more suggestions on communications construction.
Well-Planned Communications
Well-planned communications adhere to quality over quantity, maximizing the medium and taking your message to the people.
Quality Over Quantity
Think of any well-known brand whose marketing work is consistently strong; a brand that's good at getting your attention. The quality is always there in the design and construction of the message, and in the overall way it's delivered. You might not realize it, but every time you send out materials, you're trying to sell your brand message to your employees.
Quality and consistency are key. That means being considerate of the voice and tone – engaging and enticing your audience instead of speaking at them. It also means being thoughtful of the layout and general look of your pieces – your materials (while staying within budget, of course) should be visually appealing, both drawing in your audience and keeping them interested. In short, you're out to reward your employees for the time they're putting into considering your message.
---
The JP Griffin Group workforce communications expertise is designed for maximum impact, reaching diverse multi-generational, multi-cultural, multi-lingual and geographically dispersed workforces. Learn more about our approach today.
---

Maximizing The Medium
Direct marketers have used this principal for decades. As consumers over time became more and more familiar with postal rates and options, marketers shunned third class bulk postage for first class and even priority mail. Why? Because marketers knew that having their message delivered in a higher priority way would elevate the perceived importance of their content.
The same is true today for marketing phone calls, texts and emails. In descending order, each of these techniques implies a different sense of "urgency", suggesting and even coercing an equally urgent response. You should consider deploying a wide range of communication styles to vary the level of urgency, emphasis and importance your employees should place on your communications.
For example, an "eating right" campaign probably doesn't carry the same urgency as "free flu shots next Tuesday", or the quickly approaching deadline for Open Enrollment. So communicating each message in a unique way that'll elicit the desired response can deliver effective results while keeping things fresh.
Whether or not you choose to use different media to deliver your message, it's crucial to adjust your tone for each communication, based on its importance or urgency, and the timeliness of the response you're going for. Is your message going to be a casually friendly announcement, a slightly more urgent nudge, or a deadline-approaching alert? Take the time to voice your message in the right way. Because, like the boy who cried wolf, if you shout about everything, no one will know when something is really urgent.
Taking Your Message to The People
Life is busy. So people get their information in whatever ways are convenient to them – and they usually don't have the time or desire to go out of their way to look for it. Marketers have always known this. That's why you see ads on billboards, bus shelters and anywhere else you'll find busy commuters. Your employees are the same way. So it's important to deliver them your message in the places they're more likely to see it.
For example, in the retail, fast food and manufacturing industries, it can be helpful and effective to make postings over the time clock or deliver them as payroll stuffers. And for a workforce that's on the go – a sales staff for instance, test notifications can work far better than calling a company meeting.
Likewise, for companies with lots of multi-site or multi-state locations – maybe a webinar will work best, or you could consider sending employees home with a thumb drive. Or simply send them a link to a video they can watch at their convenience. There are all different kinds of workforces, and for each one, there's a best communications practice.
More than anyone, you're in the pivotal position of discovering and understanding what works for your employees. Gaining buy-in for applying these best practices to your employee benefits communications is critical to its success, especially since it requires collaboration across other company communications. Start by downloading our FREE eBook, sharing this article with key decision makers, and if you need more help, don't hesitate to schedule a complimentary benefits review for your firm.