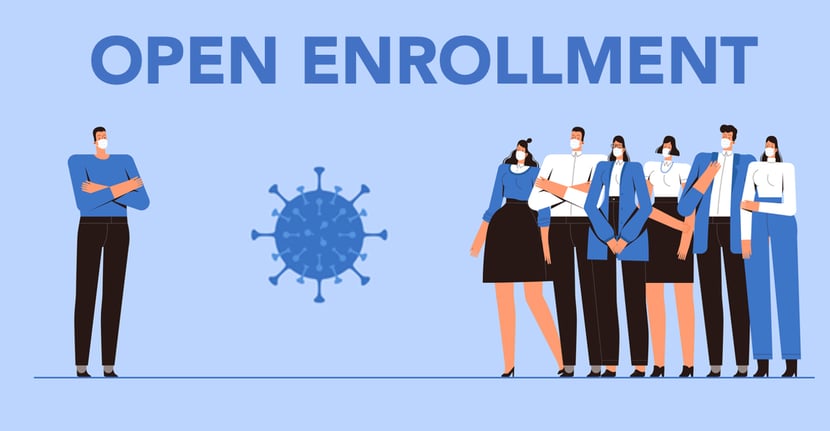 Fall is just around the corner, which also means we're about to enter an employee benefits open enrollment season like no other that has come before. Many organizations are still operating fully remote. Others are still trying their best to reopen as safely as possible amid mixed messages and fluid guidelines from state and local governments.

Suffice to say, open enrollment planning is the last thing on anyone's mind, except that is, for your employees, who are more concerned than ever about having the right coverage and savings options in place during these uncertain times.

Procrastinating or allowing yourself to get too distracted from benefit decisions and enrollment planning is a recipe for disaster, given what's at stake this open enrollment season.

Here's what we're seeing out there and our advice on how best to prepare for open enrollment.
OPEN ENROLLMENT ADVICE AMID THE PANDEMIC
PLAN FOR DISRUPTION:
Expect major disruptions to open enrollment this year – and have a back-up plan for everything. If this pandemic has taught us anything, it's that conditions can change almost daily.
From an operational standpoint, COVID-19 might surge in the fall and force businesses to reclose. Even if businesses remain open, employees may not be comfortable returning if they feel unsafe in the workplace. These are two worst-case scenarios, but they exemplify the multitude of potential disruptors stemming from COVID-19 this enrollment period.
GO VIRTUAL:
Because of this uncertainly, many organizations are planning to hold entirely virtual open enrollments. Virtual enrollment has been trending for several years, and the COVID-19 pandemic is helping to solidify its prominence.

A virtual enrollment process typically includes remote video meetings between employees and HR, an online enrollment platform for selecting benefits, and downloadable or web- and mobile-friendly benefit resources such as benefit enrollment guides and wallet cards.
When going virtual, do you best to open up other lines of communication, such as phone, email, and chat support. You're likely to receive far more questions this year than in year's past, most especially as it relates to short- and long-term disability, vacation, sick leave, dependent care, layoff provisions, mental health, telemedicine, telecommuting, and more.
OFFER ON-DEMAND ACCESS:
If you do hold remote video meetings, consider recording them and making them available for on-demand viewing. Any employee (or household decision-maker) who can't attend the initial meeting will appreciate the opportunity to view the presentation at their convenience, even though they won't be able to participate in the live Q&A forum.

Likewise, those that find benefits information dense and confusing (and who doesn't) will welcome the chance to rewind and watch anything that confuses them on first viewing. Recording your enrollment presentations also makes it super easy for employees to share the content with other decision-makers in their household.
CONSIDER A MULTI-CHANNEL HYBRID APPROACH:
While virtual enrollment will almost certainly be the new standard, it's not necessarily the right solution for everyone.

The number of employees within an organization with limited technical skills, and limited access to technology and connectivity, will influence what open enrollment looks like across different organizations. It's up to individual employers to decide how to pair virtual enrollment solutions with other resources to meet the unique needs of their employees and the organization as a whole.

For example, if you're worried that video conferencing just won't work for a portion of your workforce, then plan to hold a few socially distanced in-person meetings. If you are concerned that some employees won't be able to access digital materials, consider distributing printed materials, either by leaving them in a location for pick-up or mailing them into the home.
GO INTERACTIVE:
When transitioning from paper to digital benefit education materials, don't just convert them to static MS Word, PPT, and PDF documents. Instead, make the most of the digital medium by making them interactive and engaging.

Most web-based online viewers allow you to embed all sorts of user-friendly functionality, including; active hyperlinks, click-to-call, video embedding, informative pop-ups and roll-overs, real-time language translation, bookmarking, clipping, and much more.
BUILD-IN LONGER LEAD TIMES

:
Keep in mind that most businesses, including your benefit vendors, are either working with less staff, or are also working in entirely new business environments. Have some empathy are realize that this "new normal" is new for everyone.

If you do decide to mail physical materials into the home, plan to ship via UPS or FedX, which can get quite costly, or build in plenty of extra lead-in time when using the U.S. Postal Service. Why? As you may have read in the news recently, the USPS is undergoing a major overhaul of their operations.

These changes include significant cuts to capacity and frequency of mail delivery. Accordingly, print and letter shops are warning marketers to expect "significant" slowdowns in the delivery of items being shipped through the USPS.

While there is always a general slowdown in our mail and delivery systems during an election year (due to the volume of campaign and election-related material running through the system), this year is probably going to be particularly bad because of these additional structural and funding changes. While it's possible that bipartisan action by Congress may reverse these operational changes, it's unclear if that will be successful. We recommend that employers build-in an additional ten business days to ensure on-time delivery of enrollment materials.
AVOID COMMON PITFALLS:
From ending open enrollment during non-business hours to electing a passive vs. open enrollment, we are all guilty of violating a few best practices during open enrollment. Click here to download a copy of what we consider to be the 10 Most Common Pitfalls to Avoid This Open Enrollment Season.

Next week we'll address some shifts we are seeing in employee benefits products and services brought on by the pandemic.
FOR MORE INFORMATION
For more information on all things COVID-19 related, we've assembled two comprehensive COVID-19 Download Resource Centers designed to help both employers and employees deal with this pandemic and the challenges facing all of us.
These resource centers contain more than 200 documents, ready for download, spanning compliance, financial relief, cost containment, employee communications, reopening best practices, and much more.