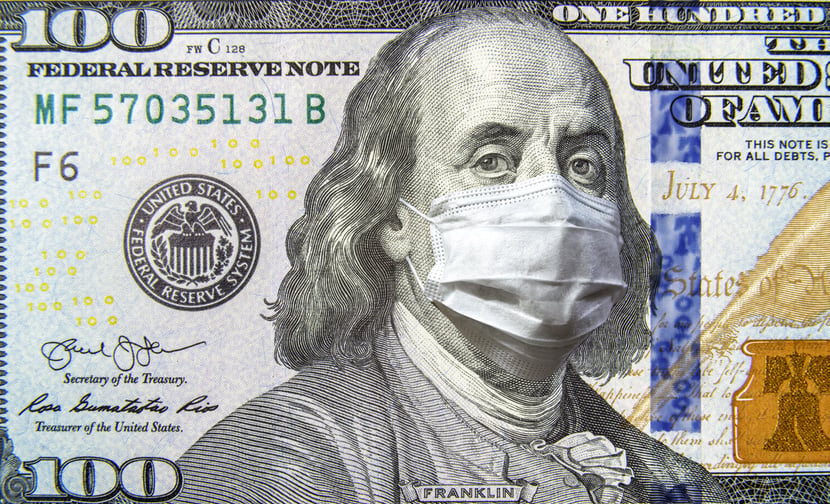 With funds reportedly running dry overnight in the $350 billion Paycheck Protection Program, it was with great trepidation that I read an article in the Wall Street Journal this morning suggesting that a second round of coronavirus-related layoffs is already underway, and that very few industries will be spared this time around.
This prediction was further bolstered when the Labor Department announced, just a few hours ago, that 5.24 million more weekly jobless claims were filed last week, exceeding the 5 million expected from most economists. This brings total unemployment claims to just over 22 million, virtually wiping out ten years of spectacular U.S job growth in less than a month.
It would be an understatement to say that that the damage to the U.S labor market has been profound. And economists say there's more to come. But there's also been considerable discussion recently about markets "opening back up", perhaps as early as the end of this month.
So which industries are next to be hit, can this be avoided, and how long might it take for things to bounce back once we return to what is sure to be a "new normal"?
THE NEXT INDUSTRIES TO SUFFER
A common misperception from the first round of COVID-19 furloughs, layoffs and firings is that the damage was mostly contained to frontline service sector jobs, where it was difficult for employees to social distance themselves from customers and coworkers. The data suggests otherwise.
A survey of visitors to the job-search site ZipRecuiter indicates that 39% of respondents who reported having been laid off were coming from the business and professional services sector. This is nearly the same rate as respondents in restaurant, retail, and wholesale trade. Among the respondents who still had jobs, many in white-collar industries said their hours were cut.
This flies in the face of conventional wisdom, which suggested that those to lose their jobs would primarily be individuals who worked at restaurants, malls, hotels, and other places that closed to help contain the coronavirus pandemic and/or were eventually deemed "non-essential." While they were definitely hit first, along with manufacturing and distribution jobs disrupted by breaks in the supply chain, it looks like it didn't take very long for other industries to catch up.

With some restaurants and retailers hanging on, albeit barely (primarily by pivoting to curbside pick-up and home delivery), the next wave of job losses look to be hitting those who thought they might be spared from further pain; white collar workers in businesses that transitioned their workforce to work remotely.
With future business investment all but stalled, business-to-business service industries dependent on a growing economy are suffering, despite the pivot to a virtual work environment. Work at corporate law firms is drying up, architectural projects are being put on hold, and most businesses aren't advertising. And as state and municipal budgets get reallocated, government employees are being furloughed.
"The virus shock does not discriminate across sectors as we initially thought," said one business owner in the web hosting space, in a recent interview with the Wall Street Journal. "Customers who paid like clockwork for 10-plus years are suddenly late," he said. "I'm burning through all the cash I have."
Net, while a tremendous number of businesses have successfully transitioned to working from home, the demand simply isn't there for their services.
REMOTE WORK SIMPLY WON'T SAVE THE ECONOMY
A new study from the University of Chicago's Becker-Friedman Institute suggests that only 37% of all U.S. jobs can plausibly be done at home, meaning that nearly two-thirds cannot.
The study also finds that there are variations in these figures across cities and industries, with Chicago and Washington D.C. having more jobs that can be done at home than Phoenix and Tucson, for example.
As might be expected, jobs that can be done at home tend to skew white-collar, and therefore account for 46% of all wages, but just 37% of jobs. This means that even if there was enough work to be done at home, it simply doesn't account for enough of our economy. This also underscores that those lower down on the socio-economic scale are most in need of a re-opening of the economy for their livelihoods.
THE VIRUS IS SHIFTING AROUND DEMAND FOR WORKERS
This isn't to say that some industries aren't downright flourishing at the moment, such as grocery, online education, mobile gaming, and online retailers, to name a few. Some companies are even trading workers across the economy. Hundreds of thousands of workers are being redeployed in one of the fastest labor shifts in postwar history.
CVS is looking to hire 50,000 workers and has teamed up with Hilton, Delta, Gap, and dozens of other companies to employ their laid-off workers. More than 900,000 people have applied for jobs at CVS in just the past few weeks. These collaborations were essentially unthinkable just a couple of months ago, when firms were fighting it out for talent in one of the tightest labor markets in recent memory
HOW LONG WILL IT TAKE TO BOUNCE BACK
Oxford Economics, a U.K.-based forecasting and consulting firm, projects that when all is said and done, 27.9 million jobs will be lost to the pandemic. This suggests an additional 5 million losses added to this morning's unemployment figures.
The estimate on how long it will take for jobs to bounce back is heavily dependent on how long social-distancing measures last, and how exactly these rules might be modified if people wear masks and take other precautions.
The consensus among the economists surveyed by the Wall Street Journal is for employment to return to its February 2020 level in 27 months, but views varied widely, with some economists expecting the labor market to take five more years to fully bounce back.
While that estimate sounds scary, there is some reason for hope; nearly half of workers who reported themselves as newly unemployed in March said they were on a temporary layoff, up from 29% in February.
And in states which require large employers to specify whether layoffs are temporary or permanent, such as Colorado and Washington, 70% this year have been reported as temporary. (In the Great Recession, it was less than 1%.)
Many economists predict that the majority of those laid off will be recalled quickly, perhaps in as little as six months, pointing to the positive state of the economy before the pandemic started.
Moody's Analytics economist Adam Kamins says the economy will regain about half the jobs lost to the pandemic by the end of the summer, providing restrictions get lifted soon. Cutting the unemployment rate in half would allow the economy to operate "more like it does in the middle of a recession," says Kamins.
He added, however, that industries that are subject to cyclical cycles, such as manufacturing, real estate, and finance are likely to experience more permanent layoffs and prolonged periods of stagnation.
REOPENING THE ECONOMY
President Trump is set to announce new guidelines for reopening the economy at tonight's press conference, but the nation's health officials and most governors are striking a more cautious tone, saying the country needs more testing and a clear path to a vaccine.
As the pandemic continues look for more guidance and updates from JP Griffin Group.