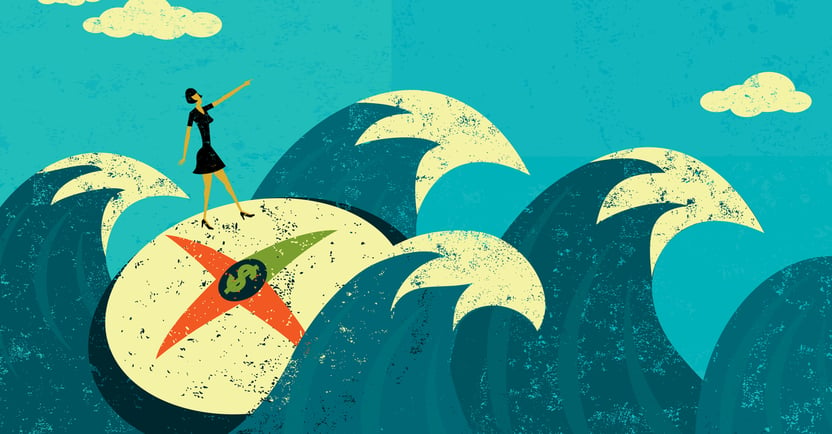 Last week we addressed how this open enrollment season is shaping up to be like no other benefits enrollment period we've ever experienced. In that blog post, we offered a number of suggestions for how employers can best prepare for the choppy seas which lie ahead.

This week we want to share the shifts we're seeing in the employee benefits employers are offering, due to the altered landscape brought about by the COVID-19 pandemic; from products and services to policies and medical premiums.

What we've found to be most surprising is that despite some companies cutting costs through layoffs, furloughs, cuts in pay, and reductions to 401(k) matching programs, employers who can afford to do so are broadening their benefit programs due to the pandemic.

Here are some of the most significant changes we're helping our clients roll-out.
MENTAL HEALTH SERVICES
Many employers are adding much needed mental health services to their benefits portfolio. Since the beginning of the COVID-19 pandemic, employers have been looking for ways to provide employees with meaningful mental health and emotional well-being resources to curb burnout and treat anxiety, loneliness, depression, and a number of other mental health issues.
In particular, larger employers are also helping to address access and cost barriers by bringing some mental health services onsite. A considerable number of employers are reducing out-of-pocket costs as well. In fact, a swath of employers are either lowering or waiving fees altogether for virtual mental health services.
Most employers are also providing increased access to other online mental health support resources such as apps, videos, and additional on-demand information. Still others are implementing manager training to help supervisory staff recognize mental and behavioral health issues and direct employees to the appropriate services.
TELEMEDICINE
Telemedicine has accelerated at an astronomical rate, no doubt brought into the mainstream by the number of traditional medical providers who shifted to telehealth office visits during the initial weeks and months of lock-down.

This migration was also greatly accelerated through the permission granted by the Centers for Medicare & Medicaid Services (CMS) to allow Medicare and Medicaid recipients to receive care via telemedicine.

With that endorsement, providers, carriers, and health plans all embraced the migration. While telemedicine remains far more suitable for consultations, screenings and counseling than it does for services which require contact and physical examination, it does appear as if telemedicine is finally here to stay.

"Telemental health" is also an area of care that seems to be outpacing other specialties, especially because virtual delivery helps address provider shortages, minimize wait times, and reduce the stigma associated with seeking mental care.
MORE FLEXIBLE TIME OFF
With employees having no place to go for a little rest and relaxation, employers are also altering their PTO policies. According to a recent Willis Tower Watson study, 42% of employers plan to alter their PTO policies out of concern employees won't use theirs during the pandemic.

Some employers are allowing employees to carry over a portion of unused PTO into the next calendar year, while others are experimenting with PTO sharing programs, whereby employees can donate their vacation time to a charity, a general company fund, or a specific colleague.

Some employers are also allowing employees to use a portion of their unused PTO to pay off student loans. Insurance provider UNUN has been using this approach with their workforce for over a year, through a partnership with Fidelity Investments. (We recently launched a similar program ourselves here at the JP Griffin Group.)

With debt being one of the most significant drivers of stress and anxiety, the ability to pay off deft with unused PTO can yield tremendous dividends in terms of creating a healthier, more productive, and loyal workforce.

Finally, for employees who are able (or want) to take time off, some out of necessity, 21% of employers are allowing employees to incur negative PTO balances.
CAREGIVING AND CHILDCARE
As schools around the country have already attempted to open and then subsequently close for the Fall semester, some employers are offering caregiving leave and/or childcare benefits in the form of subsidized childcare.

Such a benefit could help accelerate the labor-market recovery, since it's estimated that as many as 18 million Americans may put off looking for a job if schools remain closed, according to a recent Bloomberg Economics report.
REWARDS FOR REMOTE STAFF
Employers are also finding creative ways to reward remote staff with GrubHub and Uber Eats gift cards, and subsidies to buy themselves home office accoutrements such dual monitors and comfy, ergonomic Herman Miller office chairs.

Still others are offering their employees credits to use for booking online experiences. In fact, many Napa and Sonoma wineries such as Frog's Leap are offering virtual tastings, while Airbnb if offering thousands of one-on-one virtual experiences – everything from a master class in brewing coffee to lessons on how to cook Mexican street tacos. There are even classes on glass blowing and oil painting taught by professional artists also stuck at home in far off places like Italy and France.
VIRTUAL WELLNESS AND TEAM BUILDING EVENTS
Countless employers are taking their wellness programs online, offering virtual yoga, kickboxing, Tae Kwon Do, and other types of fitness classes. Wellness contests such as virtual fun runs, walks, and biking competitions have also proved enormously popular.

Some employers have been diligent in hosting virtual lunch 'n learns, as well as virtual happy hours and collaborative movie watching. Many have introduced online gaming sessions, which have included trivia contests, Zoom bingo, and competitions for best virtual backgrounds. Still others are relying on old-fashioned but Zoom-friendly games such as Scattergories, Pictionary, Charades, and Heads-up.
EMPLOYER & EMPLOYEE MEDICAL PREMIUMS
Finally, employers have been patiently waiting on renewal figures from carriers to start setting contribution levels for the upcoming year. While most everyone in the healthcare industry initially braced for higher claims when the COVID-19 pandemic broke out, most employers enjoyed historically low claim costs in April, May and June.

These declines were primarily driven by deferrals in preventative and elective care and the reluctance of those who actually needed care from entering medical facilities, for fear of contracting the virus. The rise of telemedicine also helped to defray claim costs.

Employers have been hoping that these reductions in claims would result in very favorable renewal rates for 2021. Thus far it looks as if most carriers will be offering modest increases for 2021, citing the possibility of pent-up deferred care and the possibility of a second and even third wave of coronavirus cases. There is also some research to suggest that delayed care and lack of management of chronic conditions is already manifesting itself in an escalation of claim costs.

To that end, and as we addressed in one of our blog posts from May, "The Financial Impact of COVID-19 On Self-Funded Employer-Sponsored Group Health Plans", there are several steps that self-funded employers should already have taken to prepare for any shifts in claim costs, not the least of which was an adjustment to claim reserves.

All this being said, there is some historical evidence to suggest that the current reduction in expenses relating to deferred care won't rematerialize post-pandemic. In similar crisis, such as natural disasters, close to 50% of what are considered "variable claims" never showed back up in the healthcare system. Net, a dollar-for-dollar pent-up need for care may not emerge when the pandemic finally subsides.

Nevertheless, fully-insured employers will be at the mercy of what carrier partners are anticipating. In contrast, self-funded employers may have an opportunity to reap the rewards of two lower claims' years in a row, should carrier fears of higher claims fail to materialize.

Fully-insured employers who aren't happy with their renewal quotes might want to consider going to market with their plans. With carrier RFP volume reportedly down more than 50% from last year, we have seen some aggressive pricing from carriers who are anxious to win business in an otherwise slow market.

The net/net is that next year's underlying medical costs will likely depend on three or four major things; the amount of pent-up demand in the system, the effectiveness of policies to mitigate the spread and prevent a second and possibly third wave of the COVID-19 virus, the effectiveness of therapeutic agents to minimize hospitalizations and fatalities, and the speed and cost of developing antibody testing and a vaccine.
FOR MORE INFORMATION
For more information on all things COVID-19 related, we've assembled two comprehensive COVID-19 Download Resource Centers designed to help both employers and employees deal with this pandemic and the challenges facing all of us.
These resource centers contain more than 225 documents, ready for download, spanning compliance, financial relief, cost containment, employee communications, reopening best practices, and much more.