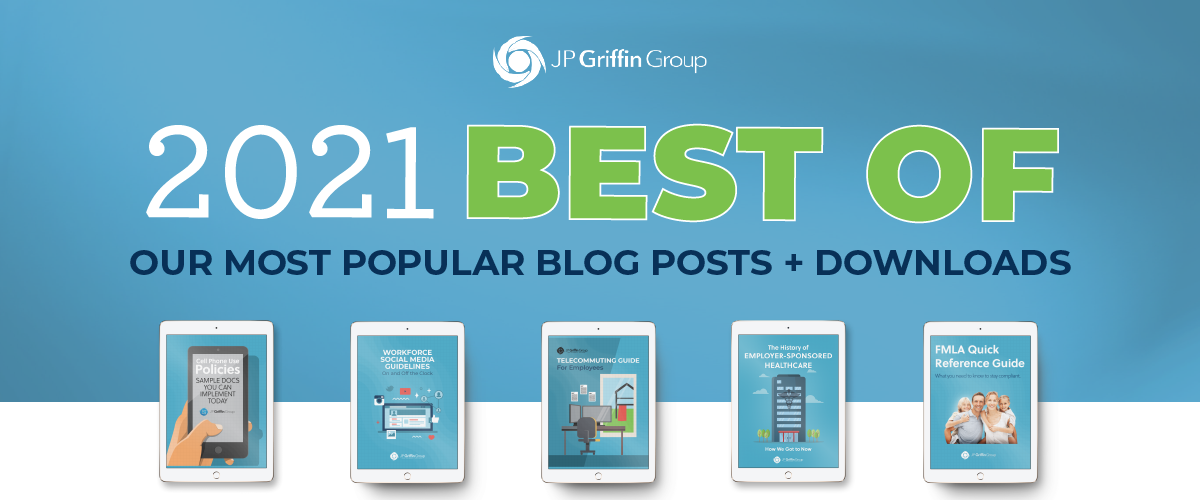 Thousands of companies turned to JP Griffin Group for guidance on employee benefits topics in 2021. With nearly a half-million blog post views and tens of thousands of content downloads, here is some of our most popular content for the calendar year.

TOP TEN BLOG POSTS OF 2021
Does Healthcare Consumerism Even Have A Chance?
It's difficult to become more informed consumers of healthcare when large swaths of that very system seem to be working against us at every turn. Do consumers even have a chance?
2022 IRS Contribution Limits for HSA, HDHP, FSA, 401(k)
A consolidated list of 2022 IRS contribution limits for tax-advantaged employee benefits accounts such as HSAs, FSAs, 401(k)s, QSEHRA, transportation, and adoption benefits.
What's the Difference Between Telemedicine, Telehealth, and Telecare?
It's important to understand the differences between telemedicine, telehealth, telecare, virtual medicine, virtual health, and virtual care.
Vendor Contracts – Beware of These Five Pitfalls in Employee Benefits Agreements
Employers should carefully review the provisions of their employee benefits vendor contracts. Here's a list of common provisions requiring special attention.